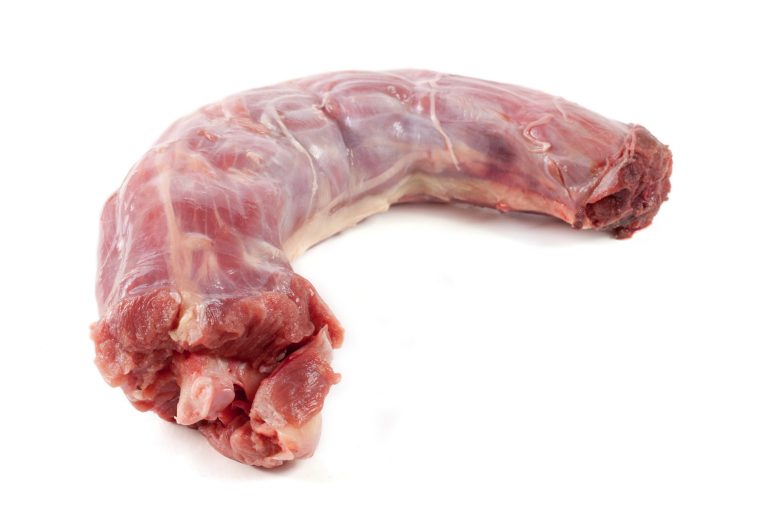 Can You Eat the Turkey Neck? 3 Southern-Style Recipes
Originally posted on https://www.lovedeepfriedturkey.com/can-eat-turkey-neck-3-southern-style-recipes/
Fried turkey necks are delicious and certainly shouldn't be wasted! Here are some fried turkey neck recipes for you to try out today.
Fried Turkey Necks: Can I Actually Eat Them?
Believe it or not, there is so much more to turkey than just Thanksgiving. Of course, we love the bird as the star of a holiday meal, but if that's the only time you're eating it, you're missing out.
One of the reasons people don't often eat turkey throughout the year is due to its cost. Buying a whole turkey can be on the more expensive side, but if you know how to use the entire product in your cooking, it actually becomes a great value.
Turkey neck is an often overlooked part of the bird, but with the right recipes, you can make it delicious. Below, we've rounded up three southern-style recipes for turkey neck so you can make the most out of this ingredient.
Even though we're ALL about the deep fried turkey here at this website, we can appreciate a little variety as well! That's why we're bringing you some of our favourite recipes here.
1. Turkey Neck Skillet with Vegetables
If you grew up eating chicken necks, you should consider substituting turkey neck in your favorite recipes. They have a similar flavor and a lot more meat, so you can stretch a dish even further and feed more mouths.
If you don't have experience with cooking or eating this part of the animal, now is a great time try something new.
This turkey neck skillet with vegetables, adapted from the website Mom's Dish, is a simple, one skillet meal. It will satisfy your family or friends and is easy enough for a weeknight.
Ingredients:
Turkey Necks, four pounds
Carrots, three
Onions, one
Bay Leaves, four
Salt to taste
Olive oil
Method for this Turkey Neck Stew:
Preheat oven to 350 degrees
Cut turkey necks into large pieces that will fit inside your selected, oven-safe skillet
Cut onions in half, and slice into large half-moon shapes
Clean and peel carrots, then cut into half-inch pieces
Heat oil in a skillet over high heat
Add turkey neck pieces and cook until browned all over
Remove turkey necks from skillet and set aside
Add onions and carrots to the same skillet and cook until softened and just browned
Return turkey necks to skillet with vegetables and season with salt. Add one cup of water to the skillet.
Place skillet in oven and cook for an hour and a half, or until turkey neck meat is falling off the bone
Serve warm, with a side of rice or potatoes
2. Jamaican Turkey Neck Recipe
Hot and spicy, enjoy this recipe with a nice cold beer or cup of ice tea. Keep on reading to find out how to cook turkey necks on the stove.
Ingredients:
2 pounds of turkey necks cut into 2-4 cm pieces
Fresh lime
1 tablespoon vegetable oil
1 tablespoon tomato paste
1 tablespoon jerk seasoning
3 cloves garlic minced
¼ cup lime juice fresh
1 teaspoon salt (adjust to taste)
Dash of freshly ground pepper
1 cup water
1 large onion, sliced
Method for this Jamaican Turkey Neck Recipe:
Clean the turkey necks with lime juice (or vinegar works well too). Put them into a bowl and pat dry with paper towel.
Add the jerk seasoning, garlic salt and lime juice. Let sit for 30 minutes-1 hour.
In a heavy pan (cast iron works well), add oil and tomato paste. Cook for 1-2 minutes. Add turkey necks and marinade and cook on low heat for about 30 minutes. Add water only when necessary. Cook until meat is tender (may require up to 1 hour). Stir as needed.
Add onion and let cook another few minutes until tender.
Remove from heat and serve with rice or roasted potatoes. You can add some cilantro for color.
Jamaican Turkey Neck Recipe
Here's another recipe that you can try out:
---
Originally posted on YouTube by How to cook CHANNEL

3. Giblet Gravy with Turkey Neck
Gravy of any kind is a classic southern dish because it makes anything you serve with it taste even more delicious. This gravy from Paula Deen, the undisputed queen of southern cooking, makes use of turkey necks and other often underused turkey parts.
This gravy makes a delicious accompaniment to deep-fried turkey, and would be great served with stuffing or roasted vegetables.
Ingredients:
Giblets from the turkey, cooked. This includes the turkey neck, heart, liver and gizzard
Turkey stock or broth (or chicken stock or broth), four cups
Chicken bouillon cubes, two
Poultry seasoning, two teaspoons
Uncooked cornbread stuffing, two tablespoons
Cornstarch, three tablespoons
Cold water, 1/3 cup
Salt and freshly ground pepper to taste
One sliced hard boiled egg
Method:
Chop the cooked giblets and the cooked meat removed from the turkey neck into small pieces
In a small saucepot, bring the turkey stock or broth (or chicken if using) to a boil
To the boiling stock, add the giblets and neck meat, the bouillon cubes, the poultry seasoning and the raw stuffing
In a separate bowl, mix together the cornstarch and water to create a cornstarch slurry
Add the slurry to the boiling stock mixture, stirring constantly
Reduce the heat and continue to cook the stock mixture for two to three minutes
Add the salt and pepper to taste, then add the sliced boiled egg
Serve warm.
 Shop for a Turkey Deep Fryer
Do you want fried turkey necks? It's an inexpensive way to have a delicious family meal, and not just around Thanksgiving. To get the job done, you'll want to check out some of our top turkey deep fryers, for both indoor and outdoor use:
Curried Turkey Neck Stew
So you want to know what to do with a turkey neck? Then check out this short video to find out everything you need to know about making curried turkey necks. Then, serve these turkey necks over rice for a delicious meal. Oh, and make extra because you'll want leftovers of this one.
---
Originally posted on YouTube by caribbeanpot

4. Fried Turkey Necks
The true southern way to cook anything is to fry it, and that is definitely true of turkey. Fried foods call to mind summer picnics or lazy weekends. They are great for feeding a crowd and make a gathering of friends and family even more festive.
With a recipe as delicious as these fried turkey necks, adapted from the website Mahogany Cooks, you want to make sure it comes out perfectly every time. Having the right equipment is the key to making sure your recipe is a success. Turkey frying pots  and a top-quality outdoor turkey deep fryer make it easy to fry different parts of the turkey all year round.
Ingredients
One package of turkey necks (look for one with five-six turkey necks per package, as that will give you the right size for each neck)
Your favorite brand of creole seasoning, to taste
All-purpose flour, enough to coat the turkey necks
Salt and pepper, to taste
Oil for frying
Method
Rinse turkey neck pieces and cut them in half length-wise
Season them with creole seasoning and add them to a pot of cold water
Bring to a boil, then reduce heat to low and cook for an hour to an hour and a half, until necks are tender
Drain turkey necks and let cool
Meanwhile, season all-purpose flour with salt and pepper to taste
When turkey necks are completely cool, coat in flour fixture
Add frying oil to your turkey frying pot and bring oil to heat
Fry turkey necks in hot oil on all sides until golden brown
Serve warm with your favorite side dishes
Southern Style Turkey Neck Recipe
If you want a soul food turkey neck recipe, then you'll need to check out this video on YouTube. It's Southern style delicious to the max, and we're confident that you'll love it as much as we do.
---
Originally posted on YouTube by K- Ray

How to Clean Turkey Necks
Do you want to know how to clean your turkey necks before using them in a recipe? Here are a few quick tips:
Cut the turkey necks into 2-3 pieces (optional)
Use a sharp knife to trim away any membranes
Wash with a mixture of half water, half vinegar
Rinse well with fresh water
(Optional) Marinade overnight
Cook and enjoy!
How to Cook Turkey Necks so that They're Tender
If you've ever had turkey necks before, you'll know that they can sometimes be a little bit tough if you don't cook them correctly. If you deep fry them, then it's usually no problem and they'll be delicious!
However, if you stew, or braise them, then the key is a long cooking time with lots of liquid. At minimum, you'll want to cook them on low for at least a couple of hours. If the liquid starts to get boiled off, add another cup or two so that your turkey necks are mostly immersed.
An ideal way to do this is in a slow cooker, although a pressure cooker can get the job done far more quickly. The stovetop works well too.
Can I Cook Turkey Necks in the Oven?
A common question that people have is if we have a recipe for cooking turkey necks in the oven. As with cooking them on the stove on in a slow-cooker, the key is liquid. Here's a simple method:
Clean and then season turkey necks with salt and pepper
Put them in a baking dish with a tight fitting lid (or use tin foil)
Add 3-4 cloves of garlic and 1 cup of water or stock
Cook for 3-4 hours at 350.
Check every hour to make sure there's still liquid in the baking dish. If not, add another cup.
The meat is done when it starts to fall off the bone, and is ideal for something like tacos or enchiladas.
How Long Does it Take to Cook Turkey Necks?
The length of time turkey necks require vary with your cooking method, ranging from a few minutes to 8 hours.
If you deep fry them, it'll just take a few minutes. Of course, you have to heat up the oil and then clean-up can be a little bit time consuming.
A pressure cooker is the next fastest, and you can get the job done in under an hour. On the stove will take you a couple of hours, and in the oven, 3-4.
Finally, you may want to use a slow cooker, which will take 6-8 hours. It's the longest, but also the most hands off method.
What's the best? It really is up to you, but please remember to not cut the cooking time short in order to have the best results in terms of tender, falling off the bone meat.
Ready to Start Cooking Turkey Like Never Before?
Recipes like these are a great way to get started if you want to branch out and experiment with cooking turkey neck. There are plenty more like them as well, which will make you comfortable with cooking this part of the turkey. The more you try, the easier it will be to incorporate this into your cooking rotation.
The bottom line is, turkey is good for much more than just Thanksgiving dinner. The meat is flavorful, and there are lots of different methods for cooking it. From roasting to frying, cooking turkey on any night of the year should be easy.
If you want to experiment with different ways to cook turkey, or if you have any questions, please feel free to contact us at any time. And of course, if you need a turkey fryer, check out the following for help in choosing the one for you: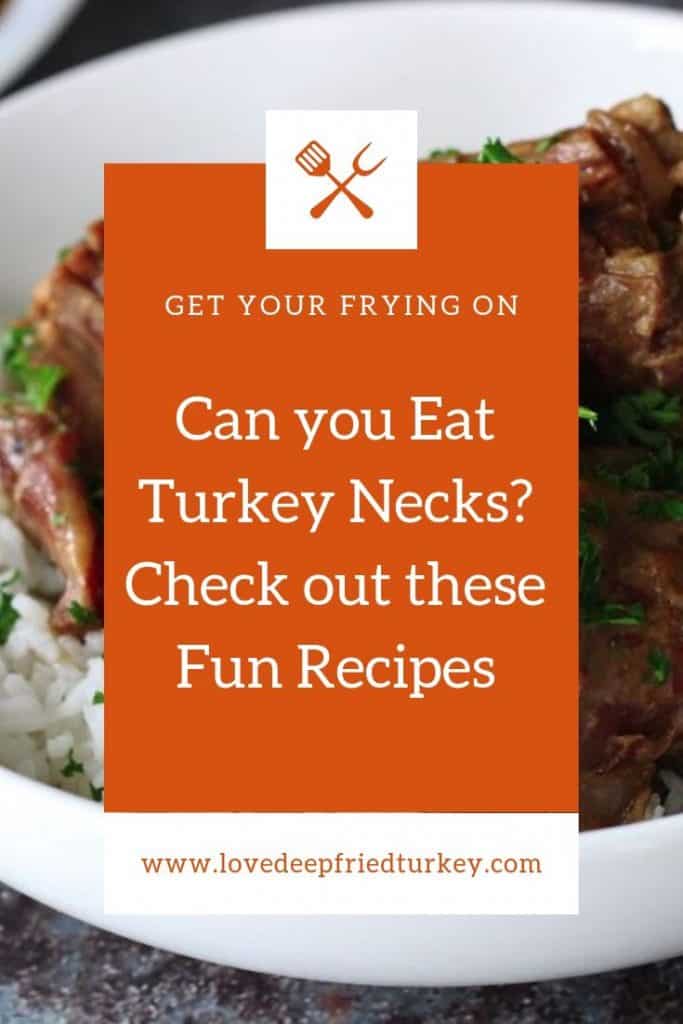 Have your Say about these Turkey Neck Recipes
What's your go-to recipe for turkey necks? Jamaican, Southern-style, or deep fried? Leave a comment below and let us know what you think. We'd love to hear from you.
Also be sure to give this article a share on Facebook, Twitter, or Pinterest. It'll help other turkey neck enthusiasts, like yourself find this useful resource.