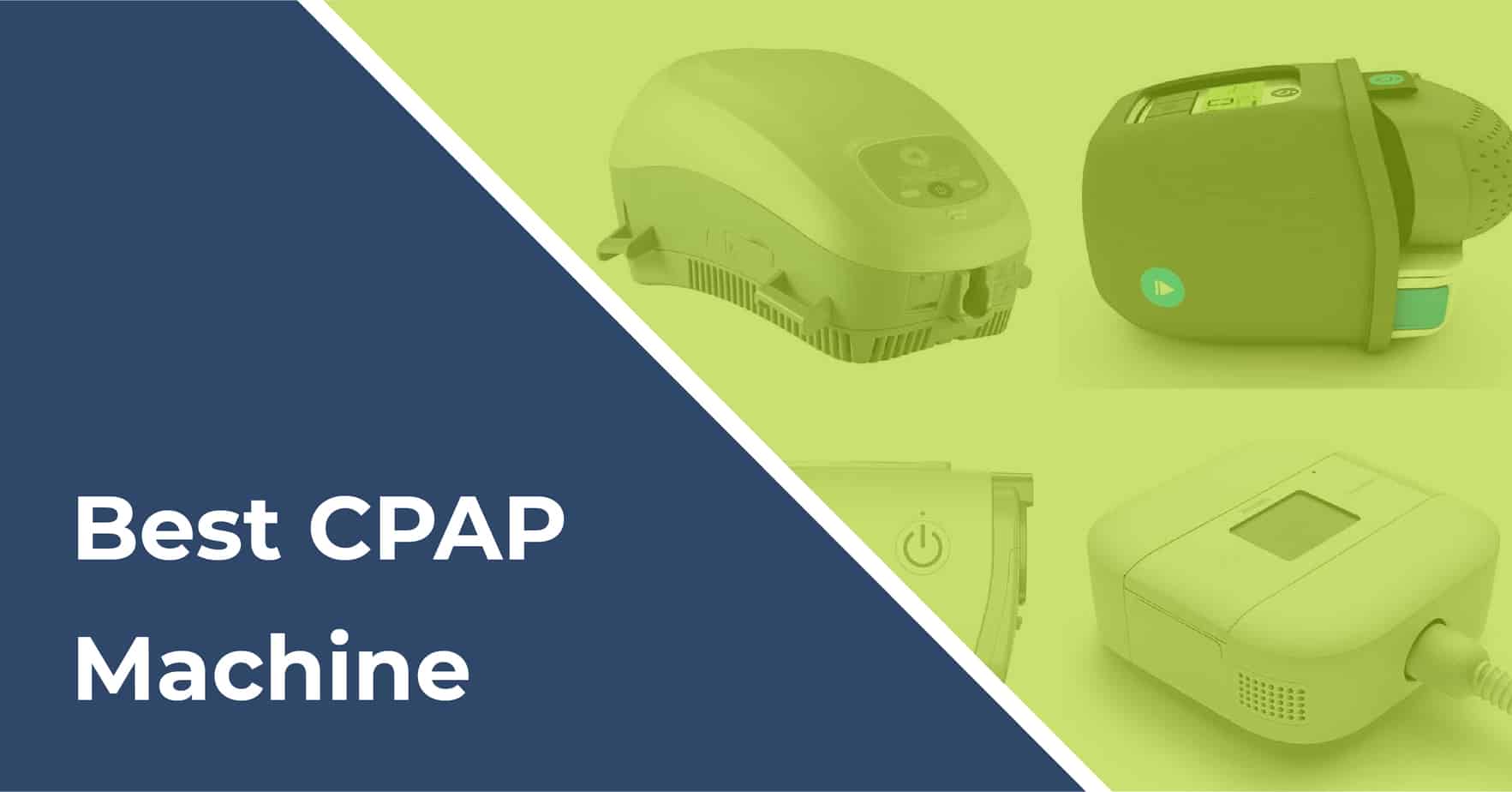 Best CPAP Machine Buying Guide 2019
The National Sleep Foundation estimates that more than 18 million American adults suffer from sleep apnea. Left untreated, it increases a person's risk of developing health issues such as heart attacks, stroke, high blood pressure, diabetes, and even depression.
Thankfully, the condition can be easily managed with the use of CPAP machines. We've come up with this Best CPAP Machine Buying Guide to help you arrive at a well-informed buying decision.
Why Choosing The Right Machine Is Important.
Sleep apnea patients come in all shapes and sizes. While a particular model might work for one patient, it may not be suitable for another. When choosing for the right CPAP machine, always bear in mind that the goal of the treatment is to treat the condition so you'll be able to sleep uninterrupted at night. Depending on your preference and needs, here are some features that might help you sleep better.
Ramp Time
CPAP devices basically forces air into your airway to keep it open. Obviously, this increased pressure takes some time getting used to. A ramp feature gradually increases the pressure over a certain period giving you time to adjust.
Humidifier
Some patients are very sensitive to dry air continuously blown into their airways during treatment. Common complaints include irritation of the nasal passage, clogged sinuses and even nose bleeds. While a humidifier feature could cost you a few bucks more, it is still a good deal as it could save you from the unpleasant prospect of waking up with your mouth and throat feeling as parched as a desert.
Exhalation Pressure Relief
If you've experienced blowing air into a balloon to inflate it, you'll know just how unpleasant the feeling could be. That is basically what to expect if you buy a machine without a pressure relief feature during exhalation as you have to work against the pressure generated by the machine just to breathe out. If you can't handle that for the entire night, better look for a model that eases the air pressure every time you exhale.BEST OVERALL PICK:
DreamStation CPAP Pro with Humidifier and Heated Tube
As the company that introduced the first CPAP machine into the market, this product is a well-known brand that is recognized for its high quality and innovative products. The DreamStation CPAP Pro with Humidifier and Heated Tube does not disappoint and is the perfect machine for those who want all the necessary features to ensure a good night's rest.
One of the most impressive features of this device is SmartRamp which monitors your breathing and automatically increases the pressure once conditions are optimal for doing so. This way, easing into sleep is a lot easier for the user as the machine knows just when to act. Another useful feature is its heated dehumidifier as it eliminates the dryness or irritation in your mouth and nasal passages caused by cold, dry air.Interestingly, it has a 30-day Auto Trial period where it basically functions as an auto CPAP. Using advanced event detection, it monitors your breathing pattern and adjusts the pressure accordingly. The purpose of this period is to assess what's the right pressure level for you. However, the auto-adjusting feature will no longer be functional once the 30-day period is over and the optimal pressure has been determined.You'll also be able to monitor your progress daily, weekly or even monthly via its Daily Progress Feedback summary and even link the machine to a mobile device via an app. One downside, however, is that this product might not be the right fit for everyone due to the high CPAP machine cost. But buyers who tried out the product will probably agree that, after experiencing a restful sleep at night, it is definitely worth its price.BEST TRAVEL PICK:
Transcend EZEX CPAP Machine
If you travel a lot, regularly sized machines may be too inconvenient to bring with you since they're a bit bulky and heavy. But with Transcend EZEX CPAP Machine's compact size and lightweight, you now have the perfect travel buddy which means you can continue with your sleep apnea wherever you go.CHECK LATEST PRICE
This portable CPAP machine measures just 15.5cm x 8.9cm x 7.1cm making it compact enough to fit at the palm of your hand. It weights at just 426 gram which is a very big improvement compared to the usual 1.5 – 2.0 kilograms weight of regular CPAP machines. This is even perfect for campers as it has a solar battery charger option so you can still continue with your treatment even if you spend some time in the great outdoors.Despite its compact size, this mini CPAP is packed with features to ensure an effective yet comfortable treatment session. It has EZEX pressure relief which provides pressure relief when you exhale as well as a feature that automatically adjusts the pressure to compensate for the effects of elevation.In most portable CPAP machine reviews, this is one of the highly rated products by customers so complaints are minimal. Some users say that the unit's operating noise is loud enough to hear at nighttime. However, most owners feel that the advantages of its portability and multiple power options far outweigh the minor noise issue.Read our full review of  Transcend EZEX CPAP MachineBEST PICK W/OUT A HEATING FEATURE:
DreamStation CPAP Pro with Humidifier
Sometimes, you don't really need all the features that top-of-the-line CPAP machines offer. If you're not really keen on getting a heating feature for your device, then the DreamStation CPAP Pro with Humidifier is perfect for you.
Despite from the absence of a heating feature, it comes fully-loaded with all the necessary functionality you need to treat your sleep apnea. For instance, it has SmartRamp technology to help you adjust to the increasing pressure more comfortably. Speaking of comfort, it also sports the C-Flex+ which decreases pressure as you exhale so you don't have to strain too much when you breathe out.It also monitors your therapy's progress by storing your sleep data. You can even get reports or save the data on a memory card that you can send to your therapist for further evaluation. This device is Bluetooth, Cellular and WiFi compatible and you can even download the accompanying app for better treatment management.The downside is that this is more expensive compared to other brands and is only roughly $40 dollars cheaper compared to the model with a heater. Moreover, the auto-adjustment functionality used to determine your optimal pressure level will cease after 30 days and it becomes a fixed-pressure machine.BEST W/OUT HUMIDIFIER PICK:
DreamStation CPAP Pro
For sleep apnea sufferers who do not really need a humidifier, Philips Respironics has a model for them as well. Called the DreamStation CPAP Pro, it is packed with advanced features to treat your OSA effectively so you can finally get a good night's rest.
This machine features the EZ Start Technology where it functions as an auto CPAP therapy for the first 30 days to determine the optimal pressure level for your treatment. Patient comfort is also assured with its high-quality technology features that detect breathing patterns and eases the air pressure during exhalation. And the SmartRamp feature is intelligent enough to know when to increase the pressure level based on your breathing.
Without the humidifier and heater, this is the cheapest variant of the DreamStation CPAP Pro model. However, the absence of these features also makes this machine unsuitable to patients who tend to experience dry throat and irritation due to cold and dry air. Another drawback is that the Auto-Trial feature is good only for 30 days which means that if another user tries to use the machine, it won't be able to determine the perfect pressure level for the second user.
DreamStation CPAP with Humidifier and Heated Tube
As a market leader, Phillips Respironics has an extensive lineup of products to suit the different needs of sleep apnea patients. For those who do not need the features found in the Pro series and are looking for cheaper alternatives, the brand has another set of products to suit these patients' needs such as the DreamStation CPAP with Humidifier and Heated Tube.
This machine has all the features needed to treat sleep apnea without effectively. It has the SmartRamp technology which automatically increases the pressure based on your breathing during ramp time. If it takes you a bit longer to ease into sleep, you can even set the ramp time to its maximum of 45 minutes. With its humidifier and heated tube, its ideal for use in colder and drier areas especially for patients who are sensitive to such conditions.In some CPAP machines, patients have to exert more effort when breathing out as they have to work against the existing air pressure. But that's not an issue at all with this device. With its C-Flex technology, exhaling is a lot easier since it tracks the patient's breathing pattern and eases the pressure during exhalation. It is very quiet and has an accompanying app to help you stay engaged in your therapy.Unlike the Pro version, however, this model has its limitations. For instance, it does not have a mask off alert and no leak compensation, which means your treatment won't be as effective if a pressure leak happens because the mask is moved while you are sleeping. It also does not have the 30-day Auto Trial to help you determine the correct pressure level for you.Read our full review of DreamStation CPAP with Humidifier and Heated Tube
BEST PICK FOR USE IN THE TROPICS:
DreamStation CPAP with Humidifier
With plenty of sunlight and a warm climate all year round, most patients living in the tropics or near the equator won't really need a heater feature. As such, the DreamStation CPAP with Humidifier is the perfect choice for them.
It still has a humidifier so your mouth and throat won't feel as dry as the desert in the mornings. It also comes with all the features offered in the previous model such as the SmartRamp, C-Flex, Bluetooth, cellular and Wi-Fi connectivity as well as very quiet operation at below 30dB noise level. Compared to the model with a heater feature, this is roughly $40 cheaper as well.Again, this has no mask off detection and leak compensation so better not move around too much when you sleep. Without a heater feature, it might not be suitable for people living in colder areas especially for those sensitive to cold air from their CPAP machine.Read our full review of DreamStation CPAP with HumidifierBEST VALUE PICK:
DreamStation CPAP Machine
If you want the high quality of Phillips Respironics products but have a limited budget, then the DreamStation CPAP Machine might be the perfect device for you. This machine is still packed with all the cool features that will help you deal with sleep apnea and get a good night's rest but it is the lowest priced package in the DreamStation lineup.
The DreamStation CPAP machine features the C-Flex technology to ensure you are comfortable while using the device throughout the night. It is super quiet and produces noise of less than 30 dB during operation, a level of noise that is hardly noticeable even to your partner. It is the perfect machine for use in fixed pressure CPAP therapy as it can provide one pressure setting for the entire night.Unfortunately, it has no heated humidifier (probably the reason for its low price) which could mean that you might experience some discomfort due to dry throat if you live in cold and dry areas. However, it is fully compatible with the DreamStation Heated Humidifier so you can purchase it separately later if you need to.Read our full review of DreamStation CPAP MachineBEST BUDGET OPTION:
IntelliPAP Standard with Heated Humidifier
In this buying guide, we try to include similar devices but with different price levels to give options for different kinds of buyers. If you are looking for an affordable CPAP machine for sale, then the IntelliPAP Standard with Heated Humidifier is the perfect choice for you as it is currently offered below $400, the lowest-priced device in this guide.
This machine has a delay pressure ramp which gradually changes the pressure to the level to the prescribed by your physician. This is more comfortable for the patient as it eases him into the therapy's prescribed pressure and helps him fall asleep more comfortably. It boasts of a whisper-quiet noise level during operation so staying asleep should not be a problem even for anyone else sleeping with you.The IntelliPAP also has a SmartCode® compliance tracking feature which allows you to store into a memory card all data gathered during its use so your therapist may go over them to gauge your therapy's progress. However, there were some complaints about the water chamber leaking while in use. Fortunately, this product is covered by 3-year warranty.Read our full review of IntelliPAP Standard with Heated HumidifierBEST DIAGNOSTIC FEATURES PICK:
ResMed AirSense 10 Elite with HumidAir Humidifier
Another well-recognized manufacturer in the CPAP market is the San Diego, California-based ResMed. The company is known for its innovation and has been producing products of the highest quality, though they are also among the most expensive in this niche. If you want only one of the best CPAP equipment to treat your sleep apnea, then the ResMed AirSense 10 Elite with HumidAir Humidifier is the perfect device for you.
It is one of the most high-tech CPAP machines available today and is capable of automatically detecting a number of specific issues such as Cheyne-Stokes respiration (CSR), central sleep apnea (CSA) and respiratory effort related arousal (RERA). The data obtained can then be wirelessly sent to your doctor so you'll get a custom-made treatment for your condition super-fast. It is very comfortable to use as it has a built-in heated humidifier and an auto ramp that gradually increases pressure to the prescribed level so you'll be able to acclimatize to the change.ResMed knows how to make high-quality machines and there are no complaints (so far) about its features at all. The only negative thing we stumbled upon through our research is that the ResMed AirSense 10 Elite with HumidAir Humidifier is priced way higher than other brand's comparable models. But as buyers found out, this machine may be on the pricey side but you really get what you pay for in terms of quality and performance. And another thing, which may be unrelated to the machine itself but will definitely affect some buyers, is that there are complaints about the company's poor customer service.Read our full review of ResMed AirSense 10 Elite with HumidAir Humidifier
Which Is The Best CPAP Machine For You?
There is no straight answer to this question as different patients have different therapy needs, as well as different budget. If money is not an issue for you and you want all the high tech features available, then the DreamStation CPAP Pro with Humidifier and Heated Tube or the ResMed AirSense 10 Elite with HumidAir Humidifier are perfect options for you.If you travel a lot, it makes sense to buy a mini CPAP machine – also known as travel CPAP machine – due to their smaller size and lower weight. Read a few travel CPAP reviews and select one that is battery powered one so you can use it even if there is no outlet in your location.Of course, there might be a few features that you don't really need. The good thing about the DreamStation line is that it allows you to scale back as much you want in terms of features. You can get a model without a heater or one without both a humidifier and heater in both the brand's Pro and regular options.For those shopping on a limited budget, we've also made it a point to include models at different price levels in this best CPAP machine buying guide as well. Please note the prices might change or more affordable versions may come out later so it pays to give the CPAP shop near you a visit.