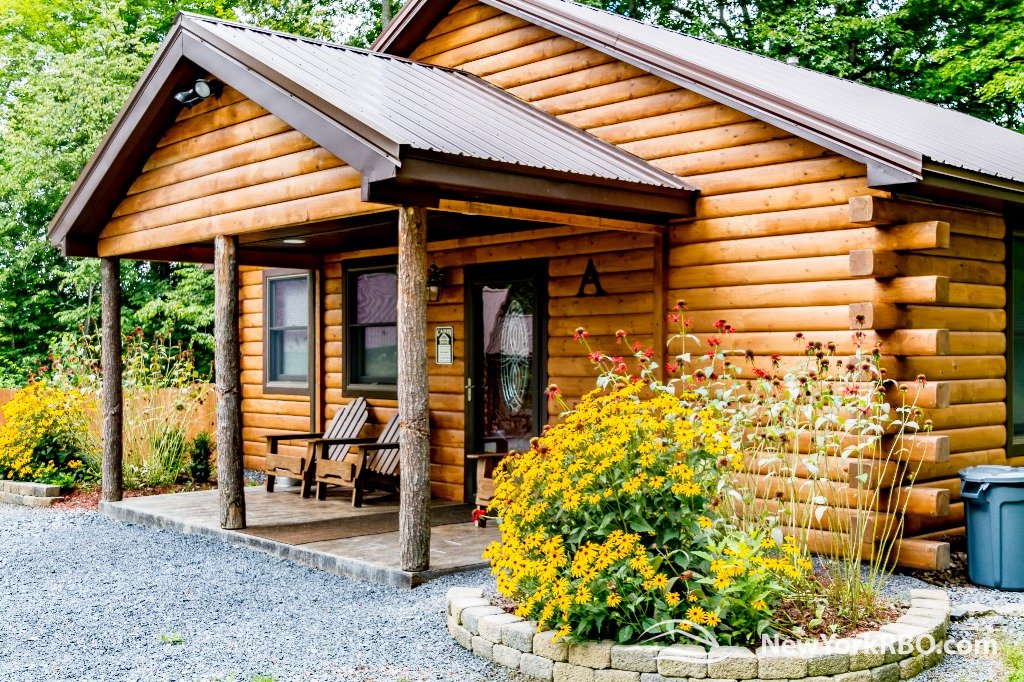 BEST CABIN RENTALS FOR THE PERFECT UPSTATE NEW YORK VACATION!
Are you looking for the Best Cabin Rentals in Upstate New York? Cabin Rentals in Upstate New York are a great way to experience a fun vacation where you can have your own space, kitchen, and yard to enjoy. There are many different types of vacation cabin rentals all over New York state that vary from seasonal to year round cabins, and from region to region.
If you're heading up to the Finger Lakes, be prepared to be surrounding by wineries and water. Bring up your boats and swimsuits and come enjoy the Finger Lakes region. If you've decided the Adirondacks are your ideal location then get ready for those mountains! That means hiking, rock climbing, skiing, or just simple viewing. No matter which area you choose for your next New York vacation we have Cabin Rentals for you!
So! Take your time, do your research and find your perfect New York cabin rentals that is. No hotels, no housekeeping, just your own space to spread out and enjoy upstate New York at your own pace!
Let's Talk about the Finger Lakes Baby!
(Seasonal Cabin Rentals)
Skaneateles Lake
This waterfront cabin's main selling point is that it is 180 measly feet from the shoreline! Residing right by the shore allows you to easily enjoy the water everyday. The main cabin and guest cabin together have 4 bedrooms and can sleep up to 14 people. Sit on the beautiful porch overlooking the lake and light up that outdoor fire pit. Here in the Finger Lakes you'll have plenty of room to spread out and enjoy.
This part of the lake is quiet and private–perfect for a relaxing summer getaway! You can even bring your pets! There's nothing quite like enjoying a quiet morning playing fetch with your best friend by the lake.
The only surrounding properties are other seasonal camps, and a few year round ones. There's an endless amount of fun activities around the cabin that are available to you.
This includes: boating, cycling, fishing, hunting, walking, mountain biking, jet skiing, kayaking, and any other water sport you can think of!
This is a great spot for families–rent one cabin, or both! You can find the best cabin rentals for less in the Skaneateles Lake area click here.
Keuka Lake
This luxurious log cabin in the woods on Keuka Lake in upstate New York is a gorgeous option for a large cabin rental! Lake Forest Lodge boasts a brand new deck and bar overlooking the lake, 3 floors and is nestled in a quaint 3.5 acres of pine trees. There is a steep walk or drive down to the lakefront, but there is parking and it's a mere 50 stairs to get to their private dock.
There is an abundance of things to do on Keuka Lake. You have your choice of fishing, swimming, boating, water skiing, water tubing, jet skiing, and kayaking. Once you've worn yourselves out on the water, feel free to adventure out past the boundaries of the cabin. There are great restaurants, Keuka Lake Wine Trails and scenery to be enjoyed.
Make sure to stop by the adorable Village of Hammondsport to enjoy some ice cream and antiquing. And if that's not your thing then take the kids go-cart racing, and hit the hiking and biking trails in the area! Don't forget to hit the Keuka Wine Trail. There's so much for everyone to enjoy in the area before you return to your beautiful Lake Forest Lodge overlooking Keuka Lake.
If you're interested in learning more about visiting the area, then take a look at the vacation rentals New York Rental By Owner has on Keuka Lake.
Year Round Cabin Rentals in the Finger Lakes
Cayuga Lake
If you're looking for a modern, private home then the Log Cabin by Cayuga Lake is the spot for you! This newly built property is pet friendly and sleeps up to 6 people. The cabin rests gently in the Finger Lakes region on the west side of Cayuga Lake and is open year round! They even have heated floors to keep your feet toasty warm during the chilly winter months.
The cabin is centrally located on the Cayuga Wine Trail and is only a few miles from the Seneca Lake Wine Trail.
You are welcome to swim, fish and boat in the lake or to just walk along it to enjoy the views! Cayuga Lake offers a boat launch, Taughannock Falls State Park, and Seneca State Park. There are several ski resorts, including an indoor water park, concert venues, antique stores, and theaters that all reside within a short drive of Cayuga Lake. You can also go see the largest herd of white deer in the world at the Seneca Army Depot!
If you need accommodations while visiting, view our assortment of Cayuga Lake vacation rentals here, vacation rentals on Cayuga Lake .
Sodus Bay
The main selling point for this Cabin Rental by Owner is that you can go out on the back porch, walk down the steps and walk right into Lake Ontario… only in summer though! It gets quite cold in the winter, but that doesn't make it any less beautiful.
Besides the wonderful boating, swimming and fishing you can do there is great hiking right here! The Beachwood State park lands directly in our backyard.
There are hundreds of acres of woods and orchards surrounding you! The Village of Sodus is an apple town and farming community–so come by in the autumn to enjoy apple picking, and farmers markets that are bursting with fresh fruit, pumpkins and corn mazes!
Sodus Point, where the cabin rental resides, is basically one long sandy beach lined with restaurants, bars, shopping and golf courses.
No matter what time of year you decide to visit, you will enjoy the views and relaxing nature of this secluded cabin in the Finger Lakes.
Move Over Finger Lakes–We're Heading to the Catskill Mountains!
Windham Mountain
This house is the first one on our expansive list of Cabin Rentals that aren't near any water, but it is near Windham Mountain which is one of New York's premier ski resorts! Resting right in the midst of the Catskills, this wood haven is is ready for you to come explore the skiing, snowboarding and other attractions here at Windham Mountain. It's right down the street!
This house comfortably sleeps 8 and they are only 2 miles from the ski resort.
If skiing isn't your thing, or if you want to visit during the other three seasons, you can enjoy great hiking trails, mountain biking, wildlife watching, and golf!
Don't be afraid to explore the Catskill Mountains and stay in a Windham Mountain vacation rental.
Woodstock
This precious Chalet is tucked away in the Catskills, right near Woodstock, NY. It is an oasis of peace surrounded by greenery. The interior is all newly renovated and it has a large patio, hot tub, and a yoga room for your enjoyment!
Take your time to detox in this secluded little area in the Catskills. This spot is ideal for the group that wants to stay in, detox from regular life and relax. Drink some coffee and watch out for the abundant deer that roam through the surrounding woods, or sit in the hot tub and look up at the night sky, free from any ambient line! You can finally see the stars.
At the southern tip of the Ashokan Reservoir, there is abundant hiking and lots of eagle sitings! If you're looking for some people to hang out with head down to Woodstock and catch some live music, go shopping, go see a play or hit the annual Woodstock Film Festival.
If relaxation and zen is your goal than the Olive Oasis is the perfect vacation cabin rentals for you!
More Mountains… Summer Cabin Rentals!
Thousand Islands
One of the greatest assets of the Loon Lodge at Oak Point is that the cabin rests right on the banks of the St. Lawrence River–a hub of tourist activities. There are great boat tours, the Remington Museum that is great for kids of all ages and the Antique Boat Museum. There's even Singer Castle right outside of Chippewa Bay.
If you're into water sports then this is the place for you! Tour the 1,000 Islands, kayak, sail, wind-surf, canoe, water ski/tube, or just sit and watch the international ships float in the bay. You could even dive down to some of the many ship wrecks that line the bay!
Then there are the more activities like fishing, hunting, golfing, and cycling!
Potsdam
If these large lodges are too big for your party then stop by the Adirondack Riverside Cabin in, you guessed it, the Adirondacks! This quaint cabin sleeps 4 and was fully renovated in 2018. There is a screened in porch that opens up to the river and a gas grill outside that is available for your use,
If you're staying in the middle of Adirondack State Park then it is time to take advantage! With the nearest town 15 miles away it's a great cabin to escape too. Detox from your life and enjoy a relaxing time on the riverside. There is hiking, mountaineering, mountain biking, hiking, equestrian events, mountain climbing, and whatever other outdoor activities you can think of. Great adventure is waiting around every corner!
If you do want to explore the local life there are various antique shops, cinemas, historical sites, mini golf, shopping, museums and festivals nearby.
The Adirondack State Park offers such a variety that it can be hard to choose what activity you should do next.
Edwards
Once again, the Adirondacks are a nestled little haven that are perfect for detoxing. Escape the stresses of your every day life and come enjoy the beautiful view of Adirondack Mountains on Trout Lake. This waterfront cabin sleeps 8 comfortably and hosts a large kitchen and rests peacefully lakeside.
Trout Lake is infamous for its swimming and fishing! WAIT! There's even more adventure waiting around the corner. With an abundance of antique stores, hiking, biking, rafting, and sightseeing you can finally escape and enjoy something different. Not to mention the gorgeous Waterfall Trails that are just 20 minutes away.
You're even 90 minutes from Lake Placid! Take a picnic and a day trip over to enjoy the location of not one, but two Winter Olympics.
Anything from outdoor activities to small town living can be found here in the Adirondacks.
Cranberry Lake
Cranberry Lake is nestled among the Adirondack Mountains and is the ideal escape into nature. Cranberry Lake is ideal for families, fishing, swimming and boating. Think of it as the place to get away from it all!
The Dancing Bear Lodge and Cub Cabin are surrounded by full gardens, lawns, and secluded areas that allow you to get comfortable and lose yourself in a good book. If all of that is too off the grid, there is still TV and Wi-fi… you know… if you need that strong rope to keep you tethered to reality. That's fine too!
There is the Stone Manor Diner in Cranberry Lakes quaint downtown area–so start your day with some delicious breakfast and then head to the areas many waterfalls, beaches and scenic hikes. Don't forget the horseback riding, kayaking, cycling, whitewater rafting, and miniature golf! If you do happen to visit in the winter hit up the cross-country skiing and snowshoeing.
There are great activities for the whole family. These waterfront New York cabin rentals on Cranberry Lake are the perfect family vacation getaway. To view more Cranberry Lake vacation rentals click here.
Chautauqua Lake
Irwin Bay Cottages are a great option for small groups, but are easily rentable with other cottages to host larger groups as well! This cottage is best for the explorers who are ready to run around outside and enjoy the sites of Chautauqua Lake.
Take advantage of the areas outdoor activities! There's so much to choose from between bird watching, fishing, cross-country skiing, horseback riding, boating, sledding, scenic drives, hiking, hunting, mini golf and water skiing… there are just too many options to choose from!
If you're up for more indoor adventures try the casino, equestrian events, antiquing, museums, and even the library or the movies. Head here to escape the stress of everyday life and try some new things, or enjoy some old things. Whichever you prefer, these cottages may be the perfect choice for you!
Winter Cabin Rentals In The Adirondacks!

Saranac Lake
Resting in the peaceful Adirondack Mountains, this log home is only 1.5 miles from the bustle of downtown Saranac Lake, ten minutes from Lake Placid and only 20 minutes from Whiteface Mountain.
If you're anything like me and you love a winter getaway then come down for the Ice Castle during the Winter Carnival, skiing and snowboarding at Whiteface Mountain, snowshoeing, snow tubing, cross-country skiing, snowmobiling and of course all of the Olympic activities at Lake Placid.
If summer is more your temperature then come enjoy Saranac Lake's abundance of lakes and ponds. There are plenty of boat ramps and rentals around the area. You could use kayaks, canoes, jet skis, motor boats… whichever floats your boat! There are also great hiking trails and scenic drives that you can enjoy.
Come in the fall and enjoy the foliage! There is always something to do when you're tucked away in Saranac Lake.
Related Article: THE BEST NEW YORK ADIRONDACK WINTER CARNIVALS, FESTIVALS & EVENTS
Lake Placid, NY
If you're looking for the escape, but for a little adventure as well then this is the spot for you! This 5 bedroom Adirondack cabin rental is a gorgeous vacation home–and you can walk right to Main Street! Staying in the heart of Lake Placid means you get all of the excitement of the area.
Now, Lake Placid is no NYC but it has its Olympic ties, village shops, lakes, golf courses and walking trails. It's the perfect location for your upstate New York getaway. If you're heading over in the winter and you're looking for some fun downhill adventures it's only a 15 minute drive from Whiteface Mountain. There's even a shuttle service to the hill–so leave the car at home. You can get there from here!
Enjoy your winter sports, water sports, and hiking, rock climbing, and mountain biking all right here in Lake Placid. If you need accommodations while visiting check out our assortment of Lake Placid vacation rentals here. Lake Placid, New York.
Whiteface Mountain
Another great location in the Lake Placid and Whiteface Mountain area is the Ausable River Lodge. They have access to Lake Placid's restaurants, bars, shows, and water while only being less than a 2 mile drive from Whiteface Mountain Resort! Come any time of year to enjoy this lodge's large list of amenities as well as the amenities of the surrounding areas.
This beautiful area of the Adirondack Mountains is great for foodies, photographers, skiers, riders, swimmers and boaters alike! With a local swimming hole and abundant hikes in the area, you really can't lose. Take a drive up the Whiteface Veterans Memorial Highway brings you up 2,300 feet in five miles to showcase spectacular views of Lake Placid and the surrounding mountains.
Don't forget to go hunting for waterfalls! High Falls Gorge boasts beautiful scenery, rock and mineral exploration, snow shoeing and hiking.
The outdoor activity list goes on and on when you visit this area of the Adirondack Mountains. Browse the vacation rentals New York Rental By Owner offers for your Whiteface Mountain vacation here.
Old Forge
This waterfront lodge is available year round and it is the Adirondack cabin rental to be at! With a large dock and a sandy beach in their own private inlet you get all of the privacy and all of the nature to yourselves!
There are golf courses and snowmobile trails surrounding this area of the Adirondacks and they are there to be used–so use them! With a fire pit and grills outside you can BBQ the night away or just relax and swim around.
With abundant hiking, biking, and walking trails you will not be able to get enough of the scenic outdoors of the Adirondacks.
Cape Vincent – Thousand Islands
The Carriage House at the Maple Grove Estate is a mere 700 feet from the St. Lawrence River and it is a beautiful historic piece of land. Built back in the 1830's you're getting a glimpse back into the past–with some updates from today!
With a huge private deck overlooking the garden you can enjoy the beautiful sunrise, or if you're not trying to be up that early while on vacation, sunset! It's a great location to stay if you're looking to explore the Canadian and U.S. sides of the Thousand Islands.
There is a boat launch in the village and a ferry that will take you from Cape Vincent to Kingston, Ontario. You can easily explore these great towns at your leisure! Cape Vincent is home to the French Festival and Maple Grove Estate is home to the Thousand Islands International Piano Competition for Young People.
There's so much to enjoy from boat watching, swimming, fishing, golfing, cycling and even tennis! It's rural enough that you can get away but there's plenty to explore along the banks of the St. Lawrence River.
Take advantage of the great local vacation rental accommodations in the Thousand Islands.
There's More to Upstate New York Than the Finger Lakes, Adirondacks, and Catskills.
(Year Round Cabin Rentals)
Hudson Valley
With both Catamount and Butternut mountain only 25-30 minutes away this is, you guessed it, another great spot for a getaway. Pop's Cabin (LLC.) is a home away from home here in the Hudson Valley.
They are even 45 minutes from the world famous Culinary Institute of America and other 5 star restaurants. If you're planning on doing a lot of the cooking at home and want to explore the area there is an abundance of hiking, fishing, boating, swimming, mountain biking, and ski resorts! You can also head to the Rhinebeck Aerodrome to go hot air ballooning! Plus, there are beautiful golf courses, boutiques and museums in the surrounding areas.
With mountain views and plenty of room this is the ideal place for a Hudson Valley getaway any time of the year.
If you are interested in enjoying the best of the Hudson Valley and need to find a great place to stay check out New York Rental By Owner's website by clicking here.
Related article by Forbes: Three Hudson Valley Destinations Perfect For A Discerning Palate
Tucked away, yet you can walk everywhere, this cabin rental is in the prime location! You get private access to Lake Lonely and you're only 5 minutes from downtown Saratoga Springs, and 1.5 miles from the famous Saratoga Race Track.
One of the best things to do in Saratoga Springs is attend one of the Horse Shows at White Hollow Farms.
The Saratoga National Historical Park is a beautiful place to walk around and explore the history of the area. There's also the Saratoga Spa State Park to wander through and get your much needed outdoors time.
If you're looking to explore more of the people-populated areas then head down the The Children's Museum, The National Museum of Racing Hall of Fame, or catch a show at the Saratoga Performing Arts Center.
Don't forget to visit the springs while you're here! It's not called Saratoga Springs for just its famous race horses.
Saddle Up and Book through New York Rental By Owner – NewYorkRBO!
Now that you've seen a sample of great cabin rentals offered in upstate New York, it is time to organize, plan and book. New York is just waiting for you to come and explore.
Why pay the traveler fees that are charged on other large online travel agency platforms like Aribnb, HomeAway, VRBO and Expedia? Reserve and book your vacation rental on NewYorkRBO where there are no booking fees for either traveler or property owners. Start planning your New York vacation now and start saving money! Why pay more for the same?