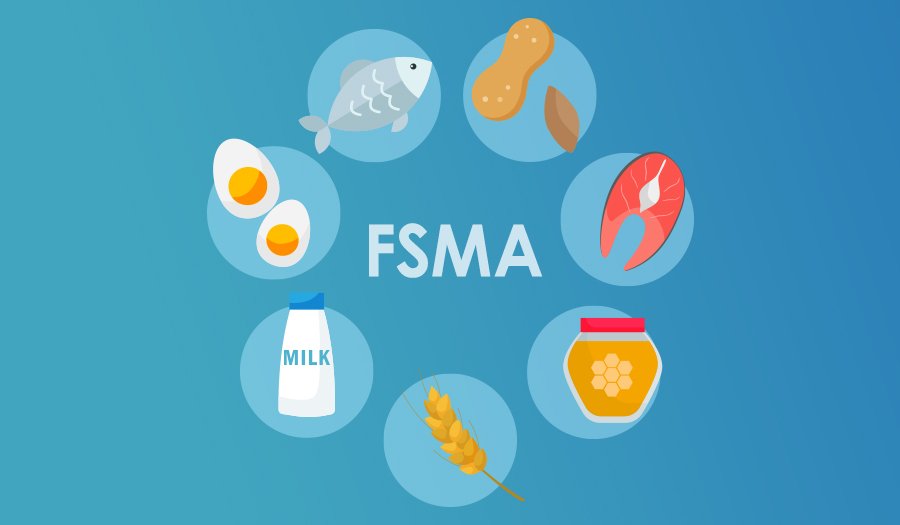 Allergens and FSMA: What You Need To Know
Photo From tracegains
Originally Posted On: Allergens & FSMA: What You Need To Know (tracegains.com)
The Food Safety Modernization Act (FSMA) established many updated essential regulations. Still, allergen controls and the revised Good Manufacturing Practices (GMPs) that support them could arguably be some of the most important. FSMA's Hazard Analysis and Risk-Based Preventive Controls (HARPC) Rule goes so far as to define label requirements and elevate undeclared allergens as hazards to be controlled.
With the entire food industry shifting from reacting to foodborne diseases to actively preventing them, TraceGains examines FSMA's efforts to provide consumers with much-needed allergy relief.   
Allergen Risks
A food allergy is a reaction to a naturally occurring protein in a food or ingredient. In the United States, the Food and Drug Administration (FDA) identifies eight primary allergens that account for up to 90% of all food allergies. This list, aptly titled "The Big 8," includes milk, eggs, fish, shellfish, nuts, peanuts, wheat, and soybeans. Per the U.S. Department of Agriculture's (USDA) Food Safety and Inspection Service, in 2019, allergens remained the primary cause of food recalls.
Most allergies cause a mild reaction, but in about 18% of cases, allergens can cause anaphylaxis, a systemic response causing breathing passages to swell and blood pressure to nosedive. In the worst cases, this can lead to death.
Allergens can be life-threatening to corporations as well. Recalls can have disastrous impacts on companies, as the economic costs associated with customer communication, product removal and disposal, damages, and legal fees can bankrupt a company in record time. All of this can be caused by human error, mislabeling, or accidental cross-contamination. 
Undeclared Allergens
Undeclared allergens are the leading cause of recalls in the United States and are defined as a "hazard" by the FDA. Regulated under the HARPC Rule, manufacturing facilities must identify undeclared allergen hazards in their food safety plans that are "reasonably likely to occur" and document the processes to mitigate them proactively. Consider cross-contamination when drafting a food safety plan, including contingencies for when cross-contamination would and be included.
Undeclared allergens don't just pose an issue for the company; they also pose problems for suppliers. If a company receives an ingredient that could include a potential allergen or has a potential for cross-contamination, the supplier's food safety plans also should be addressed. Visibility to suppliers to determine their level of control over potential hazards within their facilities, or cross-contamination, should be of utmost importance.
Allergen Practices
FSMA's most impressive effort to improve allergen safety belongs to GMPs within HARPC. In total, upwards of 30 allergen controls are identified across every stage of the process: from cross-contact with handling, storage, and use, to sanitation practices and shop-floor cleaning procedures. GMPs can be found at every step, from receipt to labeling and mislabeling to the final product. In the end, companies must document and follow the appropriate operating procedures to ensure allergens are declared appropriately when a product leaves your dock.
Hazard Analysis
Specific hazards must be considered when assessing a food safety plan for hazard analysis and preventive controls. Before a complete hazard analysis, identify controlled allergens. Recommended practices include:
Create a flow diagram: Identify product and traffic patterns, assess potential cross-contact opportunities, and develop appropriate controls.
Develop controls for cross-contact points: Focus on equipment and facility design.
Map employee traffic: Assign workstations, identify shared areas such as washrooms and breakrooms and evaluate uniforms/cleanroom smocks for contamination.
Preventive Controls
Allergen controls are essential at every step of the food manufacturing process. At a high level, standard controls to be documented include:
Procurement: What allergens are being purchased?
Receiving: What protective requirements are in place to stop cross-contamination in transit?
Storage: Materials in storage should be stacked with allergens in mind.
Production controls: Changeover procedures need to be followed before changing to a product with a dissimilar allergen content.
During packaging, employees should ensure the appropriate label or container is being applied.
Changeover procedures: Raw materials should be limited in production locations to only necessary stations.
Monitoring and verification of preventive controls: Employee education is essential for a successful cross-contamination control program to be effective.
Written corrective action procedures: Effectively communicate corrective actions to the individuals who identify the issues.
Validation of the effectiveness of the controls: Validate the program and practices with scientific proof the program and practices are effective in preventing cross-contamination.
Food Allergy Research & Education (FARE) is the leading global food allergy advocacy organization and the largest private investor of food allergy research in the world. Their latest project examines precautionary allergen labeling and the consumer habits of diverse populations. Data from this research can help food and CPG companies strengthen Allergen Control Plans to reduce problems.
Join FARE CEO Lisa Gable for a Feb. 25 webinar exploring this research to discuss how companies can leverage the findings to raise the bar on their allergen disclosure programs. Discover how to be proactive about allergens and learn which tools can manage allergen risk and prevent mislabeling that could lead to recalls, illnesses, or death. Register for this complimentary webinar here.