Acne and the Sun… Misconceptions that can have negative effects!
Photo from Unsplash
Originally Posted On: https://thedermolab.com/acne-and-the-sun-misconceptions-that-can-have-negative-effects/
"Sun exposure is necessary to get rid of acne"… This saying has always been popular, and the main reason is that many people believe sun exposure dries out pimples and treats inflammation. But is it true? Keep reading as we will be tackling the subject of acne and sun exposure, so you can benefit from reliable scientific information if you're struggling with this skin condition.
Common misconceptions
One of the most common misconceptions about oily and acne-prone skin is that the sun reduces sebum production and limits the appearance of pimples. The truth is, it is the complete opposite. Sun exposure dries out the skin, even if it is oily. This makes sebaceous glands produce more oil to keep skin moisturized which in turn leads to blemishes.
And for people with acne-prone skin, sun exposure can definitely make acne worse. As the dermatologist Dr. Amal Mehanna explains, the sun doesn't improve acne. In fact, it increases inflammation and redness and causes post-inflammatory hyperpigmentation which is a dark discoloration of the healing pimples.
Sun protection
As per Dr. Amal Mehanna's recommendation, people with acne-prone skin should apply a sunscreen that is specifically designed for oily skin, as this is the primary way to protect skin from sun damage. It should be reapplied every two hours during periods of prolonged exposure. In addition to that, an anti-hyperpigmentation cream can be applied to treat skin discoloration due to sun exposure.
Acne skin care in summer
Now that you know the truth about acne and sun exposure, here are a few steps that can help you reduce pimples during hot summer months:
1- Remember that sun exposure does not only cause hyperpigmentation, but also sweating. Sweat makes a good environment for bacteria to grow, which leads to acne breakouts. So, avoid sun exposure during peak hours, and make sure you cleanse your face and body every day to remove sweat from your skin. It is also preferable to wear cotton clothes as these reduce friction that causes excessive sweating.
2- Exposure to chlorinated swimming pools can also trigger acne. It can be avoided by washing the skin immediately after getting out of the pool to remove any chlorine residue. You should also apply a moisturizer specifically designed for oily skin as chlorine causes dryness.
3- Try to limit the use of makeup as much as possible since they interact with sweat and can have negative effects on skin. If needed, go for non-comedogenic, oil-free cosmetics.
Follow these tips which will help significantly reduce acne during summer!
Finally, we recommend you adopt a daily skin care routine for acne-prone skin that consists of the following medical products:
– Always start your day by washing your face thoroughly with a face wash for acne-prone skin such as Keracnyl Foaming Gel from Ducray, a leading brand in skin care. It purifies the skin, removes all blemishes and moisturizes it all at once.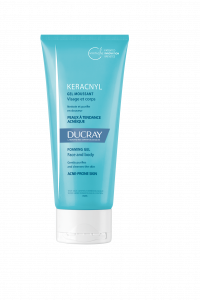 – Afterwards, apply Keracnyl PP Anti-Blemish Soothing Cream from Ducray as well. It reduces inflamed spots and soothes skin. It also plays an important role in limiting residual marks.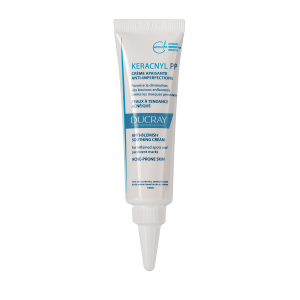 – When you leave the house, don't forget to apply Very High Protection Fluid SPF50+ from Eau Thermale Avène to prevent hyperpigmentation and breakouts.