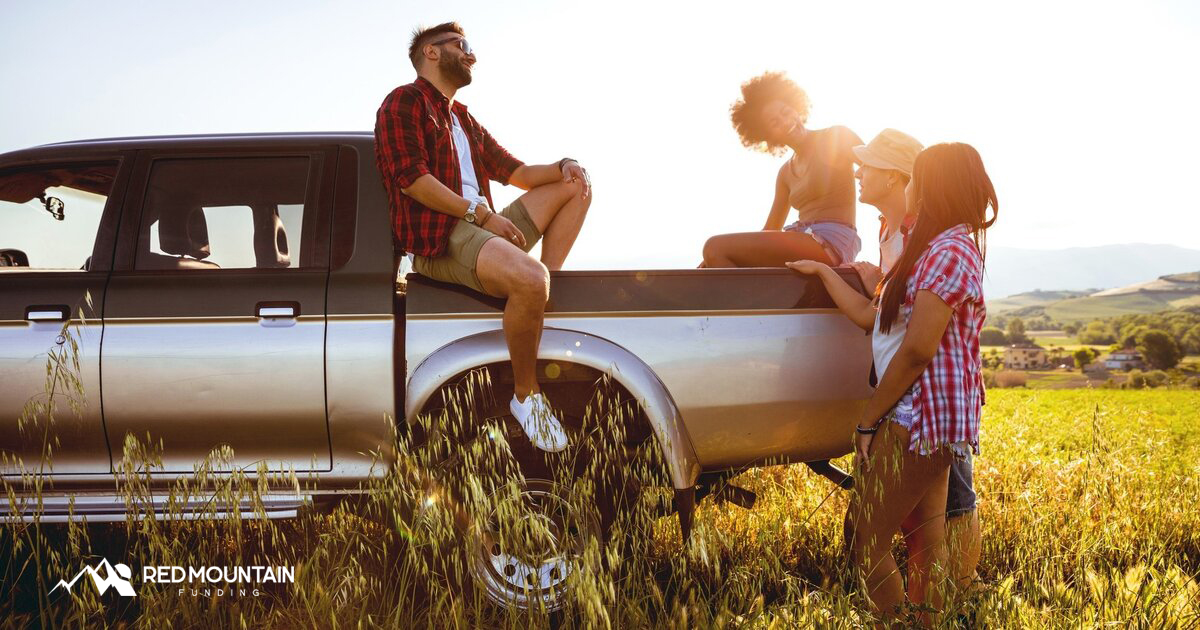 A Review of the Best American Trucks
Photo from Getty images
Originally Posted On: https://redmountainfunding.co/blog/review-american-trucks/
There are few things more American than owning a truck. Trucks have long been a symbol of freedom, adventure, and power. American trucks are loved for their inherent toughness and versatility. They are also becoming more family-friendly, and with smart technology, they are safer than others.
When it comes to deciding on a truck, you're left asking, what is the best pickup truck for my needs? Due to their versatility, this can be a loaded question. When it comes to finding the perfect truck, it truly starts with your needs. Are you looking for a full-size truck with a lot of power or a more compact small truck that may have less power but can still get a lot of work done? When it comes to exploring and evaluating the best American trucks on the market, there are many excellent choices to choose from.
What matters most is what works best for your needs!
FULL-SIZE TRUCKS
If you are in the market for something with a lot of power, a full-size truck may be for you. In addition to the power, full-size trucks also have the edge on towing and payload capacity. With a full-size truck, you will be spending more than a more compact midsize truck due to its size, power, and capacity. When it comes to the best full-size trucks, there are some top contenders currently on the market.
These full-size trucks include:
Chevy Silverado
If you are looking for a full-size truck with a lot of power, the Chevy Silverado is an excellent choice. This truck is broad and strong and is one of the top names in muscular towing capacity. Its max towing is 13,300 lbs. and can haul 2,280lbs. The Silverado comes with a standard 285 horsepower V6 engine, including several other engine options available depending on your needs and desires. The MPG varies depending on the engine, but with the turbo-four engine, the Silverado gets 20 mpg in the city and 23 on the highway.
When compared to other full-size trucks, this is a good rating. The Silverado scores well in crash ratings, though not as well as its rivals. It has received a four-star rating in front, rollover, and overall rating. It has also received a five-star rating in side-impact collisions. Even though this truck may have some room for improvement, it is still one of the safest trucks on the market.  While this truck may be big, it is also easy to maneuver and handle. Prices vary depending on engine and other options but range anywhere from 30,595- 61,790. This truck comes standard with some amazing features. The Silverado has dual-zone automatic climate control as well as a high-definition rearview camera. This truck also comes with two 120-volt power outlets, as well as a trailer brake controller and leather upholstery.
Ford F150
If you're looking for a truck with excellent hauling power, look no further. The Ford F-150, when properly equipped, can tow up to 14,000lbs and haul up to 3,325lbs. The F-150 comes with a diverse engine line up including V6, V8, Diesel options, and even a new hybrid option. With the base engine and rear-wheel drive, the F-150 gets 20mpg in the city and 24 mpg on the highway. This truck is large but easy to drive. The ride is smooth due to the excellent suspension.
This truck is one of the safest on the market. The newest model and safety features are still being tested, but the truck has performed well in crash test ratings. For this truck, the base price ranges from 30,635 to 66,030. The Ford F-150 is a great choice if you are looking for one of the smallest full-size trucks. If you don't want to comprise power by getting a midsize truck, the F-150 still categorizes as a full-size truck but is a bit smaller compared to its other competitors. This truck comes with some amazing features such as dual-zone automatic climate control, a touchscreen, and leather upholstery.
Ram 1500
The Ram 1500 is another excellent full-size option. The Ram 1500 is top in its class. Its base engine is a 305 horsepower V6. Its other engine options include a V8 and diesel options as well as a new high-performance TRX model. It boasts the smoothest ride in its class and has one of the highest-rated interiors. This truck is more refined, luxurious, and technologically savvy than any other full-size truck on the market.
When it comes to safety, this truck is the only truck of any size on the market to earn a 2021 IIHS Top Safety Pick. This was due to the strength of its crash test results as well as the available LED headlights (which doesn't come standard). The Ram 1500 scored five stars overall in safety and crash testing. The Ram gets15-22 mpg in the city and 21-32 on the highway. The base price ranges from 33,940-71,790. This truck comes equipped with front and rear parking sensors. It also featured leather upholstery, heated and ventilated front seats, dual-zone automatic climate control, and a touchscreen.
GMC Sierra 1500
This truck is another dependable full-size option. It offers five capable powertrains, including a fuel-efficient diesel option. It comes standard with a V6 engine that puts out 285 horsepower and a 305lb torque. When it comes to hauling, this truck isn't necessarily built for excessive towing and hauling. It can definitely handle lighter workloads and offers one of the smoothest rides, even on rough roads. The GMC Sierra gets 16 mpg in the city and 21 mpg on the highway. The base price of this truck ranges from 30,100 to 59,600. This truck comes with some amazing features. These features include air conditioning, cruise control, and a seven-inch touch screen. It also comes equipped with a rearview camera as well as a remote-locking tailgate.
Ford F-150 Raptor
If you're looking for a truck made for the off-roading life, then this is the truck for you. This truck is a beast, to say the least. It comes equipped with a 450-hp twin-turbo V-6. The off-road suspension with adaptive shocks makes any off-road adventure a breeze. The Ford F-150 Raptor is rated to tow up to 8,000 lbs. This truck can really do it all. Given its size with wider fenders and large off-road tires, this truck may not navigate as easily in city parking lots or smaller streets. This truck is made for the open road.
Ram TRX
This full-size truck is another great option for those who want to really test the power and capabilities of their vehicle. The Ram TRX is a perfect option for off-roading enthusiasts. This truck comes equipped with a 6.2-liter supercharged V8, giving it 702 horsepower and 650lbs of torque. What really makes this truck perfect for off-roading adventures is its superb shock system. This truck boasts 2,000lbs of damping force. The advanced shock system adjusts compression and rebounds dampening within milliseconds. You'll want to take this truck and test its limits. Its base price starts at around $72,120.
When it comes to a full-size truck, possibilities are endless. These trucks all offer a wide selection of engine power as well as size. When it comes to determining which truck is for you, you'll want to compare engine power, tow capabilities, as well as the interior design and aesthetic.
MIDSIZE TRUCKS
If you love the idea of owning an American truck but don't need the power of a full-size truck, a midsize option may be perfect for you. Small trucks still pack a punch of power and often don't vary too far from their full-size counterparts. What will truly vary is the towing and hauling capabilities. A midsize truck tends to be smaller, but it also tends to have better fuel economy. These trucks are also cheaper than full-size trucks.
When it comes to finding the perfect midsize truck, there are many great options including:  
Ford Ranger
Another excellent small truck option includes the Ford Ranger. This truck has a powerful engine, handles well, and gets good gas mileage. This is a great vehicle for those who enjoy off-roading. Its towing and hauling capacities are good for its class. The engine is a turbocharged 2.3-liter four-cylinder with 270 horsepower, which gives the truck 310 lbs. of torque capabilities. Another great benefit of this truck is that it accelerates quickly with no turbo lag. This truck gets 10-21 mpg in the city and 18-26 on the highway. Its base price ranges from 24,820-39,035.
Chevy Colorado
This truck may be considered midsize, but it offers close to full-size capabilities. This truck has a fully boxed frame and 4-wheel disc brakes, providing lasting durability. The interior is spacious with additional storage capabilities as well as technologically savvy. This truck has 181-308 horsepower, depending on your choice of engine. It boasts good gas mileage, with 16-20 in the city and 18-30 on the highway. This truck also offers a turbo-diesel powertrain which provides class-leading towing abilities. Its base price ranges from 25,200-43,200.
Jeep Gladiator
It's been a long time since Jeep released a newer model with a truck bed, making the Gladiator an exciting addition to the Jeep family. This midsize truck is great for any off-roading adventure. The standard stick shift comes equipped with a V-6 engine. This truck also has towing capabilities of up to 7,760lbs. This truck is also quite customizable. The Jeep Gladiator has both doorless and roofless configurability. This model comes standard with a touchscreen, and the interior provides many great storage options in addition to the five-foot cargo bed.
GMC Canyon
This is another great choice for those who want a truck but would prefer to have more of a midsize model. The GMC Canyon has three engine options, a 200 horsepower four-cylinder, a 308 horsepower V6 and a 181 horsepower four-cylinder turbo diesel. While all these options are great, many enthusiasts suggest that the V6 is the best option. It provides nearly the same towing capacity as the diesel while also providing better acceleration and more high-end power than the other engine options.
When it comes to MPG, it falls in line with many of its competitors, lining up at about 19 mpg in the city and 25 on the highway. The best mileage can be found with the diesel powertrain, which gets 19 in the city and 28 on the highway. This is also a great choice for those who love the adventure of off-roading. It is comfortable on the road, and its secure handling and accurate steering almost makes it feel more like an SUV versus a truck.
FINDING THE RIGHT TRUCK FOR YOUR NEEDS
When it comes to determining what is the best pickup truck, it truly starts with what you are looking for. You must first determine if you would prefer a full-size truck or if you lean towards a smaller compact truck. This will then help you to determine the right engine for your needs, which will impact your hauling and towing power. You'll also want to consider the interior of the truck and the features that are available.
Most come standard with certain features, but other features will vary. Another important consideration is your mpg options, as well as the overall initial cost. You'll also want to take the time to consider the various safety features included, as well as how the truck has performed in safety and crash testing. You can't get much better than an American truck. Trucks continue to grow in popularity due to their dependability, versatility, and safety features. When it comes to finding the right truck, it all starts with you.