A Beginner's Guide To Life Is Beautiful 2022
Photo from igovegas
Originally Posted On: https://igovegas.com/blog/life-is-beautiful-2022-guide
Happening September 16-18, 2022, the Life is Beautiful festival spans 18 blocks in Downtown Las Vegas. Start planning for the 2022 Life is Beautiful Festival!Every year, more than 42 million people descend on the "Entertainment Capital of the World."
They come for the casinos, the shows, the music performances, and (of course) the food. But every autumn, Las Vegas entertainment kicks into high gear with a one-of-a-kind event.
Have you heard good things about the Life is Beautiful Festival? Are you planning a visit to the 2022 event?
If so, you're in for the artistic experience of a lifetime! Keep reading for everything you need to know about attending this highly-anticipated and much-loved music festival.
WHAT IS THE LIFE IS BEAUTIFUL FESTIVAL?
Imagine a music and art festival that spans 18 blocks through the heart of Downtown Las Vegas. Now imagine a specially-curated three-day lineup of some of the hottest names in music.
Sprinkle in some comedians, celebrity chefs, mixologists, and experiential artists, and you'll get an idea of what makes this event so unique.
The Life Is Beautiful Festival is the Vegas event for anyone who appreciates music, art, and food. No matter your taste or style, you'll find every genre represented — and probably discover some new ones along the way.
Life is Beautiful began in 2013 as a key part of the transformation of Downtown Las Vegas (DTLV) into a cultural hub. Since then, the festival has contributed over $350 million in economic impact to the city.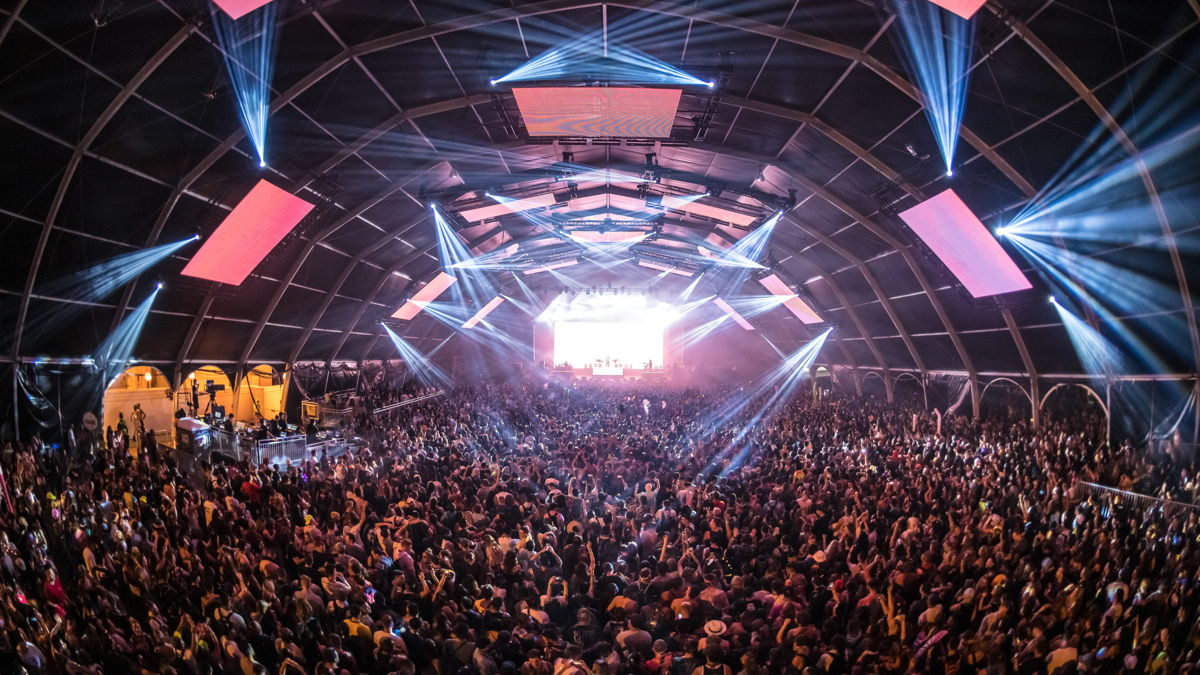 Each year, the three-day festival attracts premier musicians, comedians, experiential artists, motivational speakers, and culinary talent from around the world. This is in addition to the festival's more than 170,000 attendees.
The spirit of the festival is fueled by one basic belief: art can change the world. Now it's an annual celebration of joy, connection, and creativity that transcends genres and cultures.
Ultimately, the goal of the festival is to bring people together. Its core mission is to create a "holistic" festival experience that results in individual empowerment and positive community transformation.
As the Head of Music & Programming explains, "We love creating moments that bring a lot more happiness and joy into the world."
Is it any wonder that this event was named "Best Festival in the World" at the 2022 BandLab NME Awards?
LIFE IS BEAUTIFUL MUSIC FESTIVAL HISTORY
Since 2013, the Life is Beautiful Festival has transformed DTLV's urban landscape into an oasis for creatives and visionaries alike. Over the past decade, the event has hosted:
570 musical acts
113 large scale public art installations
124 comics and keynote speakers
36 philanthropic partners
Many of the world's best musicians, artists, chefs, thinkers, and doers have headlined the event, including:
Kendrick Lamar
Halsey
Stevie Wonder
Imagine Dragons
The Lumineers
Chance the Rapper
Muse
Lorde
Mumford & Sons
Tegan and Sara
Blink-182
Haim
Jane's Addiction
G-Eazy
Snoop Dogg
Hozier
Major Lazer
J. Cole
Along the way, the festival has featured incredible street art from Banksy and Shepard Fairey. It's also seen appearances from speakers like Michelle Wolf, Depak Chopra, Jonathan Van Ness, and Bill Nye.
2022 LIFE IS BEAUTIFUL SCHEDULE OF EVENTS
So then, what's in store for the 2022 Life is Beautiful Festival?
Once again, we'll expect world-class food and beverage offerings, hilarious standup comedy sets, stunning works from internationally-renowned artists, and thought-provoking speeches.
But first, let's focus on the heart of the event: the music performances.
Here's a day-by-day lineup of who's playing on the festival's seven stages.
FRIDAY (SEPTEMBER 16, 2022)
Arctic Monkeys, Migos, Cage the Elephant,  Charli XCX, Shaggy, COIN, R3HAB, DABIN, Jungle, Oliver Tree, Alison Wonderland, Tai Verdes, Sonny Fodera, Grandson, Omah Lay, Cassian, Claire Rosinkranz, Wet Leg, Cochise, Solardo, Blu DeTiger, Perel, Tre' Amani, Rochelle Jordan, and THE BLSSM
SATURDAY (SEPTEMBER 17, 2022)
Gorillaz, Marc Rebillet, Isaiah Rashad, Lorde, Kygo, Gryffin, Alessia Cara, Bob Moses, Pussy Riot, Walker & Royce, Kyle Watson, Mochakk, JPEGMAFIA, Coi Leray, KennyHoopla, Phantoms, Alexander 23, Midwxst, Ericdoa, Palace, Ship Wrek, Hope Tala, Jerro, and TIBASKO
SUNDAY (SEPTEMBER 18, 2022)
Calvin Harris, Jack Harlow, Beach House, Said the Sky, Big Wild, SG Lewis, Elderbrook, Dermot Kennedy, Sylvan Esso, Big Boi, Rico Nasty, Jax Jones, Sam Fender, Young Nudy, Giolì and Assia, Bad Boy Chiller Crew, Neil Frances, Amaarae, Clinton Kane, Becky Hill, Valley, Georgia, Lewis OfMan, Satin Jackets, Mild Minds, Lexi Jayde, and The Soul Juice Band
CULINARY VILLAGE & ALCHEMY GARDEN
Don't worry — you won't go hungry at the music festival. You'll have the opportunity to enjoy cuisine and cocktails from more than 70 Las Vegas-based bars and restaurants.
As you wander through the event's culinary village, you'll find everything from food trucks to five-star fine dine dining experiences. In the alchemy garden, expect to see mixologists and craft brewers offering drinks to help you stay cool in the desert heat.
URBAN ART EXHIBITS
Looking for a fully immersive, multi-disciplinary artistic experience?
Forget heading to a dark, silent art museum. As you stroll the 18 lively festival blocks, you'll enjoy exhibits from local and world-renowned artists.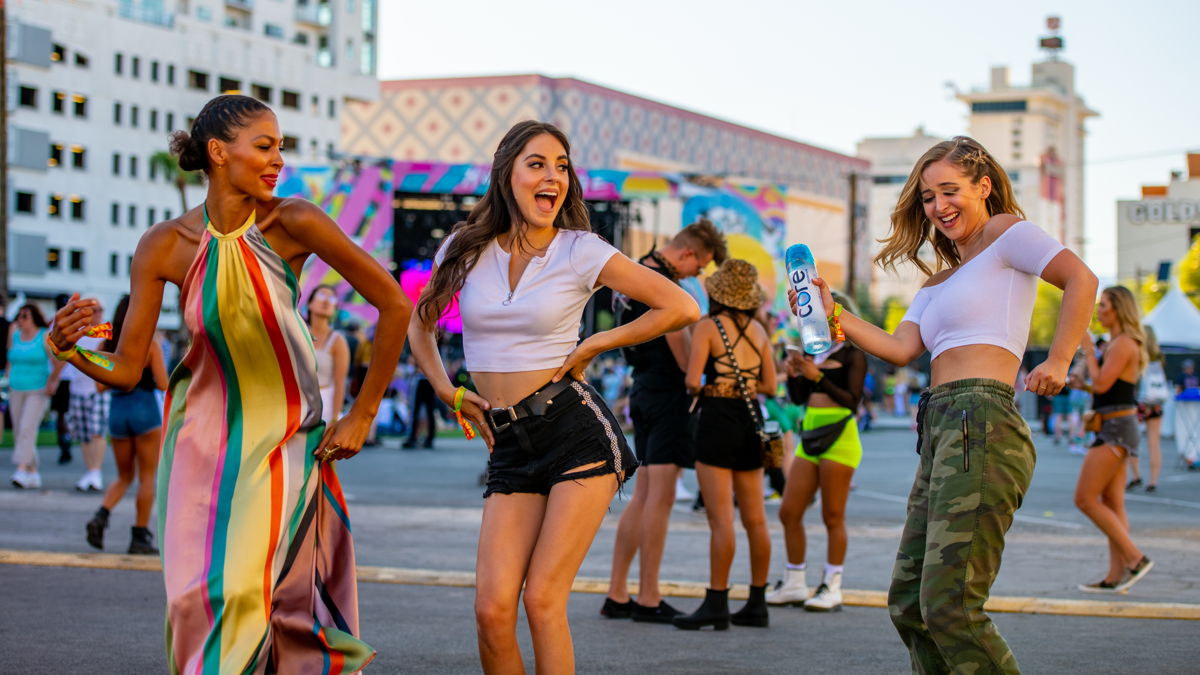 Their stunning and thought-provoking street art shares a common purpose: to make the community and more meaningful and beautiful place.
INSPIRATIONAL SPEAKERS
Another highlight of the Life is Beautiful Festival is the lineup of amazing speakers.
You'll have the chance to hear everyone from famous comedians and drag queens to acclaimed authors and podcast hosts. Their goal is not only to entertain but also to shift perspectives and ask (or answer) some of life's biggest questions.
TOP TIPS FOR VISITORS
It's clear why the Life is Beautiful Festival makes the top of the list of annual Las Vegas events. The question now is: How can you prepare for it?
Here are some insider tips for making the most of your festival experience.
1. CHOOSE THE RIGHT TICKET
There's a ticket to fit every budget, from general admission for one day to an all-in, VIP experience for the full three days.
Here's a brief overview of what's included with each ticket tier.
General Admission (GA)
This wristband gives you access to all the sights and sounds of the seven stages, the culinary experiences, and the art installations.
VIP
The VIP wristband includes all General Admission features, plus:
shaded lounge areas
concierge services
access to premium food vendors
private cash bars with specialty cocktails
air-conditioned restrooms
express entry lanes
VIP+
The VIP+ wristband includes all GA & VIP features, plus:
complimentary beer, wine, and cocktails at private VIP+ bars
elevated viewing areas at select stages
exclusive food and beverage experiences
air-conditioned restrooms with attendants
All-In
The All­-In wristband includes all GA, VIP, & VIP+ features, plus:
front row viewing areas at select stages
access to the Artist Hospitality Lounge
exclusive culinary offerings
food vouchers
shuttle services between stages
a special festival gift
BUY LIFE IS BEAUTIFUL 2022 TICKETS HERE
2. PLAN YOUR TRANSPORTATION
There are dedicated dropoff areas for taxis, Lyft, and Uber. This is your best best bet if you plan to have a few drinks during the festival.
If you have a designated driver, you'll find dedicated parking lots near the event. A Park & Ride shuttle is available to transport you to and from the event. There are no Strip shuttles or parking spaces available at the event.
Important note: General admissions guests are permitted three exits and three re-entries per day. If you do exit the event, you need to be back inside the gates before 9 PM.
3. DRESS FOR THE CLIMATE
September in Las Vegas can be pleasantly cool or blisteringly hot.
If you'll be starting your festival experience before sunset, slap on some sunscreen and dress for warm, dry weather. Bring a light sweater or jacket to wear after dark — the temperature can dip dramatically once the sun goes down.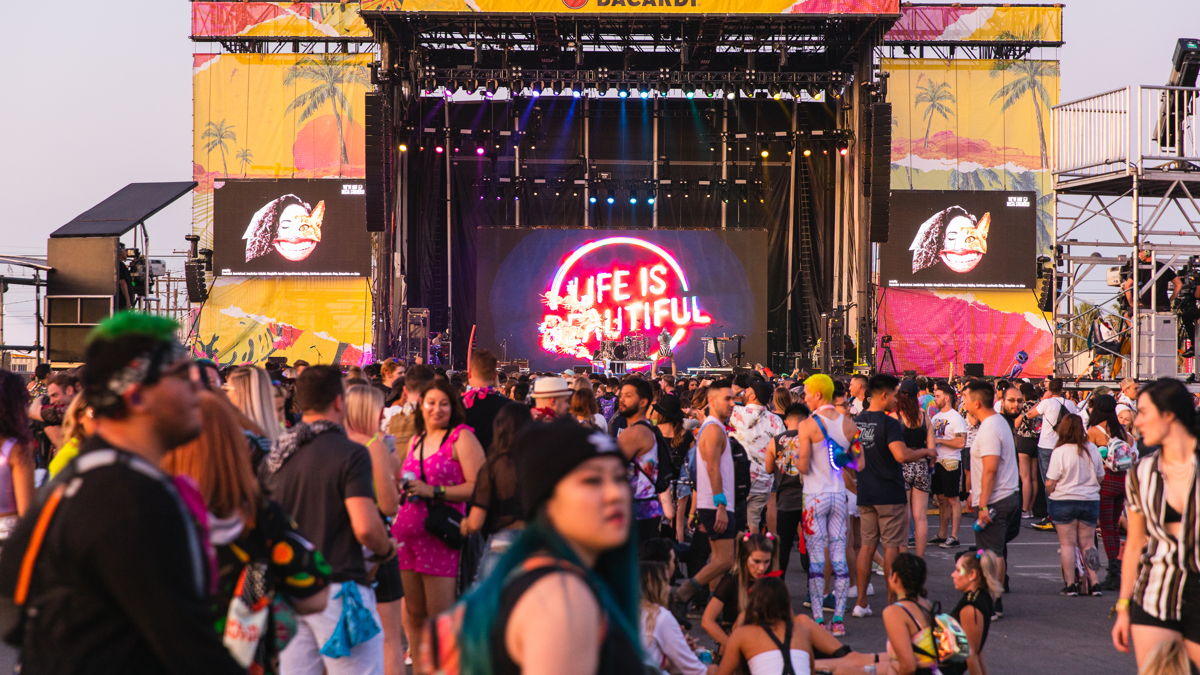 4. PLAN YOUR TIME WISELY
The musical acts are a highlight of the festival, but that's not the only thing you'll want to do. There's also the artwork, speakers, and culinary experiences spread out across the festival grounds.
Study the music lineup and make a list of your "must-sees," along with when and where they'll be performing. Once you have your personal lineup planned out, you can explore other festival features in the interim.
5. WHAT TO BRING WITH YOU
You can bring in a small bag and items such as:
blankets
baby strollers
portable phone charges
soft-sided coolers (no larger than a 12-pack)
an empty CamelBak
binoculars
two unopened water bottles (up to one liter)
glow sticks
Prohibited items include drugs, weapons, hula hoops, and pets. Aside from water, you're also not allowed to bring outside food or drinks.
6. ANTICIPATE LIMITED CELL SERVICE
Although coverage has improved in recent years, many attendees report spotty data coverage within the festival area. Often they wouldn't receive a text message or social media update until returning to their hotel for the night.
Your best bet is to figure out meeting points ahead of time before you and your group split up. You should also grab a paper map or download one before you arrive, as you may not be able to access the festival app.
THE BEST IN LAS VEGAS ENTERTAINMENT
If you love great music, food, and art, Las Vegas is the place to be this year from September 16-18.
Will you be attending this year's Life is Beautiful Festival? If so, be sure to bookmark this article and refer back to it as you plan your Las Vegas getaway.
Speaking of trip planning, have you booked your accommodation yet? Hotels are selling out fast for the festival, so don't delay