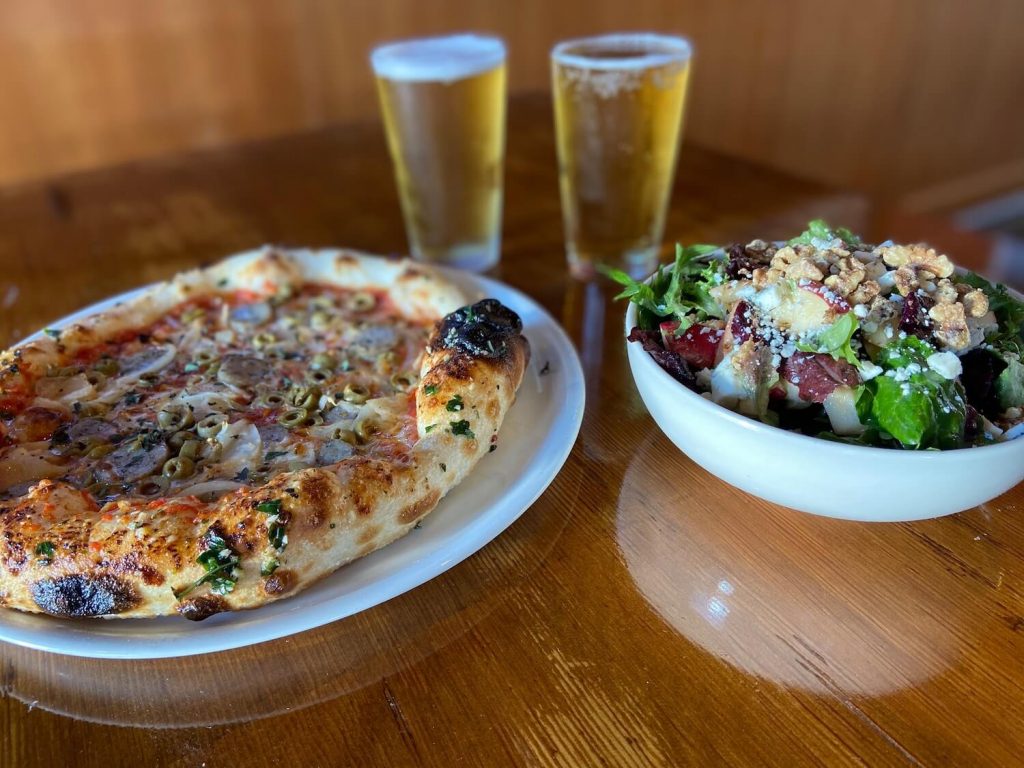 6 BEST WINE AND BEER PAIRINGS WITH NEAPOLITAN PIZZA
Photo from Fondi
Originally Posted On: https://fondi.com/best-wine-and-beer-pairings-with-neapolitan-pizza/
In this guide, you'll learn the best wine and beer pairings with Neapolitan Pizza
We'll be as bold to state that there are few things better in this world than enjoying a fresh, hot out the oven pizza. And we'd even be so bold as to bet most people would agree with us.
At Fondi's, we want our customers to enjoy the experience of having a relaxing meal of authentic Neapolitan pizza with your friends and family. While our pizza can hold it's own all by itself, we feel that your dining experience can be elevated by pairing your meal with a wine or beer.
When you choose something off the Fondi Pizzeria menu, we want to make sure you get the perfect wine and beer to pair with your meal. Read on to discover the pairings that work well with some of our favorite dishes. Like our ingredients, we've carefully selected palette-friendly beers and wines to go with our dishes.
Margherita Pizza: Pinot Grigio & Lager
When you're enjoying the fresh, classic flavors of a Margherita pizza, you want a wine that will complement the flavors without overpowering them. The bright flavors of a pinot grigio will pull out the freshness of the tomato and the gorgeous aroma of the basil. Ask for our Spinelli Pinot Grigio Terre di Chieti from Italy.
If you're more in the mood for a beer, you want to stick to the bright, clean flavors. A lager provides the crisp finish you want to work with the clean flavor of fresh mozzarella. Heineken or Peroni both make for great options, and we even have a non-alcoholic version of Heineken for non-drinkers to enjoy.
Prosciutto and Arugula Pizza: Chianti & Belgian White
There are few things more luxurious in the world of pizza than a prosciutto and arugula pizza. I know, we are biased. A good chianti can both balance the salty flavors of the prosciutto and bring out the spiciness of the arugula. Our Villa Puccini Chianti comes from Italy and will make the perfect pairing for this pizza.
On the beer side, you want to stick to a lighter beer without too much bitterness to allow the umami of the meat to shine through. A Belgian white beer will allow the prosciutto to stay center stage and will work beautifully with the crisp arugula. Our Blue Moon Belgian White Golden out of Colorado comes on tap and will make your pizza sing.
Sausage and Mushroom Pizza: Primitivo del Salento & Blond Ale
Maybe you're in the mood for something a little more down-to-earth, like our sausage mushroom pizza. The flavors of this pizza tend to be bold and meaty, so you want a wine that will bring in a touch of sweetness while standing up to the richness of your pizza. Varvaglione 12 e Mezzo Primitivo del Salento bursts with fruity flavors that will make your pizza feel even more decadent.
If you prefer beer, however, you want to stick to something light enough to offset your pizza, but stout enough to hold its own. A blond ale has a rich flavor without getting into the heaviness of a porter or stout. Gig Harbor Brewing's Giggly Blond Ale is light enough to bring your palette back before you dive into the next rich, earthy bite of your pizza.
Pizza Special: Chardonnay & Porter
At Fondi, our pizza special comes loaded with salami, sausage, onion, mushrooms, and olives. With all those bold flavors working together, you may want to go for a wine that will balance them and bring your palette back to neutral ground between each bite. Our Cycles Gladiator Chardonnay comes from California and provides the perfect break from the intensity of the special.
With a pizza as bold as this, you can also go all in and get a meal that doesn't skimp on flavor. A porter beer will offer a rich, bold weight that matches your pizza note for note. A bottle of our Deschutes Black Butte Porter out of Oregon will be just the pairing you need if you want to experience pizza night to the fullest.
Bella Chopped Salad: Sauvignon Blanc & Lager
If you're wanting something a little lighter than pizza, our Bella chopped salad is a perfect choice. It comes topped with herb-roasted chicken, salami, roasted red peppers, black olives, and a variety of other savory toppings. A glass of Arona Sauvignon Blanc from New Zealand will provide the perfect light pairing for this salad.
When pairing salads, it's a good idea to stick to beers that are lighter so as not to overpower the flavor of your meal. A lager has a perfect clear taste with enough richness to balance the meats and veggies in this salad. Our own Fondi Amber Lager is the perfect pairing to make our Bella chopped salad shine.
Meatball Appetizer: House Red & IPA
Before your main dish comes out, you may want to indulge in our meatball appetizer that comes in single or triple options. If you'd like a glass of wine to enjoy as your meal begins, it's a good idea to go for a red that can stand up to the heartiness of the meatball. Our Fondi House Red is the perfect table wine to get conversation flowing and your meal off to a gorgeous start.
If you'd prefer to start your meal with a beer, you'd want to opt for something bright enough to offset the richness of your meatball. An IPA will be a perfect pairing for your appetizer, as well as getting your palette warmed up before your main dish arrives. We have three IPAs for you to choose from, all brewed in Washington, and all excellent options.
Experience the Fondi Menu
At Fondi, we want to make sure every one of our guests has an exceptional dining experience. The pairings we've talked about here can help to elevate your meal and make every bite sing. Whether they're matching the intensity of a dish or providing the perfect counter, these drinks can bring out the gorgeous flavors of every dish.
If you'd like to experience the Fondi menu for yourself, check out the rest of our site. We have everything from top-quality pizzas and salads to paninis, sweets, and more to delight your palette. Check out the rest of our menu and start planning your next Fondi dining experience today.