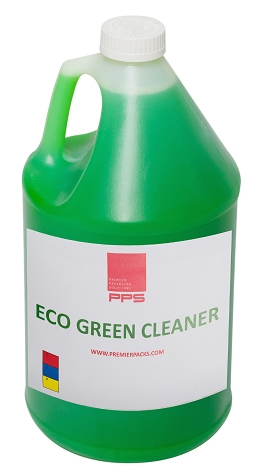 3 Reasons Manufacturers Should Use a Green Industrial Cleaner
Originally posted on https://www.premierpacks.com/news-and-updates/100-3-reasons-manufacturers-should-consider-using-a-green-industrial-cleaner
Consumers in many sectors of business are concerned with the overall environmental friendliness of the products and services they choose. As a result, the market for recyclable, reusable, and otherwise "green" products is flourishing. In fact, a staggering 88% of consumers prefer to do business with companies they believe will help them live a more eco-friendly life; more importantly, companies are obliging.
Some of the major players in retail, food service, and manufacturing are undertaking green initiatives to minimize their effect on the environment. Big names like Starbucks, Google, Wal-Mart, and SC Johnson have recently made headlines for their work towards more sustainable business practices, leading more and more businesses to emulate their actions. Unfortunately, however, not all companies have the resources or the ability to begin a big "Go Green" campaign. As a result, many small business owners are left asking themselves what they can do to begin addressing their carbon footprint.
What Green Initiatives Can Your Business Handle?
While it's true that not all companies will wind up making a national or international statement by reducing their environmental impact, taking steps in the right direction will have a positive benefit in many ways, no matter the size of your company. For example, utilizing a manufacturing technique that produces less waste can save you money and promote some goodwill from your potential customers — all while reducing the negative effects your processes have on the environment. Taking the time and effort to address just a few of your business's least environmentally-friendly practices can pay off in the long run.
Of course, changing the course of your entire production line or revamping your packaging scheme can produce big changes to your impact on the environment. However, these endeavors take time and a significant amount of planning. For these reasons, most strategists recommend that businesses look closely at the simpler routines your company can change to make a difference. For many, that means addressing the chemicals you use the most.
Making the Switch to Green Cleaners
Industrial cleaners are some of the most common chemicals found in any business's production area, regardless of industry. Used to clean and degrease manufacturing machinery as well as other hard surfaces, these cleaners can have a much larger impact on the environment than you may think. Choosing a green industrial cleaner like ECO Green Cleaner can help your business address one of the primary ways it affects the environment without necessitating cumbersome changes to your manufacturing procedures.
Cleaning Products Affect Air QualityBusiness owners know that dirt, grease, and other surface matter can accumulate during every part of the manufacturing process. It only makes sense to remove the build-up regularly to ensure a safe, sanitary environment and keep your most expensive equipment in proper working order. Unfortunately, cleaning products themselves often contribute to a poor working environment for those using them, putting some of your most valued employees at risk.During and immediately after use, many cleaning products produce air conditions unfavorable for humans. As a result, skin, eye, and airway irritation can prove harmful for your employees. Choosing a green cleaner like ECO Green – which does not include any hazardous solvents, dangerous inorganic phosphates, or corrosive chemicals – ensures your employees can breathe easily while keeping your production line clean.
Cleaning Products Affect Water Quality
While most cleaners – whether used in parts washers, food prep surfaces, or hard floors – are designed to leave behind minimal residue, they must be washed away from both the cleaning equipment and the hard surface. While this practice results in clean, material-ready surfaces, it also results in runoff water filled with residual chemicals. Too often, runoff finds its way into rivers and streams, which can have dangerous consequences for wildlife populations and humans alike.
The prevention of dangerous runoff requires a two-part solution. First, you must address your company's chemical management system to ensure all runoff is properly treated. Second, you must use an environmentally friendly cleaner, such as ECO Green, to ensure any remaining chemicals traveling down your company's drains will not harm the environment. ECO Green is biodegradable, completely non-toxic, and recognized by the EPA's Design for Environment as a green cleaner.
Cleaning Products Present Handling and Disposal Concerns
Cleaning products should not flow unchecked into local water sources. Your business likely has a chemical management system in place to handle the usage and disposal of all potential hazards. This set of protocols is designed to prevent workers from experiencing exposure to corrosive, hazardous chemicals that can burn the skin and enter the airway as well as to prevent outside animal and human populations from unnecessary exposure to the same.
However, when you choose a green cleaner like ECO Green, you significantly reduce the number of steps necessary to ensure the chemicals involved will not harm your employees or the environment. In addition, ECO Green can be used in concentrate for parts washers as well as in diluted form for other hard surfaces – including food contact surfaces. This reduces the packaging waste and disposal issues presented by multiple cleaner usage. Finally, green cleaners are biodegradable and contain no corrosive or noxious chemicals that would present environmental issues or health concerns for your employees.
Reach Out for More Information
Are you ready to begin a green initiative for your company? Doing so can help ensure employee safety and improve your impact on the environment – it can also save you money. Premier Packaging Solutions' ecologically friendly cleaners are competitively priced, meaning you can spend less while maintaining a clean working environment that will have employees and customers alike appreciating your commitment to reducing your carbon footprint. Your handling and disposal costs will decrease as a result of your close attention to proper packaging and limiting hazards to the environment.
For more information about ECO Green and other environmentally friendly products, contact us today. Our experts will assess your needs and suggest the ideal cleaning solutions to use dependent on your industry. To start your company's green initiative and make a difference where it truly matters, reach out to a representative today.