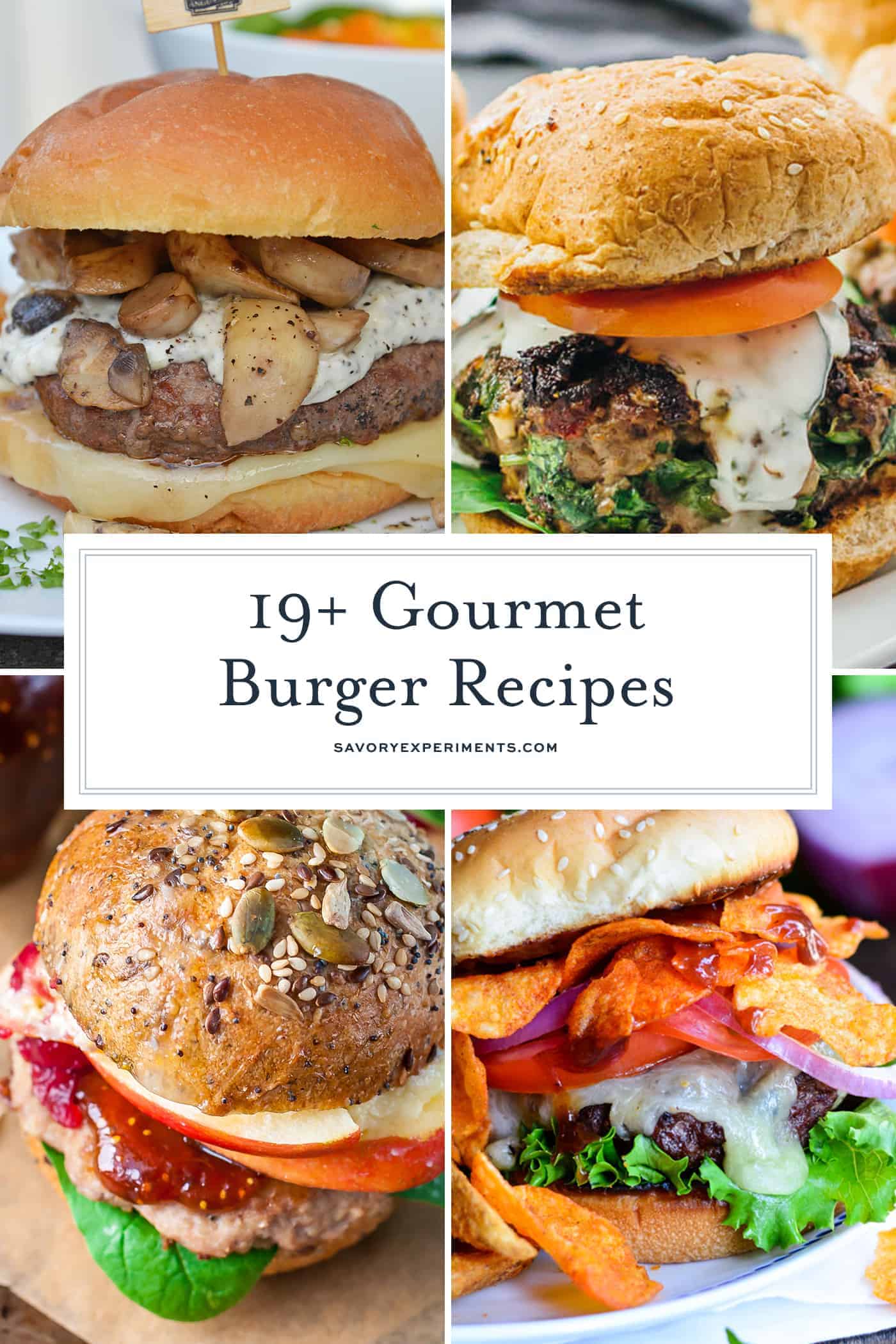 19+ Gourmet Burger Recipes
Photo From savoryexperiments
Originally Posted On: https://www.savoryexperiments.com/the-best-gourmet-burger-recipes/
Summertime means grilling, and these gourmet burger recipes are just the thing for your next grilling night. These unique recipes will make you want to have burger night every night!
These are the best gourmet burger recipes! If you've ever wondered how to make fancy burgers at home, you are going to be surprised at how easy they are!
I love grilling out during the summer. And of all of the grilling possibilities, like chicken, steaks or even veggies, burgers have got to be my favorite! I always love a classic burger with American cheese, but sometimes I like to kick them up a notch.
These gourmet burger recipes are topped with everything from bacon to caramelized onions, onion ring toppers, aioli sauces and apples and vegetables. The possibilities are endless (and delicious!)
A great burger starts with a the perfect patty. While some of these creations have a special blend of meat and spices, others have nothing but quality ground beef.
Here are a few tips for the best gourmet burger recipes:
Use quality ground beef.
Don't overwork the meat, it can make it tough.
Never press down on the patty while you are cooking it, you'll press out all the juices.
Allow your burger to rest before serving.
Check out our tips and tricks for how to make a better burger.
Also keep in mind that any of these creations can be made into a chicken burger!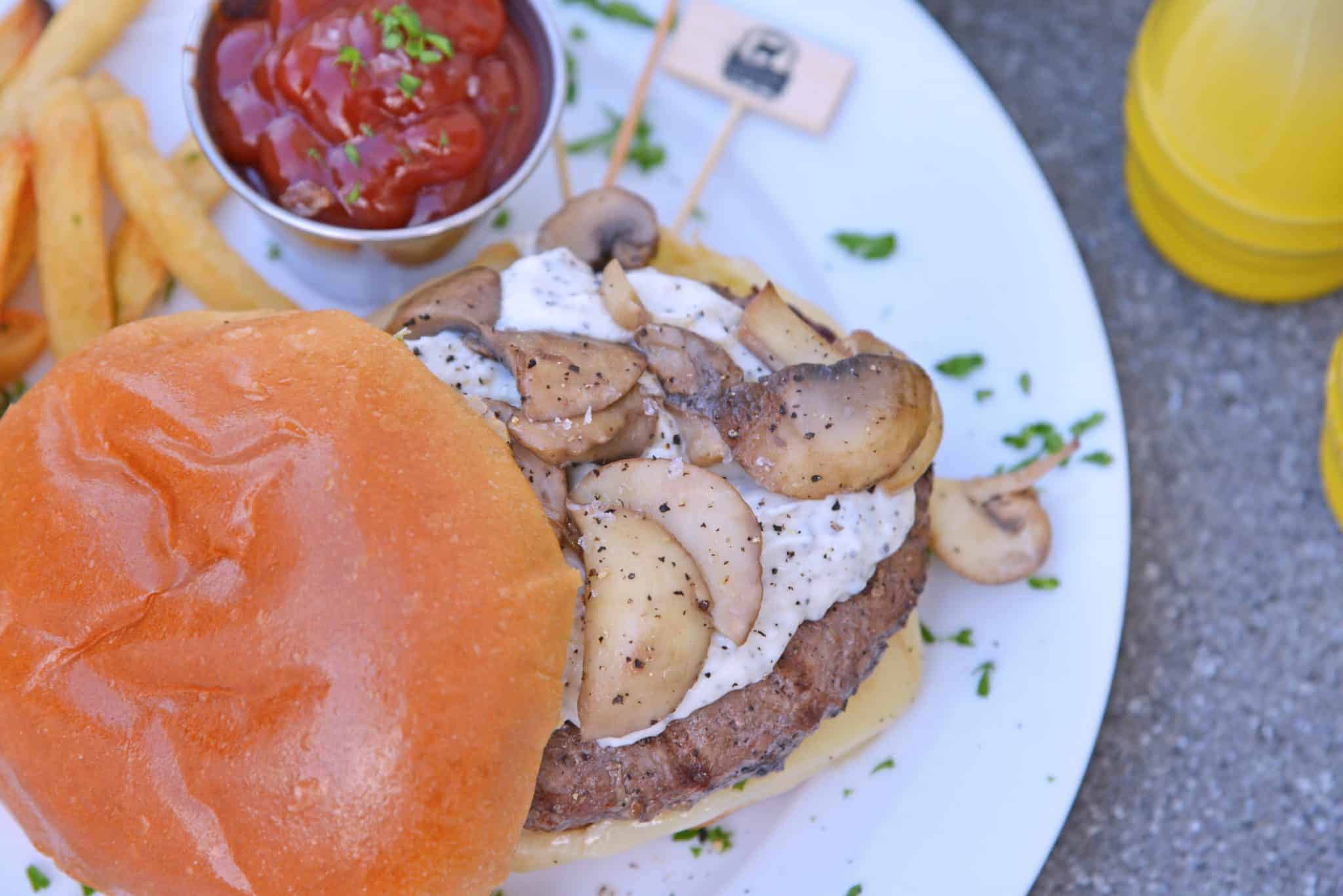 A Garlic Truffle Burger is the perfect way to make gourmet burger recipes at home. Truffle Aioli, sautéed mushrooms, Swiss cheese and a juicy burger patty on a buttery brioche roll, so delicious!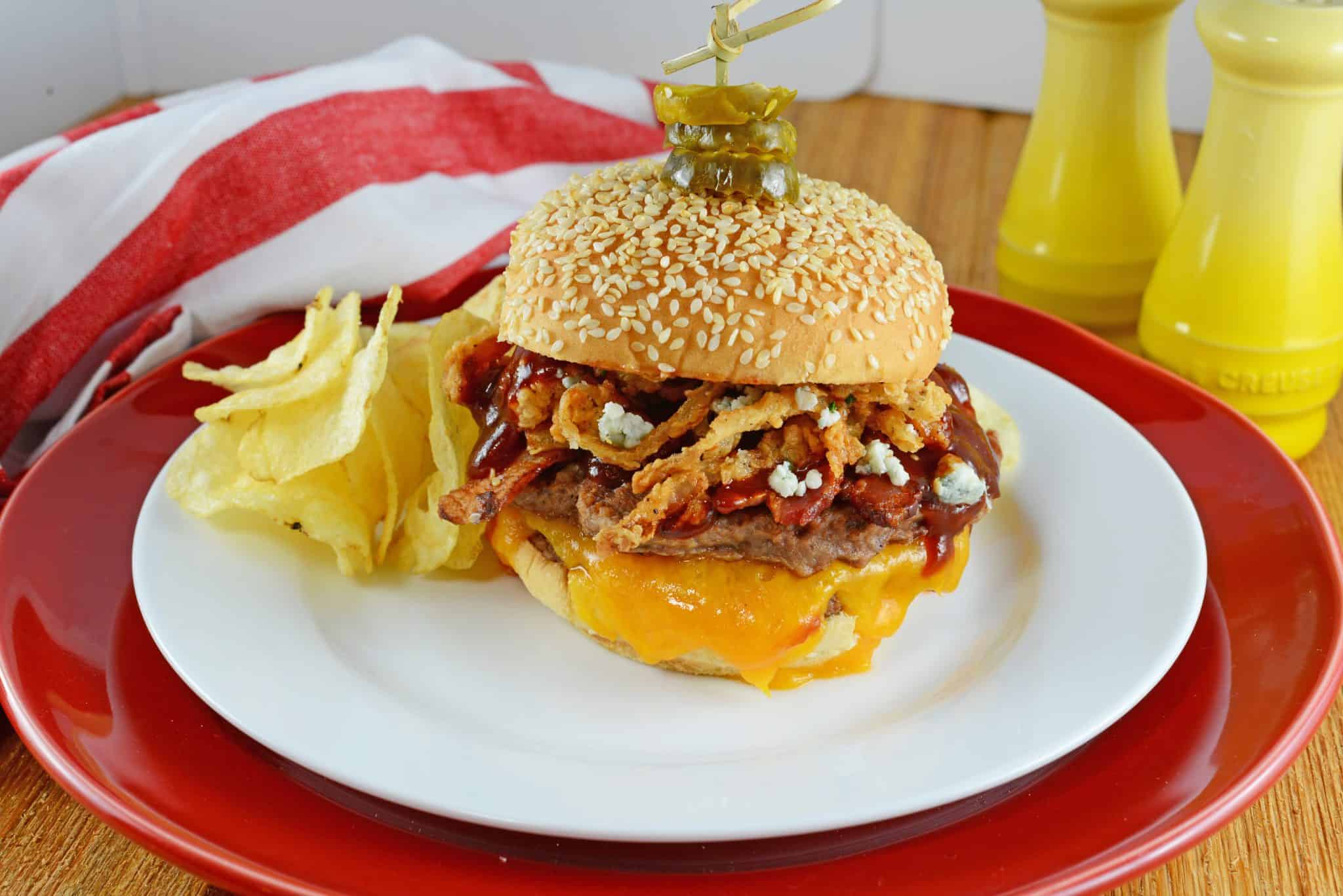 This Cowboy Burger is made of double patties with cheddar, blue cheese, onion strings, BBQ sauce, bacon and topped with honey habanero homemade pickles! The best burger!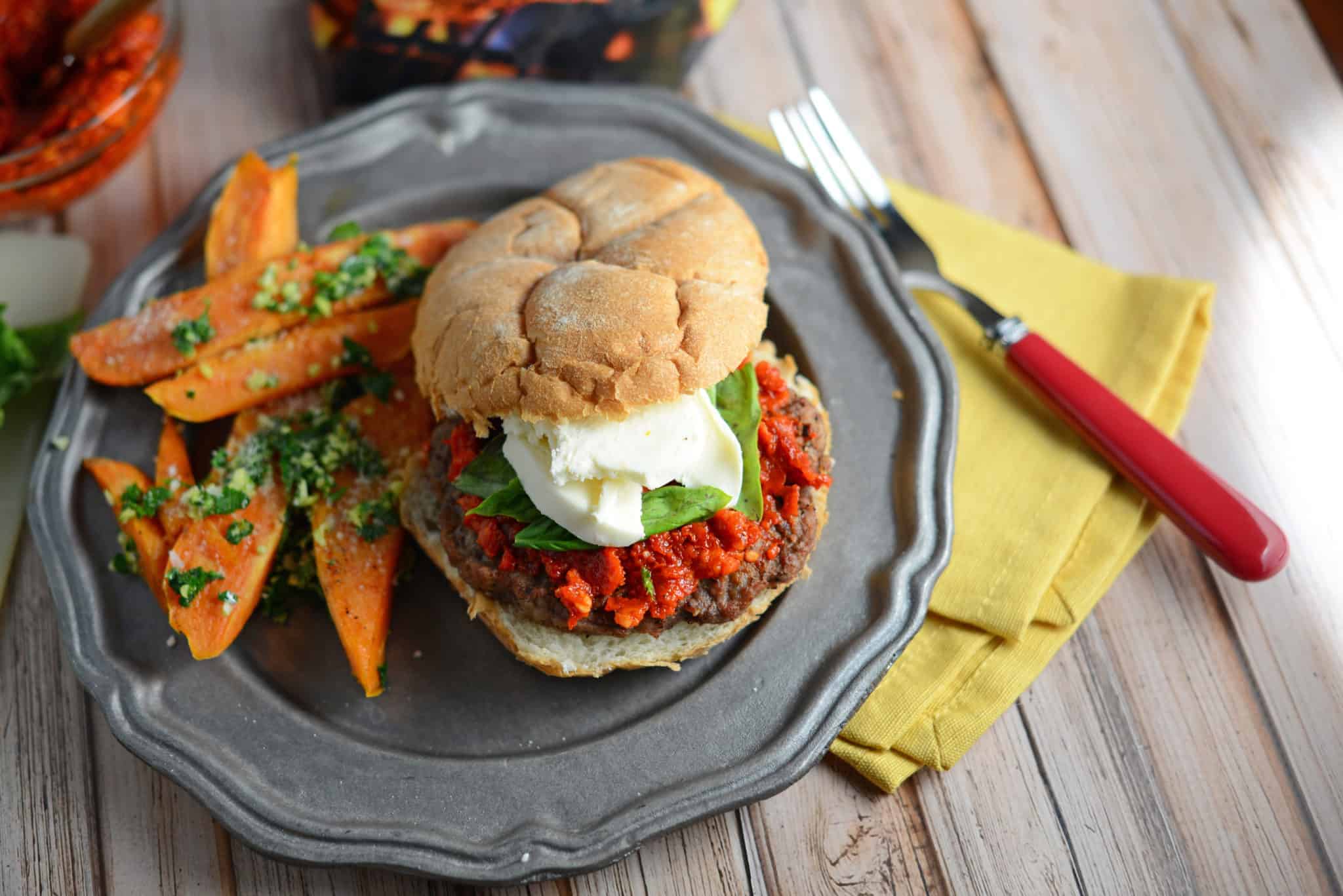 These Caprese Burgers are simple, yet sophisticated and easy to prepare. So easy, you can set these items out on the fixing tray at any BBQ so everyone can make their own gourmet burger recipes!
Taco Burgers are the perfect easy weeknight meal or a fun way to make a backyard BBQ a little spicier!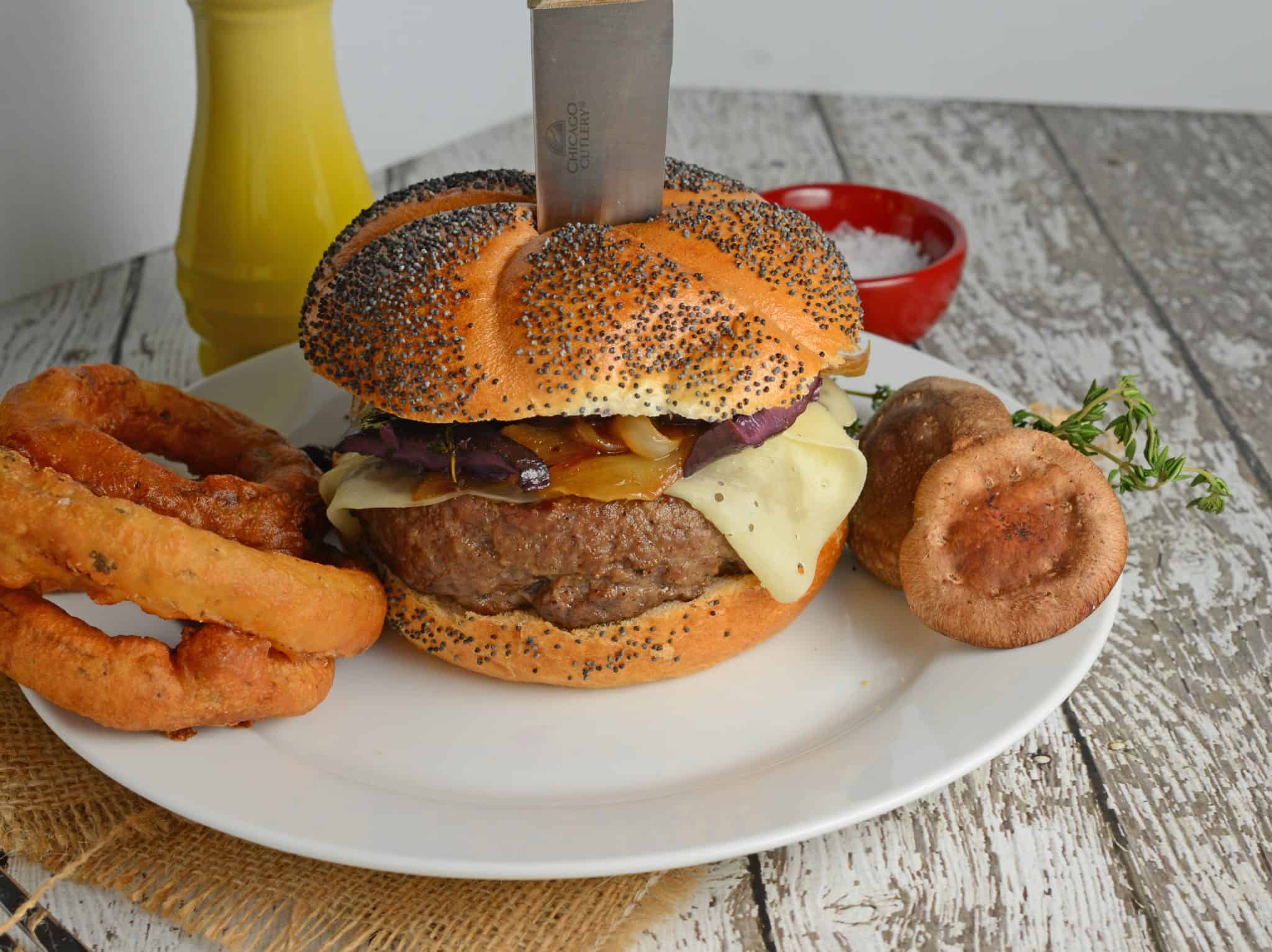 This Red Wine Shiitake Hamburger takes your typical burger and turns it into so much more! With the combination of earthy and sweet, the toppings make this into the perfect gourmet hamburger to enjoy at home!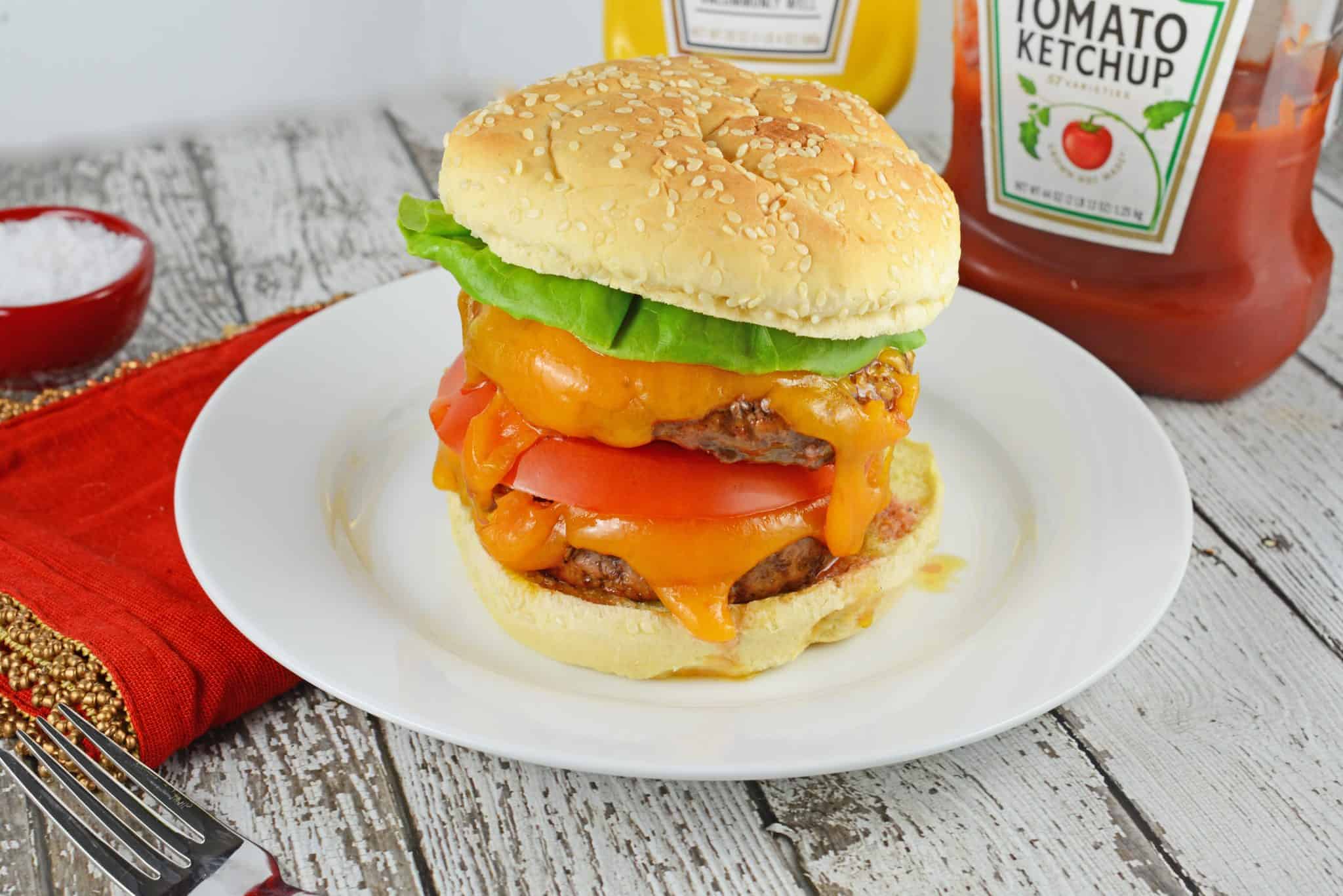 Any Scandal fans out there?? This gourmet burger recipe is my take on the Gettysburger!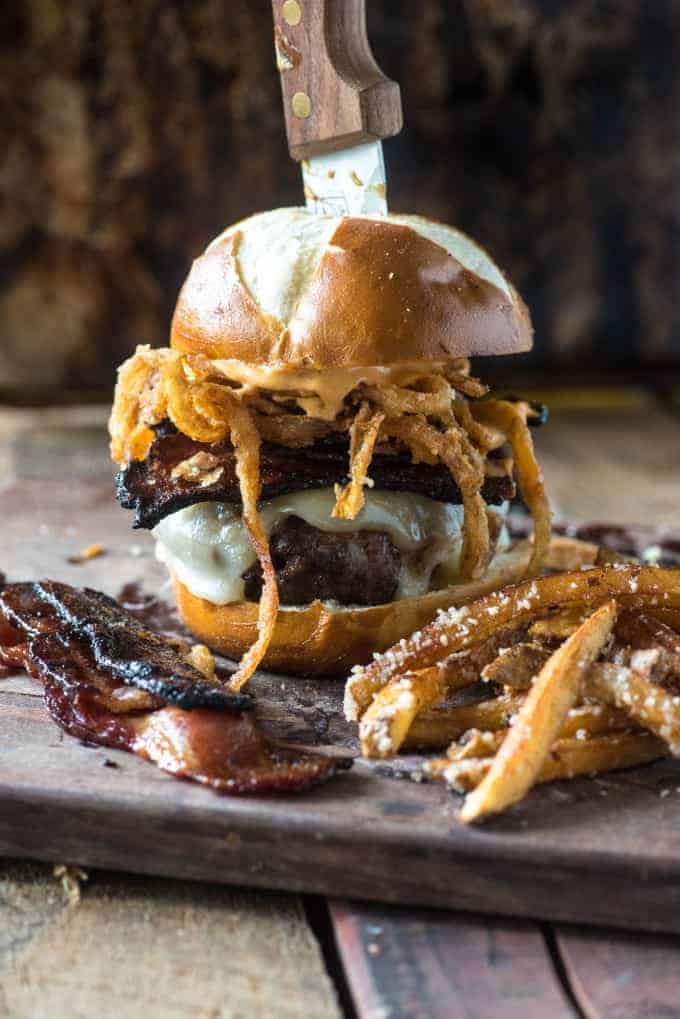 This is not your typical bacon burger! This Spicy and Smoky Candied Bacon Burger is topped with a delicious candied bacon, onion straw, and a sauce that is out of this world! You can find the recipe here.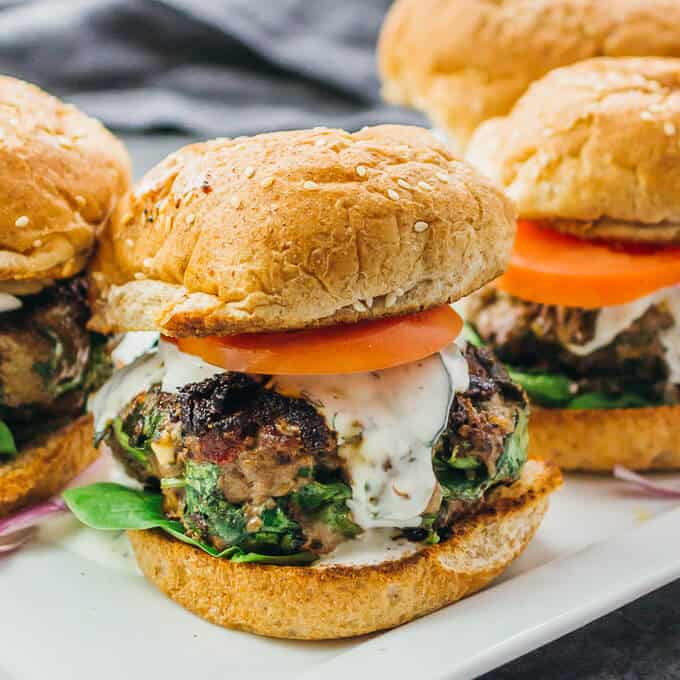 These healthy Greek burgers are made using ground beef mixed with spinach, feta, and sun-dried tomatoes, then drizzled with a delicious tzatziki sauce! You can find the recipe here.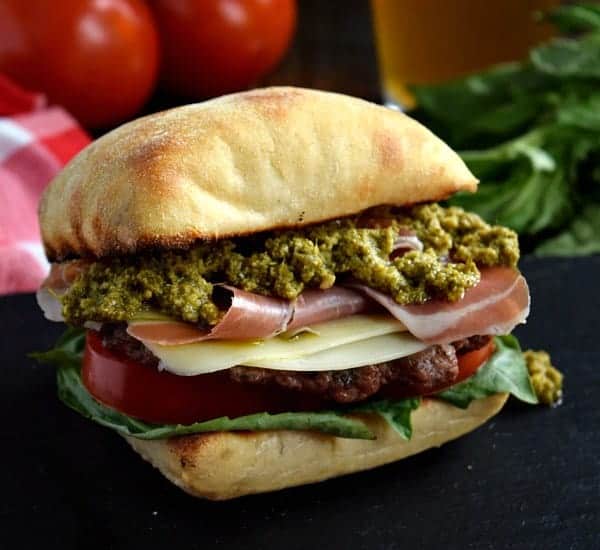 This Prosciutto Pesto Burger is fresh, salty, sweet and savory all at the same time! It's like a party in your mouth! You can find the recipe here.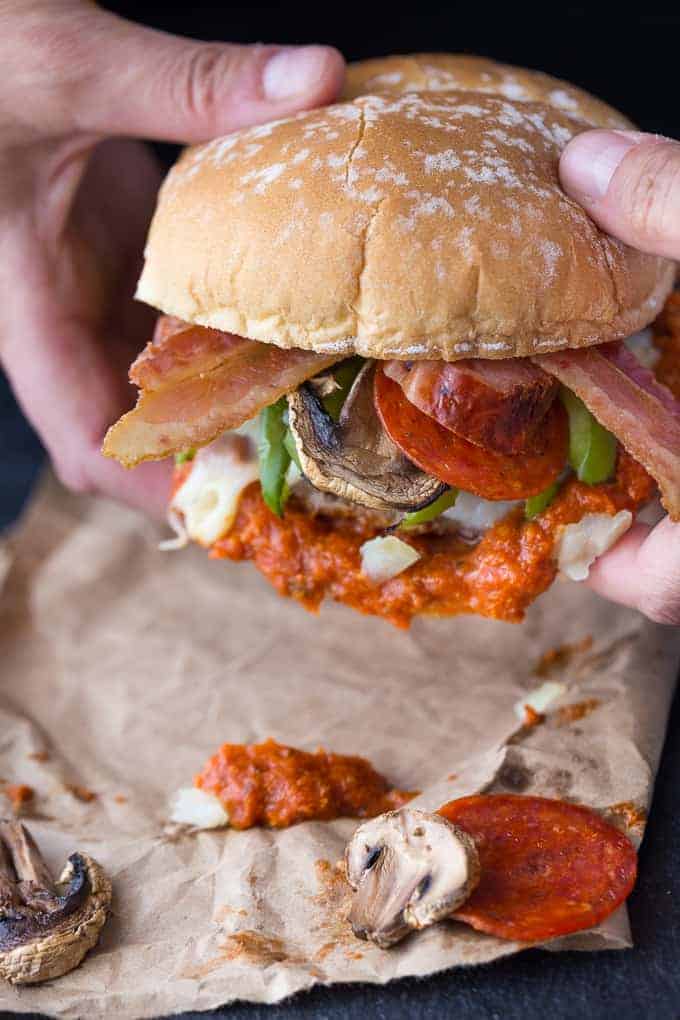 Loaded to the max with all your favorite pizza toppings, this Deluxe Pizza Burger will become a new family favorite! You can find the recipe here.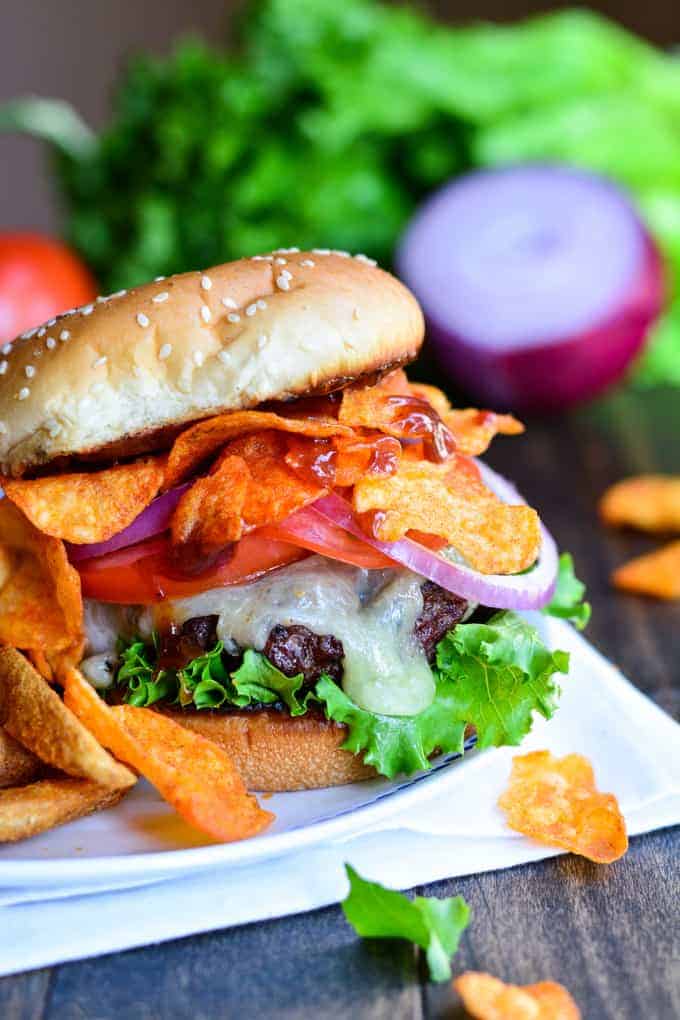 If you like barbecue sauce/flavor then this Triple BBQ Crunch Burger is for you! It has just the right amount of flavor and crunch! You can find the recipe here.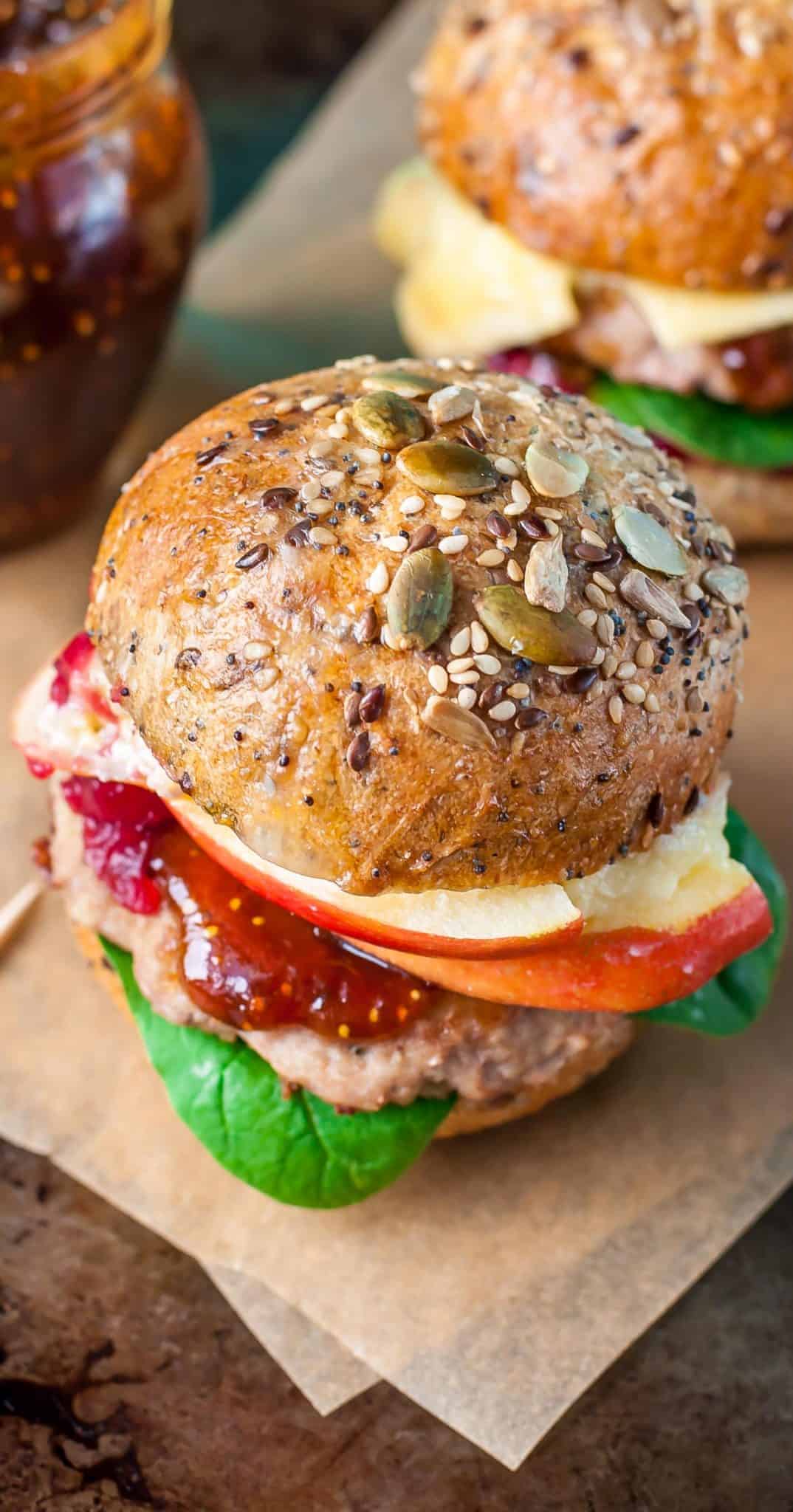 These ridiculously tasty Apple Cranberry Brie Turkey Burgers are topped with seasonal favorites and served up slider-style with fig preserves! You can find the recipe here.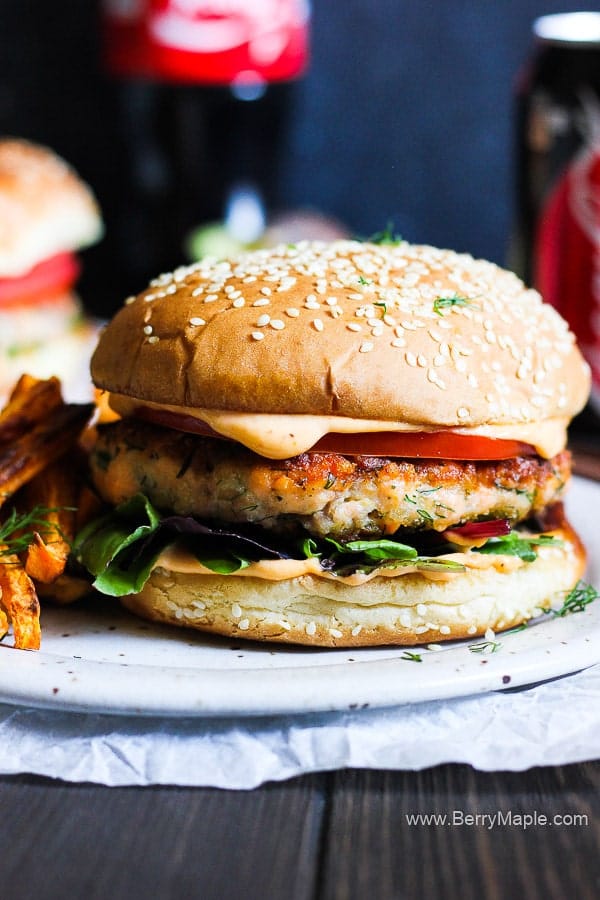 This juicy, aromatic Salmon Dill Burger is paired with spicy lime infused refreshing aioli and crunchy sweet potato fries with creamy avocado dipping sauce! You can find the recipe here.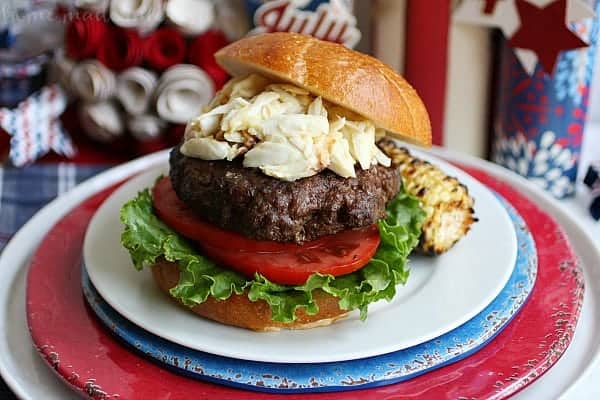 This Chesapeake Crab Burger is a beef patty grilled to perfection then topped with lump crab meat in a flavorful sauce. Double the meat for double the flavor! You can find the recipe here.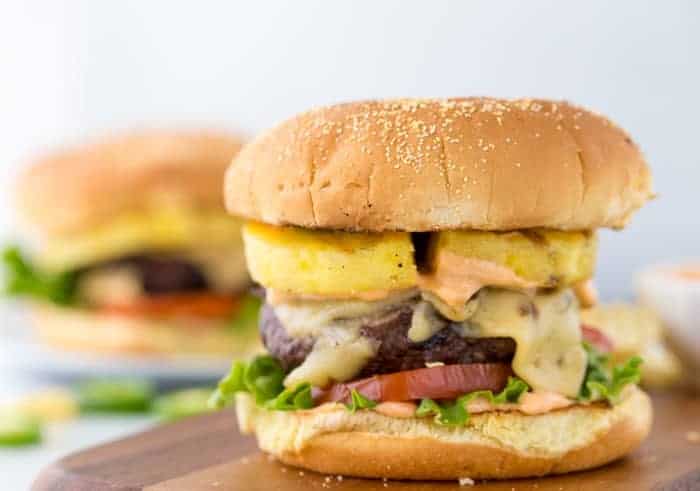 This Pineapple Jalapeno Burger has the perfect combination of sweet and spicy! One of the best gourmet burger recipes to celebrate summer with! You can find the recipe here.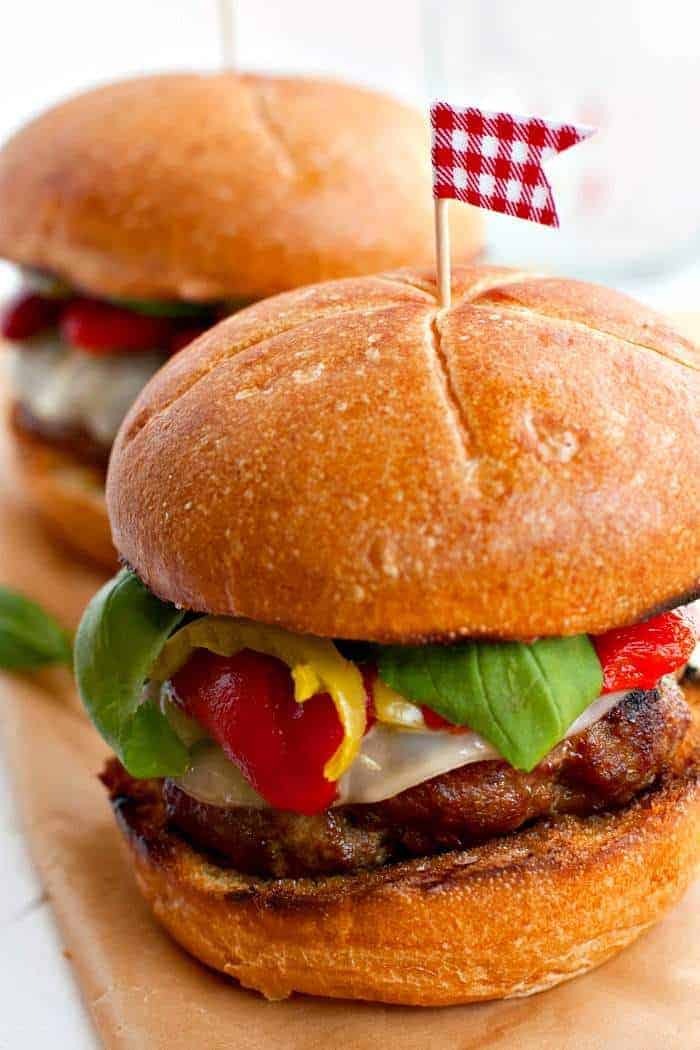 Grill something different with these Loaded Italian Sausage Burgers! They're loaded with roasted red bell peppers, pepper rings, and fresh basil. You can find the recipe here.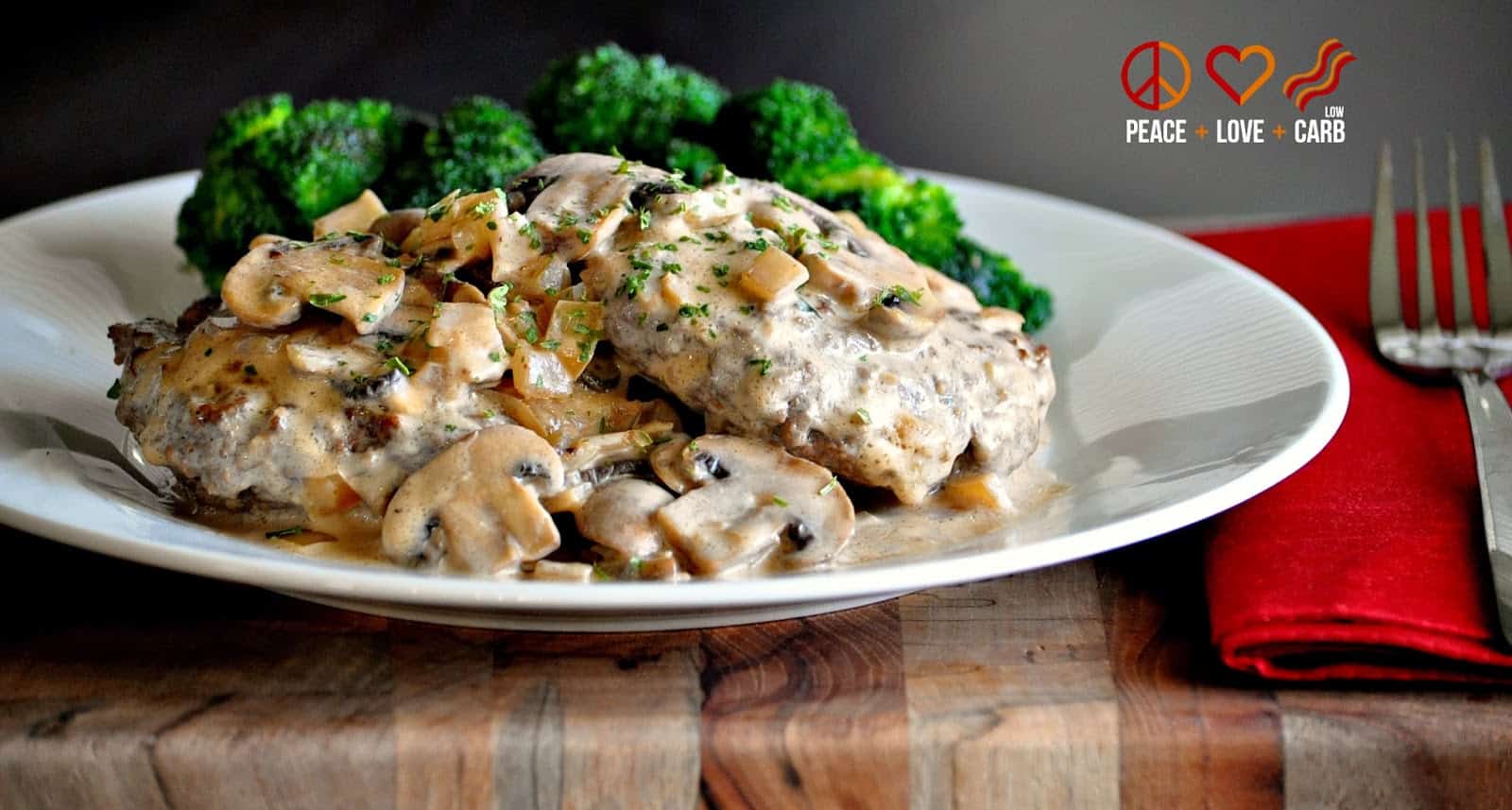 Combine your favorite comfort food with your favorite BBQ staple! These Beef Stroganoff Burgers are creamy and delicious. You can find the recipe here.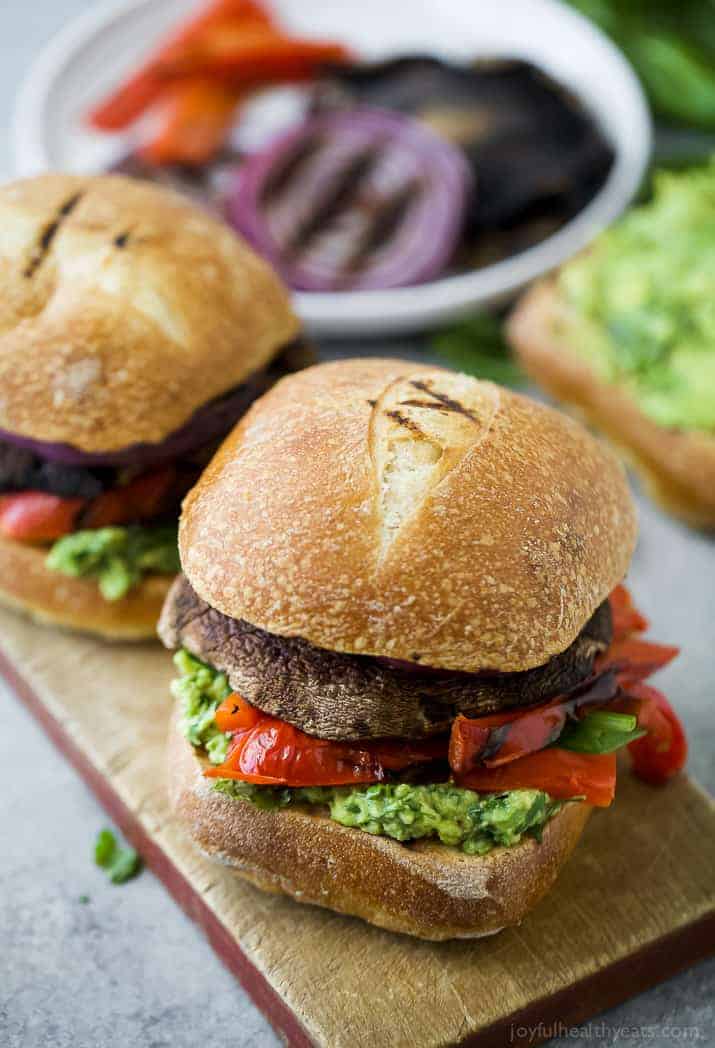 Grilled Portobello Burgers with a zesty avocado chimichurri, this easy 30 minute burger will be a hit this summer! You can find the recipe here.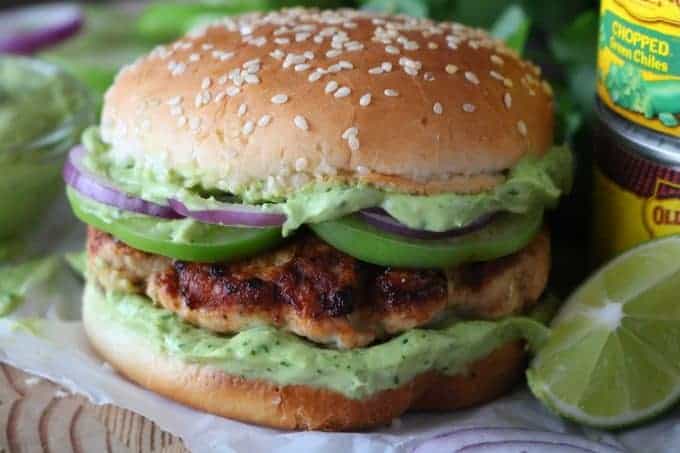 This Green Chili Turkey Burger is an easy, healthy turkey burger made on the stovetop featuring canned green chilis and a quick and easy avocado-mayonnaise spread! You can find the recipe here.
CONNECT WITH SAVORY EXPERIMENTS!