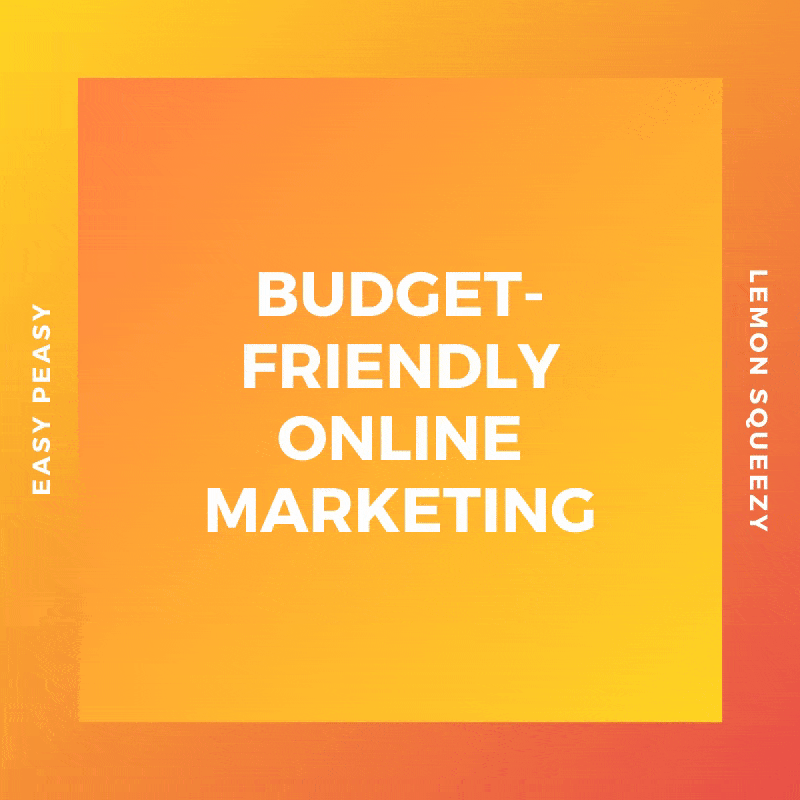 15 Budget-Friendly Business Marketaing Ideas
Originally Posted On: https://www.turrem.tech/blog/15-budget-friendly-business-marketing-ideas
Easy to do ideas to market your business online.
#applyingalliteration when possible

1. Construct Content
It's important to have good relevant content on your website. If you can create it yourself, great! If writing isn't your strength, you shouldn't be ashamed to work with content writers to help you create more content. What you write can be top 10 lists, collections of tips and trick, best practices for your industry, etc.
2. Devise Videos
Video content is very helpful, and usually it is expensive to hire professional video producers, but why not give it a shot yourself. Wistia offers tutorials showing you how to shoot expert-looking footage. And Powtoon lets you make animated videos yourself.
3. Stay Social
Create business accounts and participate in social media sites like LinkedIn, Twitter, Pinterest, Facebook and Instagram. You can make posting easy on yourself by scheduling your posts using a tools like Buffer or Hootsuite. Try starting on one network that fits your niche. It's better to be consistent on one social network than be inconsistent on all of them.
4. Invest in Infographics
Infographics are powerful marketing tools because they are visual and easy to digest. People enjoy sharing them so they help drive referral traffic and create back-links. You can hire a designer to make you an infographic or you can try doing it yourself using tools like Piktochart or Infogram .
5. Leverage LinkedIn
LinkedIn is a professional social media site that is often missed by small business owners. Use LinkedIn to join groups, enter into conversations with connections, and share website content. LinkedIn is also another great Business Listing that will help with Search Engine Optimization.
6. Repackage Content
When something is important it's always a good idea to repeat it. When something is important it's always a good idea to repeat it. You can re-purpose your old content onto new mediums like turning old blog posts into an eBook . Summarizing the highlights using small tidbits adding an image and linking to the original content works great on social media.
7. Put Out Postcards
Send out postcards to your customers or to households using EDDM (every door direct mail). The more people who find out about your business, the better and because you'll reach them at their mailbox, it's likely they'll see your brand. Check out Canva for some postcard options.
8. Email Marketing
Sending newsletters or product updates via email is a great way to engage visitors of your business, and maintain a relationship with your existing customers. Offer new website visitors a free eBook of your content (see #6) for subscribing. And if you have less than 2000 subscribers, you can use services like MailChimp for free.
9. Champion Your Chamber
Your local Chamber of Commerce (FYI not chamberofcommerce.com) will likely have a small annual fee to join. However, they are interested in keeping costs low to get more businesses to join. They will also provide some business listing information and a back-link to your website which will help with SEO and direct more traffic to your site.
10. Join Local Contests
Donate a product or service of yours as a prize in a local contest or event. This will give you exposure on municipal or event websites and give you a place to handout more business cards (see #7).
11. Leverage Locals
Offer to provide discounted services for customers that are referred by their local business. You can also ask to be write a guest post on their blog in exchange for their guest post on your blog.
12. Answer Questions Online
Join knowledgebase services like Quora or forums like Reddit and ask industry specific questions. This can showcase your expertise and promote your blog or business online.
13. Generate Giveaways
When thinking what your small business will give away, have it be a memorable experience. Sometimes just giving away what your business does best is the best way for the customer to experience your service. Offer a survey or contest online or on social media where the winner gets what you are giving away. Services like Rafflecopter or PromoSimple can help as well.
14. Locate Listings
Making sure your online business listings have accurate information is very important and will help you get found when people search for products or services you are offering. Claim and update your listings on Yelp, Foursquare, Facebook, Google My Business, Alignable, YP and others and make sure the information is identical. A great way to do this is to automate your Google My Business management with us.
15. Request Reviews
Every time you sell a product or provide a service, ask for a review for your website and ask if the customer can share that review online. This will help validate your business and build trust with future customers.
Conclusion
Phew! Well, that's it. These are some budget-friendly and mostly free small business marketing ideas you can use today for your business.