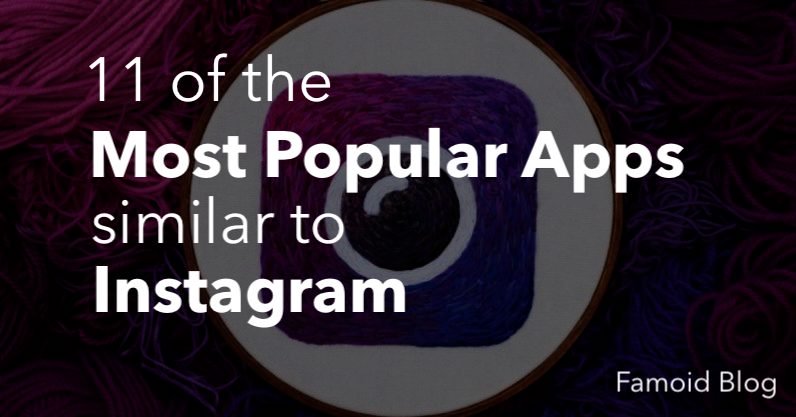 11 of the Most Popular Apps Similar to Instagram
Whether you love taking photos of your own or preferring scrolling through the vacation snaps and food shots of internet strangers, odds are you've given Instagram a try.
After all, the social media site is the top photo-sharing application in the world.
But that doesn't mean that it's the only photo editing and sharing option out there. Maybe you love Instagram and want to try some similar apps. Or maybe you're getting sick of spotting fake accounts and just want to try something new altogether.
If you still want to upload, edit, store, and share your photos with the world, you need an alternative. Luckily, there is no shortage of options to choose from in the major app stores.
Keep reading to learn some of the best apps similar to Instagram that let you flex your photography skills, share to social media, and more.
Table of Contents
Flickr
Instagram first hit the web on October 6, 2010. It rose in popularity quickly and inspired many of the other photo-sharing apps on this list. But not all of them.
Flickr was released a full 6 years before Instagram came into existence.
Until recently, Flickr's purpose was quite a bit different from Instagram, which also changed the way that users interacted with it.
For the first 9 years of its existence, Flickr exited only on the web, with no mobile application.
Flickr allows users to showcase their photography and design skills. Through their work, they could then connect with others who shared their passion for design and photography, or their love of beautiful art.
Where Instagram is designed to be a social media site with the purpose of connecting with others, Flickr's first function is as a photo library.
Despite this, you may actually find it easier to connect with others on Flickr. That's because the site allows you to email other users directly, and makes it easier to search through comments on your photos.
If photography is your main reason for looking for sites like Instagram, you may prefer Flickr for its photo album feature, which lets you sort and categorize your images. You can upload your high-quality images, share them with other users, and then conveniently store them so that you can quickly find them later on.
For video fanatics, the ability to post videos up to 30 seconds long, compared to Instagram's 15 seconds, is another perk.
Retrica
This next application rose, and then subsequently fell, in popularity between 2012 and 2014.
Like Instagram, Retrica allows users to post both pictures and videos. You can also comment and interact with other users through the app.
What sets this app apart from Instagram is that rather than advertising itself as a social media platform, Retrica is marketed as a camera app. You can choose from over 190 filters to apply to your photos, which is far more than Instagram has to offer.
Should Read: How To Make Money On Instagram? – [Tips for 2020!]
Another thing that makes Retrica stand out is the ability to create and share GIFS.
The app has less than 50,000 monthly visitors. While this may seem like a drawback, those looking for a smaller, tight-knit community to connect with will find it here.
Imgur
Instagram has a reputation for getting very personal. Many celebrities have spoken out about the harsh or even threatening comments they've received on the platform.
But everyday users aren't free from this threat either.
If Instagram has gotten a bit too personal for your taste, try Imgur instead. The app is more light-hearted. Users aim to entertain others rather than impressing them with beach shots or their latest meal.
You'll find endless GIFs, memes, and hilarious photo captions on the site. It's a great way to relax and get a laugh, and maybe even inspire a few laughs from others as well.
Users can post photos as well as videos up to 60 seconds long.
Hipstamatic
As the name suggests, this next photo-sharing application was designed with hipsters in mind. Hipstamatic plays on the vintage-loving photo trend. You can use the app to apply endless vintage filters to give your photos that old-school feel.
Like Retrica, Hipstamatic isn't designed as a social media app. In fact, you can't even use the app to share photos with others or interact with them in any way. Instead, it functions solely as a camera app.
However, once you've finished editing your pics to perfection, you can share them on Facebook, Instagram, Twitter or Tumblr through the app.
The app is designed to look like a classic camera. So when you're taking shots, you'll really feel as though you're behind a traditional lens, snapping the shutter.
There are two major things that set Hipstamatic apart from the other apps on this list; it costs and it's only available for iPhones.
But if you're willing to shell out some money, you'll get this beautiful photo app to help you capture some cool, vintage-feel photographs.
VSCO
VSCO is one photo-sharing app like Instagram that flew under the radar for a long time.
While it grew a following with a very specific demographic (you've probably heard of the VSCO girl by now), it's actually a versatile mobile photography app that any creative type might enjoy.
The app offers no shortage of features, like pretty preset filters, tools to let you enhance your photos, and even educational content to help you hone your skills.
VSCO's interface is similar to Instagram. You'll preview your images in a grid-like fashion, and have the chance to enhance them before you post. You can also interact with other users and create your own online community.
Yummi
On the surface, Yummi is the Instagram of the food world. But it's actually much more than that.
Besides being able to snap and share pics of your tasty meal, the app also functions as an interactive food diary.
Should Read: Best Free Video Editing Applications – [Updated List | 2020]
Users can track meals, set reminders, and share their experiences and recipes with others. It's great for those looking to jumpstart a healthy diet or improve their cooking skills and share their creations with others.
Once you've uploaded your food shots, you can categorize and save them with a few clicks of a button. Them, you can easily search through them to find what you're looking for later on.
Even if you don't use it daily, Yummi would be a great app for saving shots of your favorite meals while you travel. That way you can always look back and remember where to get that delicious meal the next time you're in town.
Tumblr
This is far from a background app looking to steal users away from Instagram.
Tumblr has been around since 2007 and continues to be one of the top apps on the web today. It's an all-in-one platform, allowing users to share photos and videos, as well as GIFS or even just text. You can reblog other people's posts to your own page, and add your own touches to them.
The app has been known for getting a bit political. Because users have so much freedom to share their ideas and interact or debate with others, millennials have used it as a platform for change for years now.
Path
Not interested in just anyone stumbling across your photos on the web? Path might be the app for you.
This is yet another photo app that doesn't fit in the social media category. You can take photos and make edits, but if you want to share your images with the world, you'll need to use the app's sharing feature to post to your account on Facebook, Twitter, Tumblr, Squarespace or WordPress.
But there is a feature that sets Path apart from other apps on this list. You can use the app to share photos with your inner circle, without having to post to social media sites.
This makes it a wonderful tool for sharing vacation photos with your friends or pics of your kids with their grandparents. It's a safe, easy way to connect with your friends and loved ones, without needing to post your images for the whole world, or even your whole following, to see.
Dribble
Dribble stands out from other apps on this list because rather than trying to mimic Instagram and similar apps, it has its own unique function.
This app was created as a way for designers and creatives to produce everything from branding to animation to print products.
Whether you're a graphic designer looking to create a new product packaging or an illustrator wanting to bring your drawings to life, Dribble can help.
Users can also check out other's designs and interact to share ideas or feedback. The app does keep these shares short. Like Twitter, you're limited in how much you can share at one time.
Moments
Similar to Path, this next app that's similar to Instagram is designed to help users share their photos with the people they love. But unlike Path, Moments branches beyond direct sharing.
Should Read: Pinspiration: 7 Creative Ideas for Pinterest Marketing
Instead, this app is actually affiliated with Facebook. Instead of helping you share new photos, Moments allows you to share solo or group photos from the past. Whether you want to reconnect with old high school or college friends or look back on your family vacations of years past, this app can help.
You can choose to share the photos through the app itself or post them directly to Facebook. Moments knows how to tag people in your photos, which helps to streamline the whole uploading process. The app will also help you pull photos from other locations besides those taken right on your phone.
Snapchat
This app is far from a secret. While it may have half of the daily users of Instagram, Snapchat's 191 million daily visitors still make it one of the most popular apps on the web.
Snapchat's interface is very similar to Instagram's story feature. Like an Instagram story, images and videos posted to Snapchat are only temporary.
Depending on where you post them, they either disappear immediately after your followers have viewed them or 24 hours later.
The app is all about interacting and communicating with friends and followers.
It's also known for its filters and lenses that you can add to your images. You'll find overlays for holidays, captions that recognize where you are when you're snapping your pics, and more.
Snapchat is also where the popular interactive filters first became popular. Users can do everything from turn themselves into floating heads to adding crowns, and everything in between.
Choosing the Best Apps Similar to Instagram
With so many apps similar to Instagram to choose from, there's an option for everyone.
If your passion lies in taking the photos and you want the ability to edit or add filters, an app like Hipstamatic or Retrica might be a better choice than Instagram.
Photography enthusiasts who love sharing their work with the world will prefer Flickr or Tumblr. Families that enjoy saving and sharing their memories with one another can use Moments and Path, while designers who like connecting with others in their industry can use Dribble to do so.
Snapchat, Yummi, VSCO, and Imgur can help you laugh, catch up with friends, find your niche, and more.
Of course, Instagram remains one of the most popular social media applications for a reason. From its fun features to the ability to connect with millions of people around the world, you can't beat the mega app for features.
If you've been looking for an Instagram alternative because your account got hacked, don't worry. We're bringing you the ultimate guide to help you recover your hacked Instagram account in 2020. Also you may want to increase your engagement for your photos or videos on Instagram, simply check this page to get more information.
Best Regards,
Famoid Blog – 2020