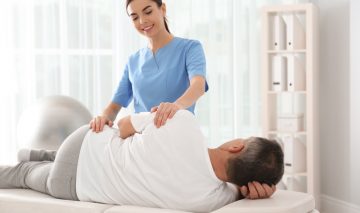 5 Steps to Treating Muscle Pain and Sore Body After a Car Accident
Originally posted on https://www.injuredcalltoday.com/5-steps-to-treating-muscle-pain-after-an-auto-accident/
Do you have a sore body after a car accident? You are not the only one. When you have been involved in an auto accident, you will have scrapes and bruises as proof of your injuries. However, you will also experience soreness, muscle aches, and pains that are not visible, but many times are a lasting injury that takes much longer to heal. Because there is no cream to reduce the chance of infection or Band-Aid that can cover the muscle, these injuries are hard to treat. Here are five steps to treating muscle pain after an auto accident and some signs you should pay attention to.
Do Your Muscles Hurt Due to an Auto Accident?
When you have suffered a car accident, you will notice body soreness, aches, and pains right after a collision. These pains will come from any lacerations and from the impact of the crash. After a few days, you may notice that your muscles are tight and sore. This pain can be caused by multiple factors from your auto accident.
When you are about to have a collision, your body tightens itself to brace for the impact. Your muscles tighten throughout your body to protect their prospective areas. This tightening causes your muscles to be pulled and, in some cases, torn. The endorphins and adrenaline released in these stressful situations can mask this pain and the real damage it has caused until later the same day or in some cases days later.
As your muscles relax and the stress of the initial accident subsides, you may begin to experience muscle pain. It is important that you are attentive to these pain signals from your body. Should you experience stabbing pain or consistent throbbing pain, this is a sign you need to seek medical advice.
Steps to Take to Relieve Muscle Pain
When experiencing muscle pains, your first priority is to relieve the pain. This can hard to accomplish because of the nature of these types of injuries. With many of these muscles being deep inside your body, it is hard to reach them for relief. Here are a few steps you can take to relieve the pain and speed up your healing process.
Stay Hydrated
One of the most vital steps to take in helping your muscles heal after an accident is to stay hydrated. This advice is great practice for your everyday life and is essential to giving your muscles what they need to heal. When you are dehydrated, your muscles have trouble functioning properly, which can lead to tightening and muscle cramps. During the healing process, your muscles are already stressed from the injury and need the extra aid of fluids to keep them from tightening and causing more pain.
Massage Therapy
Another option to consider to help relieve some of the pain you are feeling and to promote the healing process is massage therapy. This therapy can include general massage, stone therapy, and deep tissue massage. With your muscles being hidden deep within your body, deep tissue massage might help to relax those tightened muscles after a car accident and help relieve the body pain you are experiencing.
Physical Therapy
Physiotherapy is beneficial for muscle strains and injuries. After your initial consultation, your therapist will design a routine for your specific needs and requirements. These routines will typically include stretches, light exercise in the beginning and increasing with time, dietary plans that will be beneficial to your recovery and a whole-body plan to tie it all together.
Yoga and Stretching
Yoga and stretching can help to relax the stiffness that stress has caused in your muscles during your accident. Because both of these require deep breathing and a full range of motion, these two combined can give your muscles the oxygen they need to function at their best, and the relaxing effect the stretching can have. This combination will help your whole body while giving your muscles a gentle work out to increase and promote healing.
Rest
Rest is a vital component to whole body healing. Your muscles are no exception. You need to rest and give your muscles the time they need to recuperate from the damage that was done during your auto accident. There is no set time for this healing process, and you need to let your body be your guide.
Signs You Need Medical Treatment
While you are in your healing phase, you need to pay attention to all of the signs your body gives you. If you feel sharp or worsening pain, you need to find a doctor and seek medical treatment as soon as possible. It is highly recommended to discuss any treatment plan or therapy with your doctor before you begin to ensure that you will not be causing further damage. Following all of these tips and the recommendations of your doctor will help reduce your recovery time after an auto accident.