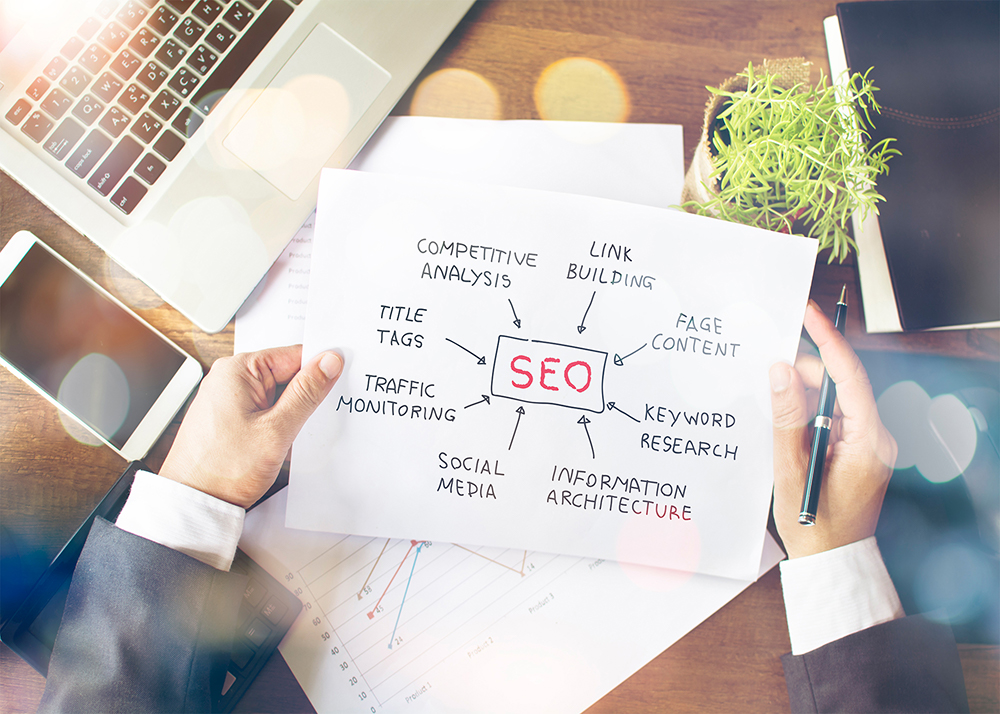 What is SEO or What is Search Engine Optimization?
What is SEO or What is Search Engine Optimization? Here is your Guide to SEO meaning and how to use it to outrank your competition on Google.
Chances are you have heard about Search Engine Optimization or SEO. Perhaps, you have heard online marketers talk about it- a lot. You may have even read about it. But what is SEO meaning?
What is SEO/Search Engine Optimization?
SEO is the acronym for "Search Engine Optimization", which is the cumulative optimization efforts you condone to get your website and it's pages to show higher on the organic "un-paid" area of Search Engine Result Pages of Google, Bing and other search engines.
Search engine optimization includes everything you do –a one-off and continuous tasks or On-page and off-page SEO – to improve the visibility of your website online.
Visibility in this sense means helping users find your content when the query search engines for a related product or services.
Sure, this SEO meaning is simplistic. It doesn't take into account the technical and other moving parts of the field. However, it sure captures the essence of what Search Engine Optimization is about.
Now let's dig a little deeper and learn about how SEO works and how to use it to gain more business.
Some Interesting Facts About SEO you Should Know
Whether you are a small, mid-sized, or a large business or even a solopreneur to gain business from search engines, you need to do Search Engine Optimization, period.
Here's the thing, 89 percent of B2B customers turn to search engines when researching products.
4 in 5 consumers turn to search to learn more about businesses near them. And, 51 percent of traffic to a website comes from search engines.
Talking of traffic, websites that rank on the first page of Google receive 95 percent of web traffic according to a study by Infront Webworks.
As you can see, it's not just enough to have a website nowadays. Your customers must be able to find your content when they search for answers on Google.
And, to gain as much search traffic as you can, your website must appear on the first page of Google results.
Your goal should be to rank for the first three positions; that's because the average traffic share of the first position is 32.5 percent of the total traffic on Google's first page.
How do you get your website to rank on top in search engine result pages?
Our goal in this article is to help you:
Answer the question: What is SEO?
Build your foundational knowledge of Search Engine Optimization (SEO).
Understand how search engines work.
Learn actionable SEO tips on how to understand customers' search intents.
Create and optimize your website and content for search engines and humans.
Learn how to properly promote your website
Understand the future of search.
So, if you're ready, let's dig in.
The primary objectives of Search Engine Optimization are:
First, to get search engines to discover, crawl, index, and rank your website.
Second, to get your website plus content in front of users when they need it.
The first objective is mainly concerned with satisfying the technical aspect of SEO which focuses on improving all the ranking signals used by search engines to organize web pages.
The second objective on the other hand, is human-centric. Its goal is to position your website in prominent positions across a user's journey by providing relevant, timely, and helpful content that answers or solves users' questions and problems respectively.
From the above, you can see to succeed with SEO, you must develop a two-prong strategy that includes understanding and satisfying search engine requirements on one hand, and providing excellent users experience on the other.
With the basics established, the next step is to understand how search engines work and why people search.
How do search engines work?
Over the years, as technology improves, so does search engines' ability to index and retrieve information on the web.
Even though today, Google which is the major search engine on the planet has grown to become one complex mash of machine.
If you're able to peel back layer by layer all the components, systems and processes that make the giant search engine tick, you're going to be left with the following core functions:
A web crawler or spider as the bots are called which discovers a new or updated web page.
It crawls the discovered web page. Crawling here means gathering as much information as it can about the new page.
The information is indexed. Using several ranking factors, the search engine tries to organize the information according to how relevant and trustworthy they believe the content is.
When a user queries the search engine, Google retrieves and serves up several web pages they believe can answer and or solve the user's problems
So, when Search Engine Optimizing your website, you're making your web pages visible to search engines and doing everything possible for the web crawler to crawl and then index your pages.
It is essential however, to know you can instruct these web crawlers to crawl only specific web pages while restricting them from indexing other parts or even completely shutting the web crawlers out from crawling your entire website.
A quick way to suggest to web crawlers which part of your site it should or shouldn't crawl is to upload a robot.txt file to the root directory of your website.
When Googlebot – that's what Google's web crawlers are called – lands on your website it first checks the root directory to see whether there's any robots.txt file.
If it can't find any robot.txt the Googlebot then proceeds to crawl your site. However, if there's a robot.txt file uploaded on your site, the bot tries to stay away from crawling and indexing the pages listed there.
Understanding user search intent
Remember, you're optimizing your website for people and search engines. SEO today has evolved to become not just about the search engines but, a balancing act between technical know-how and marketing.
You want to be right at the moment when users begin their search journey. You want to be right there answering all their questions, providing them with the relevant information they need to make informed decisions, and to be there when they are ready to make a purchase.
To do this, you'll need to understand your customer's behavior – how they move across different devices. You'll need to have a firm grasp of searcher intent to produce content that matches user queries at every stage of the buying process.
When searchers query the search engines, they are looking to accomplish either of the following: gather a more general information on a topic or specifically looking to find information on the keywords they have used.
These search intents are further classified into three categories: Transactional, navigational and informational queries. Each of these search intent also marks a specific phase in the user journey.
If they are searching for general information about a topic?
Are they looking to achieve a specific action, buy a product, solve a problem, do something?
Or are they looking for direction to a specific location or website?
You must anticipate these intents. Create content that answers or solves these questions. Then, optimize the content so that when the user searches with related keywords, your content shows up.
How to do search engine optimized content marketing
Ideally, you want to create content that cuts across the three search intents we've identified above.
Here's a guide that walks you through how to create content your users love.
Let's say, for example, you've done your keyword research. You now have a long list of keywords and phrases you'd like to rank for.
If you haven't, here's a handy guide on how to conduct keyword research real quick.
One of which is "best winter running shoes." Merely looking at this phrase, it seems like a good keyword with transactional intent to rank for your homepage, right?
A quick trick to understanding search intent for any keyword is to Google the term and check out the pages ranking for them.
So, for our example "best winter running shoes" – a Google search shows all the web pages ranking for the term are review and listicle articles which indicates that the search intent for the query is informational.
Not what you expected, huh?
Here's what's happening. Remember, search engines' goal is to improve its users' experiences. So, usually, their algorithm looks out for how people react and behave when they search using a particular term.
Does the user click on the websites on the SERP?
When they click on the links, do they spend enough time going through the content on the website?
Or, do they hit the back button immediately and return to the SERP?
Answers to these questions are what tell Google the kind of content users are looking for when they search a particular term; hence, the double down on serving those kinds of content.
Now, armed with these insights you can go ahead and create content that aligns with users' search intent.
For our illustration, you will have to create either a review post or a list of best winter running shoes.
Technical SEO- What is Technical SEO?
As the name suggests refers to all the technical tasks like On-page SEO and off-page SEO you perform to optimize and rank a website and optimize it for both search engines and humans.
Each one is essential to the success of your search engine optimization campaign in today's digital world.
Simply putting a website together with content about what you do will no longer suffice when it comes to gaining actual traffic and showing up on Google.
On-page SEO- What is On-Page SEO?
On-page SEO/ Search Engine Optimization includes everything you do on your website and web pages to make it easier for search engines to understand what the page is about to rank it for relevant keywords and searches you want to show up for.
And, there are about 16 of such factors to optimize for:
Strategically place your keyword at the beginning of the SEO title, Meta description, and sub-H tags where possible.
Use short descriptive URL
Keep your page title to a 60-character limit.
Optimize your image file name with the keywords; also use descriptive alt tag that includes your keyword for images
Mix up your exact keywords with synonyms and other LSI key-phrases.
Link internally to other resources on your website
Link to other high trust and quality websites
Improve your site speed. To monitor how fast your website loads, use Google PageSpeed Insights and GTmetrix they are both free to use and also highlights actions you can take to boost site speed.
Ensure your website is mobile-friendly.
For a more exhaustive list, check out Backlinko's infographic on On-page SEO.
If you want On-page SEO services to take care of this, checkout BrandLume's All-in-one On-Page SEO Services
Importance of on-page SEO- Why does on-page SEO matter?
On-site/ On-page SEO at its core is focused on improving the visibility of your content on search engines when related keywords are searched while providing a website visitor with the best possible experience.
Take, for instance, Website speed optimization as one of the On-Page optimization techniques; it eliminates anything that could cause a noticeable lag in the website load speed.
And, as the study has shown users expect webpages to load within 3 seconds. If for whatever reason your website takes longer to load, 53 percent of users will abandon your site.
Besides, to a potential loss in revenue, Google uses site speed as a ranking factor which means, you could also lose your ranking on the search results.
Off-Page SEO- What is off-page SEO?
As the name suggests, off-page SEO is a cumulation of every effort made outside of a website to improve its visibility on search engines and drives traffic and link juice/ authority to a website.
Off-page SEO techniques: include things like building backlinks and other external activities like social media mentions and local listing of your business.
Here are a few of the best off-page SEO techniques that play into your website's ranking on SERPs:
Social media marketing – Learn more about how you can leverage social media to grow your business even if you're a noob.
Press Release marketing – Here is an Ultimate guide on How to do Press Releases.
Guest Blogging – This can greatly improve your ranking in a very short time.
Local Business Listing on Directories – Listing your business on important and relevant local listing directories is an immensely powerful Off-page Technique
In-Content Link Building – This link building technique works by posting blogs with anchor links to your website on popular high DA websites.
Homepage Permanent Backlinks – These backlinks are super powerful and very hard to get, but can massively improve your Off-page SEO as the links are placed on the root domain/home page of a high DA website to you.
These premium off-page SEO techniques are what you should expect to get from a top SEO agency to build awareness; drive visits, and ultimately improve your websites' rankings on search engines.
Why is off-page SEO important?
Search engines are constantly trying to return the most trusted, most relevant results to users' queries. To do this, the search engine algorithm relies on several ranking signals which also includes off-page SEO factors.
Search algorithms look at the number and quality of links pointing to a site to decide the trustworthiness of that website.
If your website has several natural links pointing to it; and, if these links are coming from trusted websites; it tells the search engine one thing: People trust this site, so I can trust it too.
While building backlinks to your website is easily the most used off-page technique; be sure that the links:
Are from trusted websites
Coming from related websites
The anchor text is not spammy
Want to learn more about SEO Backlinking? Check out our ultimate guide for SEO Link Building.
Remember, your goal with off-page Search Engine Optimization is to promote your website and improve its user & search engine perception, aiming to, rank on top of Google's first page for the target keywords.
What's next for SEO?
As technology advances, so do the way and manner in which people query search engines change. New devices will come into play. And, SEOs will have to optimize for those devices too.
We are witnessing the rise of voice search which is the new frontier for SEOs. Just as we had, mobiles dominate desktop as the search channel, Voice is on track to become the preferred search channel for users.
Search engines, at least Google is moving towards an AI-powered algorithm which will completely revolutionize the way we optimize websites.
However, regardless of the changes new technologies bring, humans will always be at the center of the search. Hence, to conquer the SERPs of the future you will have to focus on providing excellent user experience; just as it is the case today.
If you need non-sales SEO expert advice on what you need to get on and stay on the first page of Google, then book a Free 30 minute SEO consultation with one of BrandLume's SEO experts.
You can also check out our world-famous SEO services with up-front prices and no long-term contracts Here. These SEO services are used by over 8200 companies and 300 agencies worldwide.