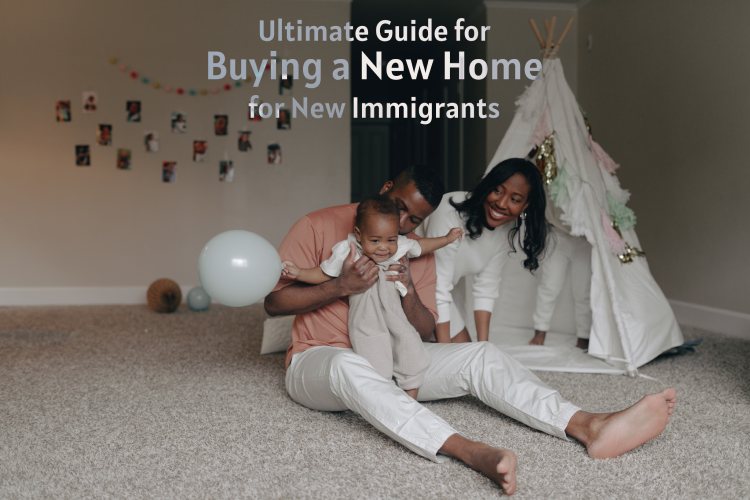 Ultimate Guide for buying a new home for new immigrants 2022
Photo from Pierre Carapetian Group
Originally Posted On: https://pierrecarapetian.com/ultimate-guide-for-buying-a-new-home-for-new-immigrants-2022/
Thousands of new immigrants arrive in Canada each year. Canada is regarded for being the most culturally diverse country in the world, and it is a highly hospitable country.
The Canadian housing market is a terrific choice whether you're trying to relocate and start over or simply searching for investment opportunities. Alternatively, a job transfer or relocation opportunity may have already made that decision for you. Whatever your motivation, the information in this guide will undoubtedly assist you on your path.
Can foreigners purchase real estate in Canada?
The simple answer is yes. However, it's important to note your immigration status because non-residents are required to pay the Non-Resident Speculation Tax (NRST).
Non-residents have the same ownership rights as residents, and Canada maintains a rather open door policy for foreigners wishing to acquire property. There are also certain provinces that have unique rules that must be adhered to. Here are a few things to keep in mind:
You have deemed a non-resident if you expect to stay in Canada for six months or less; however, if you want to stay for more than six months every year, you must seek to become an immigrant. Checkout this news article.
If you aren't already residing in Canada, it may be beneficial to talk with a lawyer for assistance with the documentation necessary by Canadian banks and realtors.
The Non-Resident Speculation Tax (NRST) was implemented by the Ontario government in April 2017. It is a 15% tax on those who aren't citizens or permanent residents of Canada who buy a residential property in the Greater Golden Horseshoe region of the Toronto area.
Before chatting with a realtor, it's helpful to know what kind of house you're searching for. Detached? Townhouse? Apartment? Other? Also, before speaking with your realtor, find out how much you can afford by researching mortgages, and make sure you speak with a Canadian Mortgage Broker because you won't be able to receive a mortgage from a foreign bank.
Start exploring online to see what catches your eye after you know exactly what you can afford – not before. It's important to remember that Canada is a large country and property prices vary drastically across it. So understanding how far your dollar will go in your future city is crucial.
Unless you have the financial means to pay for your new home without taking out a loan, you'll need mortgage financing. You should get a pre-approval from a Canadian lender before you start shopping. You'll want to find out just how much money you'll have to purchase with, whether it's from one of the main banks or an alternative lender. Another excellent alternative is to call a mortgage broker, who can shop for you among numerous lenders and advise you through the financial components of your loan.
Lending standards for immigrants can change often, and they will differ depending on whether you are a permanent or temporary resident, as well as whether or not you have credit history in Canada. Contrary to popular belief, credit history in Canada is not required to secure a mortgage; nonetheless, it will undoubtedly assist you and may provide you with a better interest rate.
In order to secure finance, you'll also need to make a minimal down payment. This will often vary from 5% if you already have a Canadian work and credit history to 35% if you have no past at all. The best suggestion is to speak with a local mortgage professional or mortgage broker who can assist you assess your needs based on your unique circumstances.
Other expenses of buying a home 
If your down payment is less than 20% of the home's purchase price in Canada, you'll almost certainly need to get Mortgage Loan Insurance, which will add another 1-3 percent to your mortgaged amount. This insurance protects banks and lenders from homeowners defaulting on their loans while also assisting first-time home purchasers in purchasing a property with a modest down payment and receiving a lower interest rate.
Legal expenses and land transfer taxes are two examples of hidden expenditures to be aware of. While your legal expenses will most likely be less, you should budget around $2,000 for them. Land transfer taxes, on the other hand, will be more expensive. It's crucial to remember that if you're purchasing a property in Toronto, you'll have to pay a Provincial Land Transfer Tax as well as a Municipal Land Transfer Tax. Click here to determine the amount of tax you'll owe on your property purchase. It's also a good idea to set away a little extra money for unexpected expenses.
You'll have to become comfortable with a new set of housing-related fees once you've purchased your new home and moved in.
Finding the best real estate agent 
Selecting a great real estate agent is a critical stage in the process. There are many real estate agents to choose from, over 60,000 in Toronto alone, but you'll want to be sure the one you pick is a suitable match for you.
How do you go about finding an excellent agent? Because you're most likely just dealing with the acquisition of a new house, let's concentrate on that aspect.
To begin with, your agent should be able to demonstrate a working knowledge of the towns and neighbourhoods in which you are interested. This information is crucial, especially if you're new to the region. Your realtor should be familiar with the advantages and disadvantages of various neighbourhoods, as well as schools, facilities, transportation, and demographics. They should also be familiar with the numerous rules, regulations, building styles, and procedures that apply in your chosen region.
It's also crucial to believe that your agent understands your needs and is fast to reply to your inquiries since you'll almost certainly have a lot of them along the road. A solid working relationship requires the development of trust and a good rapport. When you reside abroad, this might be a bit more challenging, but it's critical to maintain the lines of communication open at all times. It's also a good idea to inquire about references and/or testimonials.
After you've decided on a real estate agent, you'll need to sign a Buyer Representation Agreement to establish your connection. In exchange for your exclusive commitment to them, a Buyer Representation Agreement (B.R.A.) is a typical real estate agreement that binds your agent to become legally accountable for promoting your best interests. Your realtor will know how serious you are about purchasing a property after you've made this choice, and they'll be able to commit more of their time to assist you.
Making the offer to buy a house 
You've finally discovered the right house after weeks, if not months, of searching. So, what's next? It's time to put in an offer on the house. The first thing you should know is that a deposit will be required within 24 hours of the offer being accepted, so if your funds are locked up in investments or otherwise unavailable, free up around 5% of the buying price. With the vendor, this sum is negotiable. Your money will be held in escrow and applied to your total down payment at closing.
Your agent may or may not recommend that your offer contain a condition that the buyer obtains sufficient financing and passes a house inspection. While typical in some markets, in Downtown Toronto many properties are purchased without conditions. Both of these terms are provided for your benefit, are negotiable, and normally last 5 business days. Other terms and conditions will almost certainly be included, and they will differ from deal to deal depending on your position and the home itself. Your agent will assist you with the necessary documentation and guarantee that you receive the best possible offer while safeguarding your interests.
Should you find a house or a job? 
Having a steady source of income to make payments is an important part of qualifying for a mortgage. However, getting your footing in the Canadian labor market might take time – ensure you are well prepared to make this move.
Final words
By following this guide, you may start looking for a house in Canada. The overall process of purchasing a house is not so complex. You just need to pay attention to the basics and continue, so that you will end up discovering the best property available out there.
Of course, there is a lot more to know about purchasing a home in Canada as a newcomer/immigrant, and you can learn more from the Canada Mortgage and Housing Corporation, but the most essential thing is to surround yourself with a solid team. To assist you finalize the deal, you'll need a top real estate agent, a terrific mortgage broker/specialist, and a trustworthy lawyer.