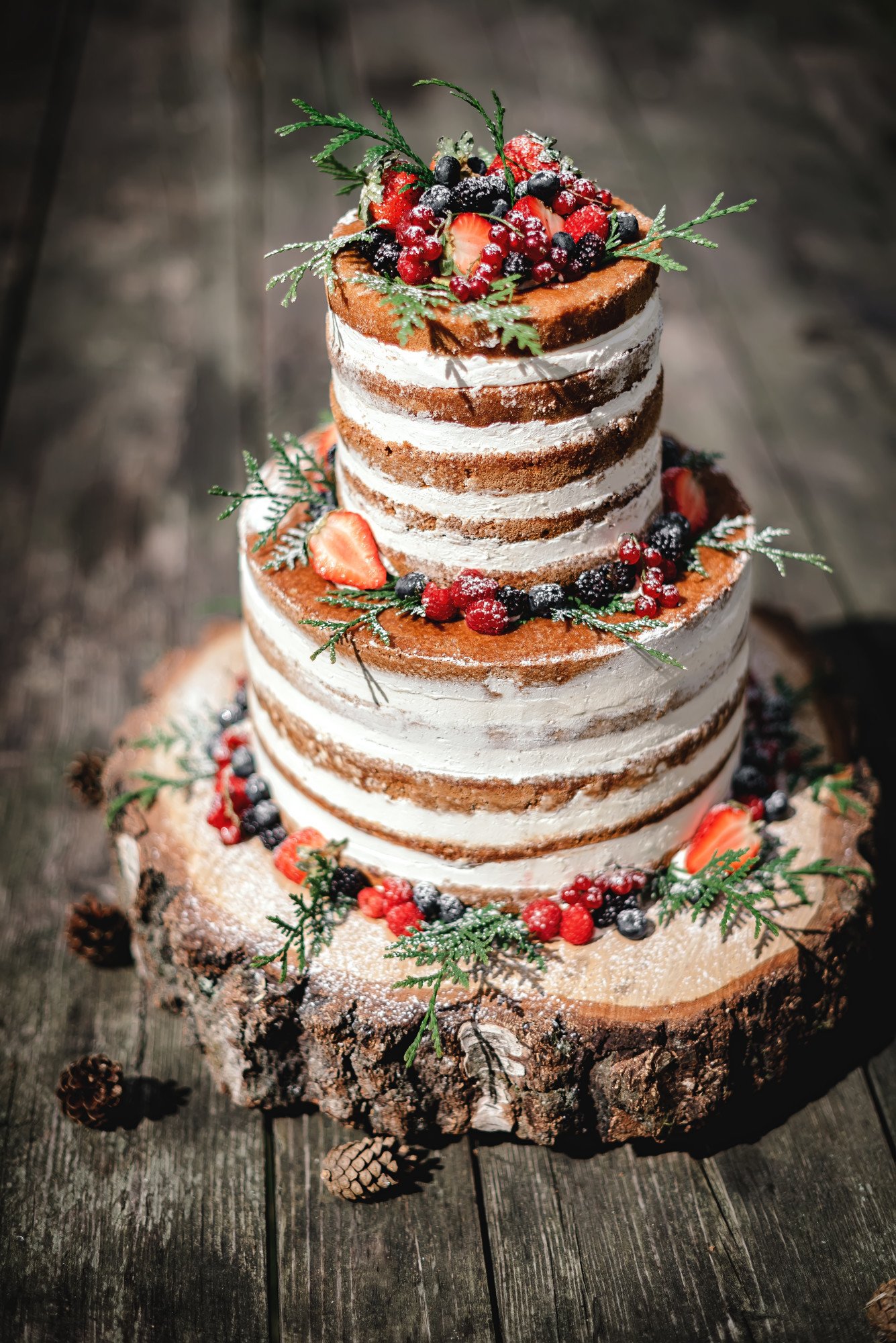 Something Sweet: 9 Designs for Rustic Wedding Cakes Too Pretty to Eat
Originally posted on https://www.windsongranchllc.com/something-sweet-9-designs-for-rustic-wedding-cakes-too-pretty-to-eat
Celebrating your wedding in a country-chic style? Your cake needs to match. Here are 9 designs for a rustic wedding cake that are almost too pretty to eat!
Are you planning a wedding and are looking for unique wedding cake ideas?
Nowadays, people strive to have a unique wedding in any way, shape, or form. Others need to have a big bash with unique themes and gimmicks to satisfy their need to be unique. Often, this ends up stressing them out while planning and, for the most part, turn out to be something less than they imagined it would be.
Some people are wise enough to know a unique wedding cake is enough to make a wedding stand out. Why not go for a rustic wedding cake for your wedding?
These cakes do more than have a unique appearance. These also help enforce the simple barn wedding theme if you want your wedding to have that aesthetic. Check out these rustic cake designs and find inspiration as to how your own wedding cake will turn out.
1. Naked Wedding Cake with Floral Decor
A naked wedding cake is one with no frosting covering the exterior of the cake. In these cakes, the moisture comes from the frosting in between the layers of cake or from a special, sweetened mix poured onto the cake before it's displayed.
These cakes work for as rustic wedding cakes because it simulates the simplicity often found in the country style of living. The added flower toppers also add a touch of nature the theme also exudes. This makes for a cake which gives of a homey vibe.
A naked cake with floral toppers is also a tasteful way to save on your wedding cakewithout looking cheap.
2. Buttercream and Lavender
Simplicity is a big quality when it comes to the rustic wedding theme. What color to better represent that quality than the color white?
For this reason, buttercream is both a perfect and delicious ingredients when you're trying to go rustic. A simple layer of buttercream on any wedding cake can make it look beautiful enough to not want to eat. Add on some lavender garnishes and your cake will turn out perfect.
Lavender lends an appealing rustic look to any wedding fixture. Not to mention it also gives off a calming aroma which will make your cake even more desirable.
3. Tiered White Wedding Cakes with Acorn Garnishes
Tiered cakes are the closest we'll get to traditional wedding cakes. Some people view these as a must-have for their weddings. How can you incorporate these cakes into the rustic wedding theme though?
The answer is garnishing. A lot of simple items can turn into fantastic rustic garnishes for anything in your wedding. The best examples for this are acorns.
Acorns have the right size and look to fit on both your tiered wedding cake and your theme. You can have them candied to become an edible part of the cake, too. Also, you can have them dipped in metallic food coloring to add a vibrant contrast to the white cake you have.
4. Budding Buttercream Flower Cake
As mentioned above, buttercream is perfect for rustic wedding themes. In fact, it's a near staple to rustic weddings. This means having a plain design for a buttercream cake may turn out too boring for the event.
How do you crank it up a notch? Simple, all you need to do step up your decorating game. A great way to do this is by frosting them as budding flowers. These make your cake appear in line with the theme while adding a layer of beauty.
5. Red Velvet Cake with Thin Frosting and Berry Garnishes
If you want a cake to simulate a wood-like look, then red velvet is your best bet for the idea. The dark color of the bread blends well with any light-colored frosting. A thin layer of your frosting of choice will make it look as if the cake looks like an aged trunk of a tree.
This results in an amazing looking and delicious cake for the event. You can also add some berries to garnish the cake. This gives it even more of a natural aesthetic, a great quality for simple wedding cakes in rustic weddings.
6. Mountainscape Frosting Design
If you want a different kind of frosting than buttercream while still keeping in line with the rustic theme, then you can use something darker like chocolate. All you need to do is design the frosting to resemble something in line with the theme.
A good way to do this is to draw a mountainscape on the side of your cake. This is simple enough to do even without much experience in drawing with frosting. The best part about this is, if you make a mistake, you can do it all over again until you get it right.
7. Fern and Moss Fondant Design
For a more outdoorsy cake, you can use fondant to create this next masterpiece.
When people think of the countryside, for the most part, they think about the smell of grass, ferns, and moss. Bring these thoughts to life by adding them as decorations to your wedding cake.
The only things you'll need for this are fondant and food coloring. Doing this will make your cake look stunning while inviting guests to take a slice to eat.
8. Naked Chocolate Cake with Caramel Drizzle
If you're going for a simple yet classy rustic wedding cake, then this is the cake for you.
A naked chocolate cake is a great way to bring in the simplistic nature of the rustic theme. It also brings in the tastiness to make you feel confident when people taste your cake. A naked chocolate cake isn't enough to make it look rustic though.
You can consider adding a bit of caramel on it. Doing this will give it another taste sensation to look forward to and a look of dried sap on a tree.
Do this to impress your friends with the visual masterpiece in front of them and a taste to remember.
9. Sugar Dusted Cake with Fruit Garnishes
If you like the appeal of thin-frosted cakes but don't like buttercream, then this may be more to your fancy. A light dusting of sugar is all it takes to transform naked barn wedding cakes into little bites of heaven. This will also make your cake look like a great decorative complement to any outdoor wedding dress for the bride.
Powdered sugar goes well with fruits. This means you have different options if you want to bring in color to the cake.
Design Your Own Rustic Wedding Cake Today!
Going for a rustic wedding cake presents you with opportunities to design your own cake. Let your imagination run wild and design your cake today!
What better way is there to remember a wedding than by taking photos? How will you incorporate a photo booth into your rustic wedding without breaking the theme though? Click here to check out these tips to creating a DIY photo booth for your event.