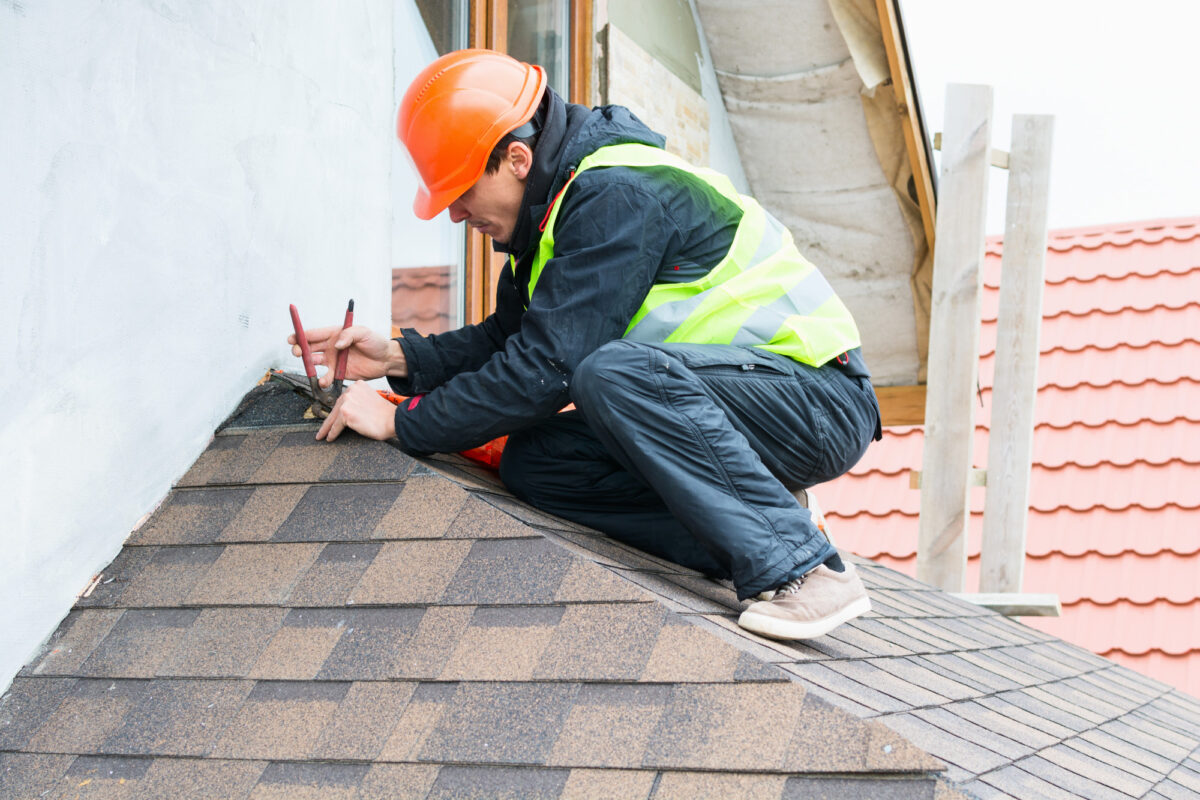 Replacing Your Roof? A Guide to Choosing Roofing Materials
Photo from Adobe Stock
Originally Posted On: https://concordroofingnc.com/replacing-your-roof-a-guide-to-choosing-roofing-materials/
When it comes to home major home renovations, roof replacement is right up there as one of the most expensive, but most important renovations you'll ever do.
Although this project might not seem all that exciting or glamorous, it literally provides the shelter over your head and the protection that your home (and family) needs. So when it comes time to choose roofing materials, you really need to do your due diligence.
Replacing your roof is not something you should put off or take lightly — it's crucial to the integrity of your home. Here's what to think about when making your roofing material choice.
Before You Choose Roofing Materials, Consider This:
A roof replacement is not only crucial to the structure, safety, and liveability of your home. But it can add huge value to your property and communicate the aesthetic of your home, too.
Yes, roof framing, preparation, and installation are imperative when replacing your roof. But nothing quite matches up in importance than your roofing materials. So, before you make your choice, here's what you need to think about beforehand:
What is the weight of this material and will it require specialized roof framing?
Can I find this material in the right color and style to match the rest of my home?
Does this material meet all local fire codes?
Does this material require specialized installation and maintenance?
What is the performance of this material like in extreme weather?
You also want to carefully consider the cost, warranty, and the total lifespan of the roofing material you choose. Ultimately, it's the answers to these questions that will help you make an informed decision — as well as a decision that's worth your money!
With further ado, here are some of the most popular roofing materials for homes today:
1. Asphalt Shingles
It goes without saying that asphalt shingles are the most popular choice amongst homeowners today. It's the most common roofing material used across the U.S. thanks to how economical it is, as well as ease of installation.
Asphalt shingles are also reinforced with either fiberglass or cellulose for extra longevity. Here are a few pros and cons to consider:
Pros: you can find asphalt shingles in a huge variety of colors and they're also inexpensive (they're probably your cheapest option)
Cons: they tend to have a shorter lifespan than other materials and might not provide the greatest amount of home insulation
One of the main reasons that asphalt shingles remain so popular is because they're so versatile and suit almost any style of home. If you're thinking about asphalt shingles, HomeAdvisor states an average cost of $100-$150 per square, while they offer a decent lifespan of about 20-25 years.
2. Wooden Shingles/Shake
If there's one type of roofing material that's been around for centuries, it's the wooden shingle. Essentially, the wooden shingle kicked off the evolution of all popular roofing materials we know today.
They might not be as popular as asphalt shingles, but their wooden counterparts offer an amazing touch of character to any home as they age and weather. This is one of the reasons they still remain popular.
Wooden shingles/shakes are handmade, so this adds yet another element of character to your home. Just bear in mind that you'll need to choose class A fire-rated and treated wooden shingles if you live in a fire-prone region.
Some pros and cons include:
Pros: they offer a beautiful, rustic look, they're inexpensive and easy to install
Cons: area fire codes might prohibit their use, and they're not ideal for very wet climates
If you have a Tudor-style, Cape Cod, cottage-style, or bungalow home, then wooden shingles/shakes are the perfect complement as a roofing material. It will cost you $100-$150 per square foot, on average, while wooden shingles have a lifespan of 25-30 years.
3. Concrete/Clay Tiles
This is one of the more decorative and glamorous styles of roofing materials you could opt for. Whether you choose flat, ribbed, or scalloped tiles, they're an amazing investment for your home.
Concrete tiles are also extremely versatile and a little less heavy than their clay counterparts. Here are the pros and cons to think about:
Pros: they're highly durable, non-combustible, energy-efficient, and provide great insulation
Cons: they're very heavy, you might need additional framing for your roof, and they're a little more on the expensive side
If you have a Mediterranean-style, Southwestern, Spanish, or Mission-style home, these types of tiles are the perfect, long-wearing choice.
However, you'll have to fork out an average of $800-$1800 per square for clay tiles, and $150-$250 per square for concrete tiles. But the good news is that clay tiles last close to a lifetime — up to 75 years. While concrete tiles should last you 30-50 years.
4. Metal Roofing
Today, you'll find an increasing amount of homeowners opting for metal roofing. Why? Because it's one of the best materials in terms of weather resistance, while many material types are lightweight and long-lasting.
You can find metal roofing materials in two main categories — panels and shingles. You can also choose from different metal materials, such as copper, zinc, and stainless steel.
Some of the pros and cons include:
Pros: metal roofs are durable, they have solar reflective qualities, and offer decent insulation
Cons: some materials can be heavy, and depending on the metal you choose, they can be quite expensive
Metal roofs tend to suit homes with a more contemporary, modern, or minimalist style. However, you can still opt for metal roofing material if you live in a bungalow, cabin, or cottage-style home.
You can expect to pay anywhere from $120-$900 per square for metal roofing, but this depends on the type of metal you opt for. You're also guaranteed a lifespan of roughly 40-75 years.
5. Slate Roofing
If slate roofing is renowned for anything, it has to be its elegance. It definitely has a high-end look to it, while some of the most popular slate roof colors include black, gray, green, red, and even purple. If you're thinking about a slate roof, here are the pros and cons:
Pros: it's completely fire-resistant, highly durable, and a sustainable option as this material is recyclable
Cons: as a roofing material, it's heavy and you might need extra framing, while the quality of some slate materials can vary
When it comes to choosing quality slate, you want to be hyper-aware of imported slate variations. If you have a chateau-style, European, French-inspired, or colonial-style home, then slate is the ideal choice.
The major drawback with slate roofing material is the cost. You can expect to pay almost the same as clay tiling — anywhere from $800-$1800 per square. However, slate lasts the longest, anywhere from 50-100 years.
6. Synthetic Roofing
Aside from these popular roofing choices, synthetic materials are also increasing in demand. In today's world, you can find more and more homeowners considering synthetic materials such as rubber, plastic, and polymer.
These materials mimic the look of other popular roofing types, such as slate and wood. They're also specifically designed to be extra durable, weather-resistant, and low-maintenance. Many of these materials are also fire-resistant.
When it comes to choosing a synthetic roofing material, always do your homework on the warranty of the material. And ask for a sample of the product before you settle on a decision.
The pros and cons include:
Pros: synthetic materials are robust and hard-wearing, half as heavy as natural materials, and far less expensive
Cons: some materials can absorb water, while the quality varies depending on the material you choose
The best thing about synthetic materials is that they're some of the most versatile on the market today. They tend to suit almost any home style because you can find synthetic materials that mimic the look of almost all traditional materials.
On average, the cost will set you back about $300 per square, with a longevity of up to 50 years.
Do I Need a Complete Roof Replacement?
Sure, a completely new roof may seem like an expensive undertaking. It's easy to question whether a full roof replacement is 100 percent necessary — can't you just add shingles over your pre-existing roof layer?
While this used to be quite common practice, it's no longer recommended or even permitted in some regions/jurisdictions. In today's day and age, complete removal of your old roof tends to be the norm, with a full roof replacement thereafter.
If you do live in a region that allows for layering over your old roof materials, here's what to consider first:
The weight on your roof structure — can your roof handle another layer of materials? This is especially important if you live in an older home
Telegraphing — this means you could repeat some of the same surface irregularities that are already there. Adding another layer on top of old materials can sometimes exacerbate roof bubbles, bumps, and waves
Future expenses — sometimes a partial roof replacement or layering new materials on top of old ones can cost you more in the long run
At the end of the day, replacing your roof the right way, the first time around can actually save you more money than you realize. Correcting a rehash, cover-up job that originally needed tearing down is often the more expensive option.
So if you're considering a cover-up roof replacement, you might want to take the long-term costs into consideration.
Expert Roof Replacement at Your Fingertips
Whether you're looking for expert advice on the best roofing materials to choose for your particular home or require the expertise of a roofing contractor, Concord Roofing is your go-to.
With a range of roofing services under our belt, such as repair, roof replacement, roof installation, and more, the quality of your roofing project is in the best possible hands.
Get in touch with our team for the expert advice you're looking for.