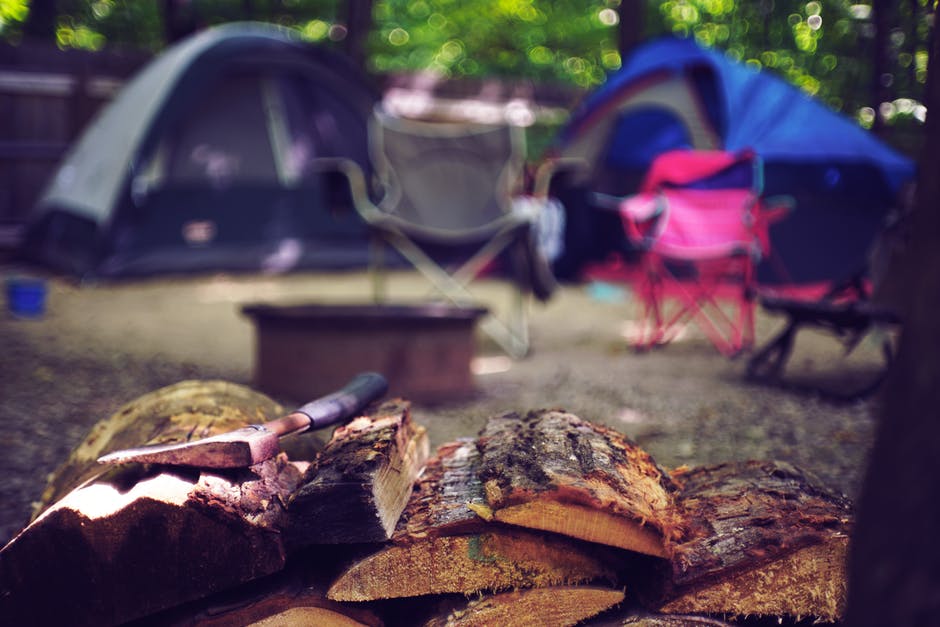 RELAXING AROUND THE FIRE: THE TOP COLEMAN CAMPING CHAIRS FOR ANY PRICE RANGE
Discomfort turns many away from camping. From uncomfortable sleeping bags to drafty tents to cheaply made chairs, there's nothing worse than being out in the woods and in pain. But camping doesn't have to be an uncomfortable experience.
Coleman is among the top makers of high-quality camping goods, and their chairs are unbeatable. They have a chair that matches the needs of everyone, whether you need something sturdy, lightweight, or full of pockets and features.
With so many camping chairs available on the market today, it can be hard to make a decision. To help you decide, here are some of the best Coleman camping chairs available, and what makes them so great.
The Coleman Portable Camping Quad Chair With Four-Can Cooler
There are few more comfortable and feature-rich chairs than the Coleman Portable Quad Cooler Chair.
This polyester folding chair comes in at a very affordable price between $20 and $35. It comes in four colours: black, red, blue and grey, and promises you hours of comfort due to its fully cushioned back and seat. If you're looking for something as stylish as it is comfortable, you can't go wrong here.
The coolest part about this chair is the four can cooler built right into the arm of the chair. Hanging down off the left arm, this polyester cooler will keep four drinks of your choice cool and easily accessible. The right arm has a built-in mesh cup holder, and the chair has another pocket at the side for your personal items.
The arms even adjust to fit a person of any height!
This chair is sturdy with a steel frame and legs that can support up to 300 lbs. Rest assured this chair won't fold in or collapse on you. And when it's time to pack up and go, the chair folds up nice and small into its included carrying bag.
The Coleman Cooler Quad Chair is a premium camping chair at an affordable price. You'll be able to spend hours sitting by the fire in this chair and may never want to leave it. The over 3,500 five-star reviews on Amazon can't be wrong.
Coleman Camping Chair with Side Table
The side-table chair comes in at a slightly heftier price, but puts every penny to use. It's got a sleek black and grey design made of weather-resistant fabrics and is very portable. And of course, it's got the side table.
This aluminium-framed chair comes attached to a folding side table at the right-hand side, perfect for holding anything you may desire. The table has a cup-holder conveniently built into one corner, allowing more room for other items. While there are no extra pouches for holding items, the table should do perfectly for most things.
The side table chair won't hold as much weight as the quad cooler chair, coming in at a slightly lesser weigh., but provides an equally portable and relaxing experience. The back is built at a relaxed angle, with a cushioned back and very comfortable arm padding. Plus, the aluminium frame makes this extremely light!
The design is a bit closer to the ground than some chairs, so if you're exceptionally tall this might not be the chair for you. Still, it's hard to resist that side table and the excellent look and portability of this chair.
Coleman Big-N-Tall Quad Camping Chair
For an exceptionally sturdy chair, look no further than the Big-N-Tall from Coleman. This chair is steel framed and boasts an impressive 600 lb carrying capacity able to support you no matter what size. It's set higher up than most chairs in its price range, made for the comfort of taller campers.
The Big-N-Tall is built with the worst of weather in mind, and made with water-resistant materials. It has a Seat Drain system built into the chair which drains water as it lands on it, and even comes with a CellPort water-resistant phone sleeve in one arm that allows you to place your phone inside of it and still use it without it suffering water damage.
You won't find a much roomier, sturdy chair than this. The seat comes in at 24 inches wide and sits up 19 inches, more than the average camping chair. The arms are adjustable and the feet are oversized, adding that extra level of sturdiness even in the dirt.
Even the cupholder is a little larger, able to hold wide water bottles and receptacles with ease. The chair comes in at a slightly heavier 10 lbs, but is just as easy to fold out and set up than any other camping chair. If you struggle to find a chair with the proper proportions and strength to support you, this chair will easily join your list of essential camping supplies.
Coleman ComfortSmart Suspension Camping Chair
You'll be surprised how comfortable a camping chair can be when you try out the Coleman ComfortSmart Suspension chair. Not only does it have an extremely unique and classy design, but it's also built for maximum comfort. At $59.99 retail it's a little more pricy than most, but Coleman makes use of every penny.
This chair uses ComfortSmart technology to achieve a nearly unmatchable comfort experience perfect after a long day of hiking. It's supported with a bungee suspension system that lets you ease right in and get relaxed. The chair has a colling mesh back that'll keep the sweat away, and it's strong steel frame easily supports up to 300 lbs.
Even the cup holder is designed sleek, and is able to hold anything you might want it to, from a bottle to a cup to a wine glass. The arms are maybe a little short for some, but are padded and comfortable, and the 25-inch seat offers plenty of room for every size of person.
The chair doesn't offer any extra side pouches, but more than makes up for it in comfort. The chair also comes with a carrying case and folds up easily, making it perfect for a trip of any distance. Camp in comfort with the ComfortSmart Suspension chair.
Coleman Quattro Lax Double Quad Chair
Want to achieve ultimate comfort for two people? The very unique, comfortable, and portable Quattro Lax Double Chair is the answer for you. It's perfect for sharing with friends or family, or for getting nice and snuggly with your spouse by the campfire.
The Quattro has two cup holders, two seatback pockets, and comfortably seats two people. It's made for sharing anywhere you might find yourself, including camping. It has a steel frame that supports 225 lbs per seat, with each seat measuring in at a roomy 14.6 inches.
With all that size in mind, it might seem like portability would suffer, but that's not the case. The Quattro folds up nice and compact into its included carrying bag, and comes in at a modest 10.5 lbs! It's hard to believe that such a big chair could achieve so much, but Coleman's found a way to do it.
Get extra cosy in the Quattro from Coleman. You'll be impressed with how much such a unique chair can do.
Coleman Kids Quad Chair
But what about a chair for the kids? The Coleman Kids Quad Chair comes in a variety of colourful and fun designs and is sized perfectly for children. They're just as sturdy as a full-size Coleman chair, and a breeze to set up and carry with you whether you're camping locally or making a trip to Australia.
The kids quad chair can hold up to 160 lbs and has a strong steel frame to ensure it won't collapse. The lower seat resists tipping, and the chair is even glow-in-the-dark, which is sure to impress any kid!
It has all the features you've come to know from a camping chair, including a cup holder and a locking frame that stops it from accidentally folding when in use. It's the ultimate in comfort and cool for kids, and at $19.99 it's hard to find a better camping chair for children.
Coleman Camping Chairs Won't Disappoint
You can't go wrong with Coleman camping chairs. Sturdy, feature-rich, and affordable, any chair you choose is sure to bring a smile to your face and make each camping trip easier and more comfortable. Hopefully, this list has helped you narrow down your options and decide on what chair is right for you.
For more on camping and camping gear, check out our camping guides and the rest of our website. Feel free to contact us with any comments, questions or concerns. We'd be happy to hear them.