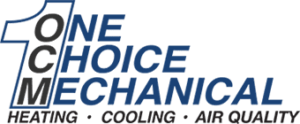 One Choice Mechanical to Address All SEER-related Questions, Offer Honest and Experienced Service Amid DOE Changes
The US Department of Energy (DOE) announced major HVAC refrigerant and SEER changes that will take effect starting January I, 2023. One Choice Mechanical is here to address the new development's good, bad, and ugly and answer all SEER-related questions to keep their customers updated. Click here to learn more about this topic.
FOR IMMEDIATE RELEASE
Fairdale, KY, November 10, 2022, 2022 – The DOE reviews home appliances and mechanical systems every six years to determine how much energy they consume and at what cost. Following a review done in 2017, the government announced new HVAC SEER changes that will affect how consumers choose their HVAC systems. To keep their customers updated and well-advised, One Choice Mechanical, a Clarksville Air Conditioning Repair company, addresses all SEER-related questions and offers honest and experienced service amid these developments.
"The DOE has authorized new HVAC-related regulations set to take effect beginning January 2023. According to the directive, all newly manufactured commercial and residential heat pumps, air conditioners, and gas furnaces are required to meet certain energy conservation standards. For air conditioners, those installed in South East and South West regions of the country must achieve a 15.0 SEER rating. One Choice Mechanical is committed to helping our customers adhere to these changes and deal with any challenges that arise. We will address all your SEER-related questions, and give you honest, experienced service in your time of need," said Jaxson Paulin, the Marketing Manager at One Choice Mechanical.
The La Grange, KY AC Replacement, installation, and repair company has over 15 years of experience in HVAC service, keeping households and commercial premises hospitable and comfortable. It employs professional and experienced technicians and state-of-the-art techniques to deliver services that maximize the year-round efficiency and comfort of customers' homes and businesses.
Additionally, the locally-owned and operated firm works on various systems to ensure customers are comfortable in all seasons. The technicians are fast and swiftly respond to clients' distress calls to restore healthy environments. Services offered by the company include:
● Air conditioning
● Heating
● Maintenance
● Commercial HVAC
● Duct cleaning
● Aerosol duct sealing
● Geothermal services
● Indoor air quality
One Choice Mechanical also offers Clarksville air conditioning services besides Kentucky neighborhoods. Indiana City's services include air conditioning installation, replacement and repair, and heating services.
"Are you looking for Air conditioning (AC) and heating services in Clarksville, IN? One Choice Mechanical offers efficient, reliable, fast, and affordable heating, ventilation, and air conditioning (HVAC) services in this region. We are a family-owned business with over fifteen years of experience in Clarksville Air Conditioning Installation, repair, and replacement," added Paulin.
For more information on this topic, click here: https://www.ocmech.com/.
About One Choice Mechanical
One Choice Mechanical has provided heating, ventilation, and air conditioning services in the Louisville, Kentucky, area for over 15 years. Through its professional and experienced technicians, the company serves the larger La Grange area, Fairdale, and Clarksville, Indiana. The team believes in serving the community with integrity, honesty, and excellent customer service.
Contact Information
Name: Jaxson Paulin
Organization: One Choice Mechanical
Address: National Turnpike Fairdale, KY 40118
Phone Number:502-242-8204
Website: https://www.ocmech.com/
Originally posted On: https://syndication.cloud/one-choice-mechanical-to-address-all-seer-related-questions-offer-honest-and-experienced-service-amid-doe-changes/