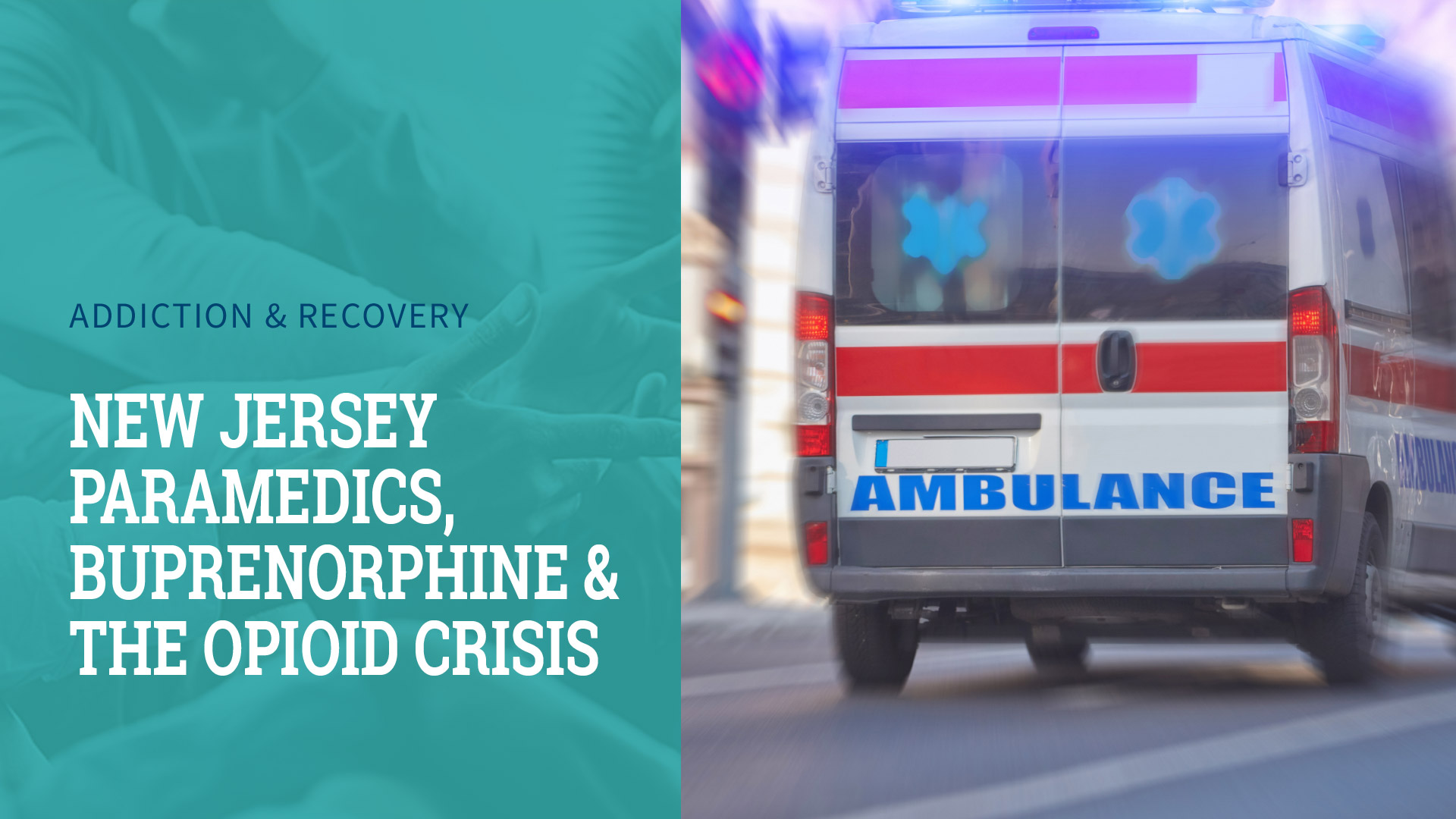 New Jersey Paramedics, Buprenorphine, and the Opioid Crisis
Originally posted on https://pinnacletreatment.com/blog/nj-paramedics-opioid-crisis/
The opioid crisis hit New Jersey hard.
More than 14,000 people have died from drug overdose in the state since 2004. In 2018 alone, 3,163 died of drug overdose, a figure that's up 17% from 2017. That increase happened at the height of massive national awareness campaigns, public policy initiatives, and commissions including everyone from the President of the United States to former New Jersey Governor Chris Christie. The new numbers make drug overdose the leading cause of accidental death in New Jersey, and account for more accidental deaths than the combined total for automobile crashes, suicide, and homicide.
A large percentage of these deaths are from opioids, both illegal and prescribed.
New Jersey has a heroin overdose rate that's three times the national average, and while the most recent statistics for prescription opioid overdose deaths in New Jersey are not available, the National Institute on Drug Abuse reports that in 2017, for every 100 New Jersey residents, doctors wrote an average of 44.2 opioid prescriptions.
Basic math tells us that's a rate of 44.2%.
Research tells us that one of the common pathways to opioid overdose begins with prescription opioids, moves to black market prescription opioids, then to illicit street drugs such as heroin. In some cases, this pathway ends in death by overdose.
Spotlight: Mercer County
Let's focus on one area in New Jersey – Mercer County – to illustrate the situation. The New Jersey Department of Health reports the following county-specific statistics for Mercer:
106 people died from drug overdose in 2017 – up 79% from 2016.
147 people died of suspected drug overdose in 2018 – a 38% increase from 2017.
Forensic toxicology data for 2017 shows the presence of the following drugs in decedents, in order from greatest to least: fentanyl, heroin, cocaine, oxycodone.
Earlier this year, reports that overdose deaths declined in Pennsylvania, Ohio, and Kentucky for the first time in over a decade brought a glimmer of hope. However, New Jersey is still searching for relief. In the words of NJ State Attorney General Gurbir Grewal:
"I think we have to acknowledge that, unfortunately, all of our efforts aren't having the impact we want to see yet. That doesn't mean we stop. I'm optimistic that we're moving in the right direction. I have to be."
 In the midst of a very difficult set of circumstances, his optimism was admirable. Provisional data for 2019 shows his optimism was not unfounded. The collective effort to reverse the trend in overdose deaths is beginning to have an impact both statewide and in Mercer County:
Total suspected overdose deaths as of June 2019 for all NJ: 1,389. That's on pace for a yearly total of 2,778, which would be a decrease of 10% from 2018.
Total suspected overdose deaths as of June 2019 for Mercer County: 61. That's on pace for a yearly total of 122, which would be a decrease of 17% for 2018.
There's another piece of good news in the ongoing effort to get the opioid crisis under control.
In June, the State of New Jersey took a brave step in a nationwide first: Dr. Shareef Elnahal, the commissioner of health at the time, gave paramedics the ability to carry and administer the drug buprenorphine to individuals they save from overdose with the fast-acting, life-saving drug Narcan.
From Overdose to Treatment: Why EMTs + Buprenorphine Can Make A Difference
Buprenorphine – known also by its commercial name, Suboxone – is one of only three medications approved by the Food and Drug Administration (FDA) and the Drug Enforcement Administration (DEA) for the treatment of opioid use disorders. Evidence shows treatment with buprenorphine decreases:
Illicit opioid use
Criminal behavior
Involvement with the judicial system
Mortality rates
In addition, treatment with buprenorphine has positive effects on:
Time-in-treatment
Family relationships
Social functioning
Ability to seek, gain, and maintain employment
Physical and mental health
Lifestyle habits (eating well, sleeping consistently, etc.)
Self-esteem
Buprenorphine works. There's no doubt about that.
But what's the big deal about EMTs being allowed to dispense the medication?
Imagine this scenario:
Paramedics respond to an emergency call involving a suspected opioid overdose. Upon arrival, they confirm indications of opioid overdose, and administer the drug Narcan, which blocks the effects of opiates in the body and reverses the deadly trajectory of an overdose. The paramedics then take the overdose victim to the hospital for medical monitoring. Hours pass, and the individual begins experiencing withdrawal symptoms, since the Narcan that saved their life blocked the action of the remaining opioid molecules in their system. The symptoms are intense, and drive the individual to leave the hospital, against the advice of doctors, in order seek another dose of opioids – in any form – to alleviate their symptoms.
In that scenario, a life is saved, but the cycle of addiction continues.
Now, imagine a scenario in which those same paramedics administer a second drug – buprenorphine – that blocks withdrawal symptoms. In this scenario, the overdose victim does not begin to experience withdrawal symptoms – because of the buprenorphine. They're in a physical, emotional, and psychological space where they'll listen to the doctors – because of the buprenorphine. The doctors diagnose an opioid use disorder and urge the overdose victim to enter treatment. The individual agrees to treatment and starts on a path that can change their life for the better – because of the buprenorphine.
And by extension, because of the proactive step taken by the state of New Jersey to allow paramedics to administer buprenorphine.
In that second scenario, a life is saved, and the cycle of addiction is interrupted.
The First Line of Treatment
People living with an opioid use disorder need treatment.
This new policy in New Jerseys allows the most effective form of treatment for opioid use disorders to begin immediately after an overdose, which could be a game-changer in our efforts to mitigate the impact of the opioid crisis in the state.
It's an excellent first step – but it's just that: a first step.
The next step is getting people – the individuals in our two scenarios above, for instance – into an effective treatment program right away. This would involve relationships between hospital emergency rooms and addiction treatment providers that facilitate a smooth, seamless transition from overdose to treatment with a minimum of red tape and a maximum benefit for the individual and community.
The program in New Jersey is the first of its kind. There are outstanding details to address, questions to answer, and challenges to overcome, of course. We eagerly await the data that will either confirm or deny its effectiveness. However, even before we see the data, this development gives us hope: it shows that we can see a problem, collaborate with one another to devise a potentially life-saving solution, and implement that solution for the common good.