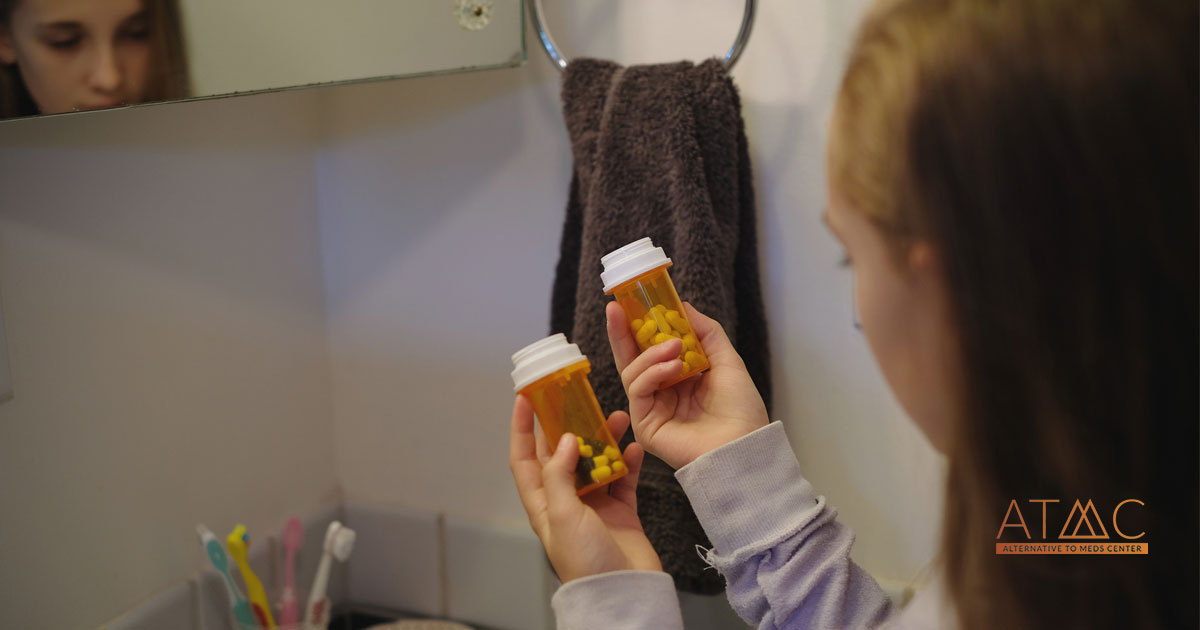 Medications in Your Home and the Risks They Pose
Photo from Getty Images
Originally Posted On: https://www.alternativetomeds.com/blog/medications-home-risks/
There are lots of hazards we're conditioned to look out for in our homes, both for our own safety and the safety of our family and guests. Firearms, sharp objects, stacked shelves, steep staircases, and the threat of fire, smoke, and carbon monoxide are all common threats we're taught to be cognizant of. However, some of the most dangerous threats are seemingly benign, like bottles of pills. Dangerous medications in the medicine cabinet, or worse, sitting in the open on a countertop or bathroom sink, need all the attention of the more commonly thought-of threats.
The dangers aren't limited exclusively to prescription or over-the-counter medicines. Both categories present hazards. You don't need to live with the threat of dangerous medications in your home. Alternative to Meds Center can lay out the most common and harmful medicinal adversaries you have in your home and help uncover alternatives.
How Do You Know Your Medications Are Dangerous?
The number of medications you can find in your home that present a hidden danger is greater than you probably ever imagined. Start by asking yourself if you can remember the last time you went through your medicine cabinet to take inventory of its contents. For those who don't suffer from a chronic condition and have no reason to open the cabinet on a regular basis, a deadly stockpile of drugs may be accruing with these relatively simple warning signs.
Past-Due Expiration Dates
Medicines, both prescription and over-the-counter varieties, vitamins, health supplements, and many skincare products have expiration dates. Using them after they expire may negate their usefulness, but some have insidious increases in toxicity after expiring that pose a danger.1
Changes in Color, Smell, or Taste
Exposure to light, extreme temperatures including heat or freezing conditions, or a faulty seal can cause degradation of chemical integrity. If something seems off, don't ignore your instincts and assume there is no danger. Medicinal labels should include visual descriptions of the contents inside. A worn-off, scratched-up, or blotted label is another good indicator the contents shouldn't be ingested, in the interest of safety.
Anything Unlabeled or Not in Original Container
Photo from Getty Images
There are multiple product lines of pill organizers and storage containers with the implied purpose of making medication safer and easier to remember, but if the medicine isn't in its original container, it won't be long before it becomes hazardous not knowing what's what. Without proper medicinal labels, how certain one can be there hasn't been a physically noticeable change to the appearance or scent of a medicine.
What Medications Can Cause Harm?
While controlled substances in prescription form, including painkillers like opioids, benzodiazepines, prescription stimulants and prescription depressants are a serious risk, there are many other potentially harmful medications in your home.
Over the Counter Pain Relievers
Aspirin paired with a blood thinner could spell disaster, especially for someone with a heart condition, as the result may be internal bleeding. Children under two years old should never be given Aspirin, and older children also bear risks like Reye's syndrome, a condition that can lead to swelling in the brain and liver. Many other pain killers, including acetaminophen and ibuprofen, carry similar risks. Regular usage is detrimental to your kidney health.
Heartburn Medication
Heartburn medication is seldom talked about for its potential negative effects. However, products like Prilosec and Prevacid can increase the risk of gut infections and decrease the body's natural ability to absorb nutrients. It's a high price to pay for a condition that could be controlled by dietary changes. 2
Mental Health Medications
Attention to mental health concerns is finally growing in acceptance as we attempt to close a major health care gap in our society. Unfortunately, it is being opportunistically exploited as a means to peddle SSRIs for depression, depressants for anxiety, and other counterintuitive solutions. 3 There are many holistic paths to improving mental health that don't involve pills and won't lead to astronomical numbers of ER visits, injuries, and fatalities created by some of the most popular mental health drugs on the market.
Tips for Storing Medications at Home
Discard unneeded medicines, especially if you've already had a particularly adverse side effect, or worse, an allergic reaction. When discarding medications of any type, do so safely which means NOT flushing them down the sink or toilet, but following safe medication disposal guidelines that are available in your community.4
If you have a prescription painkiller, please consider the many dangers it can present to your body and wellbeing. Then, consider how likely it is that even if you are not addicted, someone you know probably is addicted, or at the very least, is at risk of becoming so. Don't add to their temptation by leaving something potentially deadly in easy reach.
If you have a controlled substance, extra precautions are in order. Don't store them where anyone else has access. You wouldn't leave a loaded gun within easy reach of a child or somewhere an unstable person may quickly and easily gain access. Treat controlled substances the same way: with concealment and an added layer of security like a combination lock.
Is There a Better Place Than a Medicine Cabinet?
If your medicine is essential for daily use, you should still consider the drawbacks of the traditional medicine cabinet and the pitfalls of some of the other locations in your home. Chief among the faults of a traditional medicine cabinet is its location in your home's bathroom. Temperature and moisture are two of the primary culprits to altering medicine and increasing the potential for it to be altered with dangerous results. Why then, would medicine be traditionally stored in the same room intended for hot showers?
Even with the use of a bathroom fan, you likely have stepped out of the shower to find the mirrors heavily steamed. That moisture can seep into a medicine cabinet with negative outcomes for its contents. The standard bathroom medicine cabinet also doesn't offer the security of keeping children or guests from getting their hands on dangerous medicines. The same step stool a young child uses when brushing their teeth may give them enough height to reach the medicine cabinet and go exploring for candy-colored pills or liquid medicines that look just like the juice they drink at mealtimes.
Additional Drawbacks of the Medicine Cabinet
Depending on the number of residents in your household and the number of bathrooms, additional challenges can arise.
Photo from Getty Images
Condensing the entire family's prescriptions and any over-the-counter drugs to a single medicine cabinet is a recipe for mistakes. Tracking the inventory of what is in the cabinet and making sure only the proper user is taking it is a challenge.
Having multiple medicine cabinets spread throughout the house can be even more challenging. Searching multiple bathrooms across potentially multiple floors of a home to find an antacid on Thanksgiving is an inconvenience. Leaving prescription narcotics in the guest bathroom when your brother-in-law with a drug problem comes to visit is a potential tragedy.
Alternatives to the Medicine Cabinet
Photo from Getty Images
Finding alternatives to the medicine cabinet starts with having fewer medications to store. While a doctor is responsible for making sure your prescription drug supply is limited in terms of quantity and refills, the same isn't true for over-the-counter drugs. Resist the urge to save money by buying in bulk at Costco or similar warehouse stores.
For the integrity of the medicine's chemical composition, store it in a cool dry place. An elevated kitchen cabinet as far from appliances as possible can help create added difficulty for young children to get into something they shouldn't while also removing the threat of warm steam from a shower.
A nightstand or dresser with a lockable drawer is another good choice, especially for safely hanging on to prescription painkillers. Keeping a shelf for the purpose of storing medicine in your bedroom closet is another good option, as long as the location is secure from children or visitors.
Safely Disposing of Medications
We've touched on when and why to dispose of medication, but most people don't know how to safely dispose of unneeded and unwanted pills. Remember that what you flush or throw away ends up in your groundwater. Take careful consideration into how you dispose of any medication to make sure it is gone for good and no longer poses a threat to residents or pets in your home and in your environment.. Drug take-back programs are one good resource. The Drug Enforcement Administration and many community agencies nationwide offer this service as a means of safely discarding unused drugs. Your local pharmacy may also offer disposal options.
Where take-back programs aren't an option, find out if your community has safe drop-off arrangements that are located in your area. Throwing your medicine out in the trash has potential dangers, but following an organized and thorough process can make it a less hazardous option:
Remove the drugs from their labeled bottle and intersperse them in something gritty like dirt, coffee grounds, or cat litter. This will hide the appearance of the drugs and discourage humans or animals who may raid your garbage from consuming the pills.
Seal the mixture of pills and the material you've used for its undesirable nature in a bag, can, or other container to prevent any seepage.
Place the container in a trash bag, preferably one full of other non-descript garbage.
Scratch out, cover, or otherwise destroy any identification of your personal information that appears on the medical packaging.
Seek Alternatives to Harmful and Prevalent Medications
The ultimate purpose of any in-home medication is to improve the user's lifestyle. However, medicines are directly ingested chemicals, and whatever positive effects they have almost always are connected with negative effects. Those negative effects can come in the form of harsh side effects felt while taking the medication or in the form of lasting damage done to organs and bodily functions over time.
Improving your quality of life can often be accomplished with lifestyle changes like improving your diet or exercising more. Increased human interaction, whether socially or in organized therapy can act as a powerful combatant to depression. Aromatherapy, music therapy, and other methods of inspiring positive improvements without ingesting hazardous chemicals are often more effective, and without the negative effects.
Our homes are full of chemical dangers we've learned to live with to such an extent that many of us haven't learned how to live without them. Find out what alternatives to dangerous medications are available so the problem of accumulating dangerous medicines in the home is eliminated or at least drastically reduced.