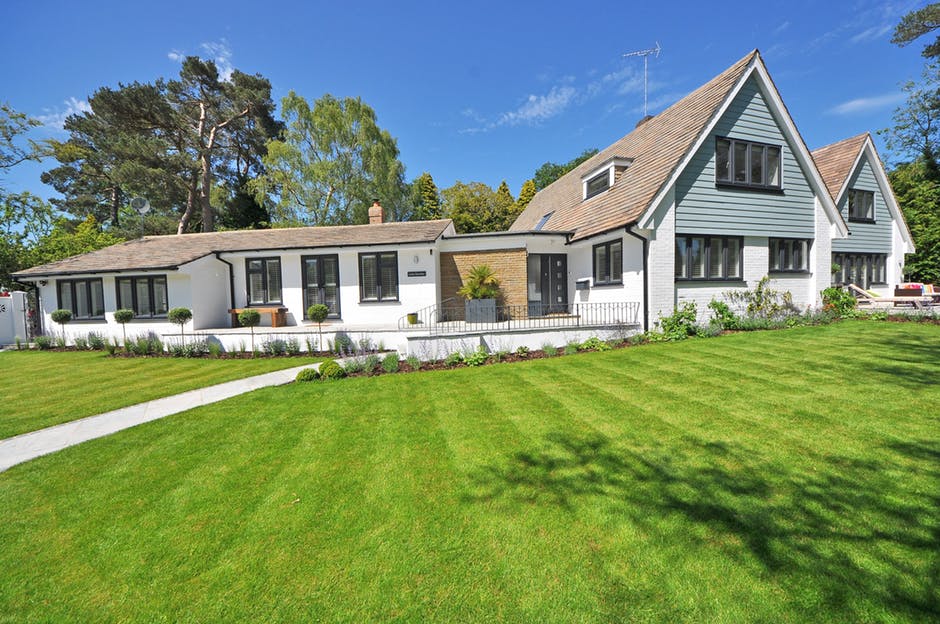 How to Add Curb Appeal to a Ranch Style House
If you're living in a ranch-style home, you're not alone. At one stage in the US, 9 out of 10 houses featured this design.
Ranch style homes are a delight with their open-plan interiors, yet from the outside, they can appear a little dull.
Fortunately, the low linear appearance of these houses lends itself to many easy fixes that add a little flair to the exterior.
Here's how to add curb appeal to a ranch style house.
Upgrade Your Garage Door
A garage door is one of the most noticeable exterior aspects of any home. So it makes sense that changing the look of yours can have a big impact on curb appeal.
Traditional raised panel garage doors are a top choice for ranch style homes but you could also opt for a carriage house style garage door or something more contemporary
According to Handyman Garage Doors, you can custom design a new garage door to get your perfect fit. It's worth trying a few different looks to see which one does the trick before splashing out on a new one.
If you're considering selling your house, a new garage door is a great investment.
How to Add Curb Appeal to a Ranch Style House with Landscaping
Ranch style homes are usually boxy or L-shaped which can make them look a little like a series of shipping containers.
Curved lines help to soften these sharp edges. Try curved garden beds along the front and sides to create a better flow.
Colorful flowers arranged in groups help to break up the expanse of the front and also draw the eye away from these austere lines toward the garden.
A winding walkway can also help to detract from the abundant right-angles in ranch-style design.
Alternatively, you can embrace these straight lines to create a sleek, contemporary look. Arrange low-growing shrubs in linear formations interspersed with taller ones to break up the uniformity.
Identical gardens on either side of your walkway play up the linear aspects of a ranch style home beautifully.
Evergreen trees draw the eye upwards to counteract the long low front of the house, creating a more balanced first-impression.
Likewise, arranging plants from lowest to highest along the path to your front door makes the house look taller.
Pimp the Porch
A small front porch is part and parcel of a ranch style house. Make the most of yours by playing it up.
Extend your porch with a taller, pitched roof or add an awning.
If you don't have space or budget for an extension, you can glam up your existing porch. Decorative railing, new house numbers, a door wreath, and container plants are simple touches with a big impact.
If you already have a railing around your porch, a fresh coat of paint in a contrasting color creates a new look at a fraction of the price.
Accent lighting, a porch swing or a table and chairs also work well. Lantern-style lighting on either side of the door looks elegant and welcoming.
Use Color
Ranch style homes typically boast natural earth tones with stucco, wood, or brick siding. These can look a little monochromatic in suburbia.
Grab a bucket of paint and add some color to the exterior. A pop of color on the porch, window trim or door goes a long way towards livening up the classic subdued tones of a ranch house.
Colorful pillars, trellises, and shutters help to break up the long silhouette of a ranch house and add roadside appeal. Even colored pots for your plants can help create the pop of color you're looking for.
Painting your front door in a color that contrasts with the rest of your home gives the exterior an instant lift.
Keep it Tidy
The neat lines of a ranch style home can emphasize an untidy garden more than any other architectural style. Keep your lawns short and neat and flower beds free of weeds.
Take time to renew your garden beds as the seasons change. There's no need to have dull, dry gardens in winter. Speak to your local nurseryman about evergreen plants and winter-flowering specimens.
Power washing the exterior of your house is an instant improvement. Keep your gutters and downspouts free of branches and leaves and maintain them regularly.
Keep tabs on chipping paint and deal with small issues before they escalate.
Easy Fixes for All Homes
There are a few things any homeowner can do to improve the curb appeal of their property regardless of what type of home they have.
Here are a few pointers:
A clean, neat driveway has a major impact on your home's street appeal. Stone, brick, and gravel all look great.
Outdoor furniture is a nice touch, but don't overdo it in a small garden. Some simple ceramic stools and a small table are enough.
For bigger yards, consider adding a paved outdoor entertainment space.
New hardware on your door and windows has a bigger effect on the overall appearance of your home than you'd expect.
Love your mailbox, it's one of the first things people will see up close when they approach your house. Paint it to match your house and surround it with colorful blooms.
Window boxes of seasonal flowers help to create a welcoming homely look.
Birdbaths and water fountains are a luxurious touch adding life to any exterior space.
Consider adding variety to a large garden with terrace stone beds, trellises, and walkways.
A low picket fence creates a cottagey feel that complements ranch style living.
More About Your Property
If you found this article on how to add curb appeal to a ranch style house, you may enjoy our other snippets about home improvements.
You'll find all the best tips to make the best of your home, inside and out, right here. Keep reading.