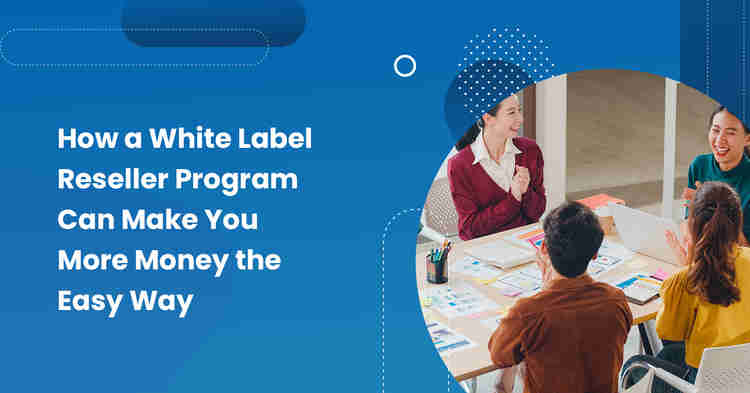 How a White Label Reseller Program Can Make You More Money the Easy Way
Originally Posted On: https://www.10comwebdevelopment.com/post/how-a-white-label-reseller-program-can-make-you-more-money-the-easy-way
If you've been in business for any amount of time, you've probably heard some daunting statistics such as only half will survive to the third or fourth year. You might not have heard that of those that fail, 82% do so because of a lack of cash flow.
But how can you add cash flow without committing to more resources that you might not have? The answer is to use a white label reseller program.
Don't worry if you're not sure what that is or how your business can benefit from white label services. Keep reading to learn everything you need to scale your business without increasing your current overhead.
What Is a White Label Reseller?
As you grow your business, you've likely heard the term white label reselling as a way to make great money. But it can be difficult to figure out exactly what it is because of its behind-the-scenes nature. The term white label refers to the idea of putting a blank label on your product or reselling another agency's services under your brand.
But why would a company want to do that? Simply put, there are plenty of business owners who love creating the service or product but don't want to build the arm of their business that requires building a customer list, selling the service, and then offering customer service after the sale.
Since they want to focus their business efforts on creating, you can benefit by doing the rest of the work they don't want to do. And, if you already have a business with a customer list, then you're ahead of the game.
This is the foundation of creating a white label reseller program. You incorporate the service that a white label agency creates and sell it to your customers with your label or brand on it. As you will see in the rest of the article, there are many benefits to adding this service line into your business and several options to choose from.
Benefits of Choosing White-Label Instead of In-House
White label reselling is fueling the growth of businesses around the world, from startups to agencies; everyone can benefit from this business model. Here are a few benefits your business could see from choosing to use a white label reseller.
1. Scale Your Business to the Next Level
Many companies say they want to scale. However, most haven't put in the time and effort to expand on their plan to scale. At its base, scaling means you can increase your profits tomorrow using your current capacity and production levels you use today.
If you were to grow your customer base by 100 new clients tomorrow, would you have to increase your hours or hire someone new? Then you're not ready to scale.
However, with white label reselling, you could expand your customer base, as well as the services you offer, without needing to increase capacity in your business.
2. Offers a New Solution to Existing Customers
When you focus on offering new solutions to your existing customers, you can improve retention and increase each client's overall customer lifetime value.
As mentioned, you can benefit from white labeling by offering a new solution to your existing customer base. This is the best way to grow your business as you don't have to add any new marketing to your current business. And you can grow your product line without adding new production capacity.
The best place to start is to talk with your current customers. What additional service would they benefit from that aligns with your current business model? Then it's time to find the solution that will benefit your customers without increasing your own work levels.
The white label business model allows you to increase sales without also increasing the amount of work you need to do. You get market-ready solutions from an expert that you can resell to your customers at a profit. This is the best way to scale your business.
3. Stay in Your Lane
This benefit can seem intangible and hard to quantify. However, when you can focus on what you're good at doing, you will grow your business faster. If you're great at SEO strategy but not writing content, you need to hire white label content writers. And if you're great at graphic design but not coding, then you could benefit from working with a white label web developer.
Find what you're good at, and then outsource the rest. And with white-label reselling, your clients won't have to worry about working with other vendors. You will remain the key point person that they work with each day.
Who Can Benefit From a White-Label Reseller Program?
The better question might be, who doesn't benefit? In the white label reselling business model, everyone can come out feeling like a winner.
The white label agency gets to work in their zone of genius creating the product or service. The customer gets the right solution for their problem without having to find a new vendor. And the middleman gets to do what they do best, finding and working with customers, providing amazing customer service, and closing more deals.
If you love working with people and finding the right solution to their problems, you can benefit from white label services. Each time you close a new deal, you won't have to worry about finding the time to deliver the service. Instead, you will work with your vendor to get the best product for your customers.
From the start-up solopreneur to the full-scale agency, every business can benefit from adding white label products or services to their business model. If you're ready to grow your business without having to increase overhead and fulfill your orders in-house, then you can benefit from white label reselling.
Options to Scale Your Business
As the white label reselling business model grows in popularity, the options are becoming endless. If there is a service that you want to offer your customers, there is likely a white-label agency ready to work with you.
Once you've talked with your current customer or your target audience, if you're just starting, then it's time to determine how you can get the best service to your customers. Here is a shortlist of examples to show you what's possible.
White Label Web Design Reseller
Many content marketers might hear from their customers that they need help with their website. But learning web development can take years of study and learning. If you don't want to take the time and effort to learn web development but want to expand your business, you should work with a reseller.
Experts in web design can design, manage, and even host your client's sites without your clients ever knowing. Everything is delivered to you with the ability to add your logo and branding before you deliver to your customers. You get to benefit from someone else's expertise, and your clients can benefit from getting what they need to grow their business too.
White Label Content Writing and SEO Services
There's no question that content creation is a growing field in the digital marketing industry. But you don't have time to create all the content you need to reach your audience. This is where white label content writing can come into play.
From blog content to email content and white papers to social media, the amount of content each business needs to create each day is staggering. Don't try to do it all yourself. Work with an expert who can deliver quality content promptly so you can spend your time building your customer list and growing your business.
Additionally, you might have clients who would like to hire you to provide them with a stellar SEO strategy. But if you don't have the time or background to offer this it can be intimidating. When you work with a firm such as 10com, we can create the strategy for you and deliver it without any branding on it so you can add your logo and branding before sending it on to your customers.
White Label Graphic Design Reseller
Perhaps you are great at creating websites and writing content, but you lack the professional graphic design skills your customers need. Wouldn't it be great if you could raise your rates simply by offering professional quality graphics to your package?
Up until now, that was only a hypothetical possibility. But when you consider the white label option, you open the door to adding this level of service without going through the years of training necessary.
And again, consider the graphic designer; this is a win-win solution for them as well. When they work with you, they get to stay in their lane, as we showed earlier, was the key to success. So, for them, they don't have to spend their valuable time finding new customers. Instead, they can work with you and continue to create amazing graphic design concepts.
White Label Social Media Marketing
Are you a graphic designer who keeps hearing over and over from your clients that they wished you would handle all their social media marketing tasks? If so, then you could work with a white label firm such as 10com to create the overall social media calendar as well as handle scheduling while you focus on creating the amazing graphics your customers have grown to love.
As you can see there are several different services you could add to your business without adding any extra work on your part. If you're a solopreneur or growing startup it can be daunting to offer your clients a wide array of services. However, when you work with a quality white label firm, you can scale your sales without increasing your capacity.
How to Find the Best White Label Partner for Your Business
It can be daunting to begin the search for the best white label partner. However, when you take the time for step one, you are already a step ahead of the rest. You know what you need, and that will make it easier to find the right partner for your business.
What new service do you want to offer? How will you provide and deliver that service? Who has the experience to create the right content that's best for your customers?
Once you answer these questions, you'll be able to narrow down your list. Then it's a matter of checking their references and verifying their expertise in the area you need.
Know Your Goals
Before you start any new project, you need to know what your goals are. The same is true when you're adding a white label service to your lineup. You need to know what you want to gain and how you want to increase your revenue before you can begin to look for the right provider.
Don't skip this step because you think it's not important. As a wise man once said, you risk ending up in the wrong place if you don't know where you're going. You're growing your business, and you want to ensure that you're doing it the right way to benefit both you and your customers, so start with the end in mind.
Check Their Portfolio and Reviews Online
You want to work with experts. And expert business owners will be able to provide you with a portfolio and examples of their past work. Additionally, take the time to check their reviews online before you sign a contract.
You need to take the time to perform your due diligence when it comes to vetting any agency you work with. Be sure to schedule a consultation so you can find out their workflow processes, project turnaround time, and ensure that your communication styles mesh well. As you'll see in the next section, communication is key to success in any partnership.
Keep the Communication Lines Open
One of the fastest ways to run into problems with a white label solution is a lack of communication. You must know how you will communicate with each other, how often each party will communicate, and what reports you can expect. Transparent communication is key to any lasting business partnership, and white label isn't any different.
Some key factors to outline ahead of time include how each partner prefers to communicate. If you prefer email and they prefer instant messaging, then you could have a problem. Get this determined ahead of time, so you don't run into headaches later on.
Additionally, you must know how often you can expect to hear from them. If you want weekly updates and they only deliver quarterly reports, then you won't be happy. Again, consider these details before you start your partnership to ensure full success in the long run.
Make More Money in Your Business Without Doing More Work
If you're ready to save time and money while growing your business, then you need to consider working with a white label reseller program. This type of business model can help you make more money, scale your business, and achieve the level of success you've always wanted for your business.
Here at 10Com Web Development, we help business owners like you scale your business by providing you with the right white label service that will integrate your current business model and serve your customers. If you're ready, apply here today and we can schedule a call to go over the partnership and make sure we are a good fit.