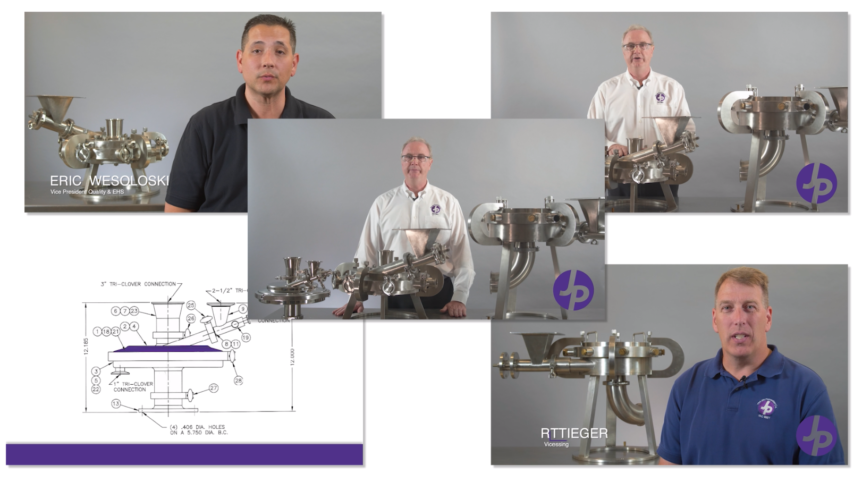 How a 70 Yr Manufacturing Co. Closes Sales with B2B Video Production
Are you experiencing buyers passively doing their research online because they want to be informed when they first speak with you? You're not alone…this is reality today.
But do you know that they go back to your site and continue their due diligence during the buying cycle? To keep them informed by your technical team, B2B sales video for manufacturing companies, serve as the best form of content to help buyers do just that in the easiest, fastest way possible.
While marketing videos, that you might see at trade shows, are common practice, sales video is becoming more necessary to highlight the benefits of a product, showcase technical teams and build relationships to qualify leads and close deals.
B2B Video Production – a New Sales & Marketing Tactic
Over their history Jet Pulverizer has had to adopt and reinvent their product offerings, operations and marketing tactics in response to ever changing customer behavior. Jet Pulverizer had been considering a corporate overview video for a while to increase qualified lead conversion. Since they were investing in SEO (search engine optimization) and PPC (pay per click), they were driving traffic to their website.
They were considering to create a corporate overview video, but the deliverable back would have been just one video. The corporate overview video would serve as a high level overview of the company, that would be nested on the home page. While every company needs a corporate overview video, it did not align with their SEO / PPC strategy as it did not give online searchers the information they need in response to their search inquiry. Thus producing a corporate overview video would not be the right video marketing strategy that aligned with Jet Pulverizer's current lead generation strategy.
After an initial video strategy consultation, it was decided to focus the budget to create many videos – product videos and FAQ videos – that provided key information/answers to buyers based on the questions that they were searching for. So instead of getting just one corporate overview video, Jet Pulverizer received 5 videos covering different key pieces of information that buyers were actively searching for. This approach converted searchers into qualified leads and buyers.
A Corporate Overview Video vs a Series of Sales FAQ Videos
When buyers are looking for answers to their problems, an astonishing rate 89% of B2B researchers use the internet during the B2B research process. So by creating a series of product videos and FAQ videos, that provided answered to questions that buyers had, Jet Pulverizer was able to position themselves as an expert and convert researchers into qualified leads.
While businesses try to position themselves as experts everyday, video has a higher lead conversion rate. Why?? Because buyers are busy. They don't have time to sift thru pages of documentation when they are in the early stages of the buying process. Which is why B2B sales video for manufacturing companies was the perfect evolution for Jet Pulverizer.
"..our thru traffic has increased on every page that has video and as such have found a tangible R.O.I."
The business video marketing strategy Jet Pulverizer enacted was put in place after a an initial consultation and aligned to their business strategy. Since Jet Pulverizer was spending money on SEO and PPC, we had to align the business video marketing strategy to those objectives.
The main reason for this approach, vs a singular corporate overview video, is the alignment of B2B sales videos to the buying process. A corporate overview video, that showcases the company's services and benefits, does not give online searchers, A.K.A. buyers, answers to their pressing problems. Product videos and FAQ videos do. So, for any marketing or sales director, it is better to have videos that give buyers what they are looking for, and have more of them, as in today's marketing world "content is king".
With proper planning and budget allocation, MultiVision Digital put in place not one video, but a series of sales videos that enabled Jet Pulverizer to inform and educate buyers. These sales videos highlighted their technicians discussing their solutions, just like they do in their everyday sales support functions. Sales videos are more human, more approachable, and more relevant for buyers vs traditional digital brochures, web pages or PDFs.
Getting the Most from a Business Video Marketing Strategy
Unlike many companies who get started with doing a corporate overview video, Jet Pulverizer made a great decision and were able to extend their video marketing budget and get a series of sales videos. Thus, Jet Pulverizer was able to add value to the traditional B2B sales process, not take away from it.
The positive ROI was quick. Jet Pulverized closed 5 new business deals within two months of launching the B2B sales video series because they
● Educated and informed buyers
● Built trust and credibility
● Showcased the complex solution in an easy to understand way
● Came across more human and personable
"…through video we can communicate more directly and educate our customer regarding our technology and our service."
Jet Pulverizer is also getting an R.O.I. from their business video marketing budget by using their B2B sales videos everyday – before and after meetings as follow up material. They are also using them in their social media content marketing efforts on LinkedIn, Facebook and YouTube. And, they showcase their videos at trade shows – pointing to them during conversations and sending them as links as follow up material after the shows.
And finally, they are using them in traditional lunch and learns with key clients. Sales people are not always able to bring their technical teams to lunch and learns, but with a series of B2B sales videos they can! This does wonders when you have technical buyers getting the information directly from the technical team…and less talking from the sales person.
Does your website give buyers the information they need to qualify themselves? Reach out to us for a no obligation strategy session…you'd do the same for your next prospect and we are happy to as well.