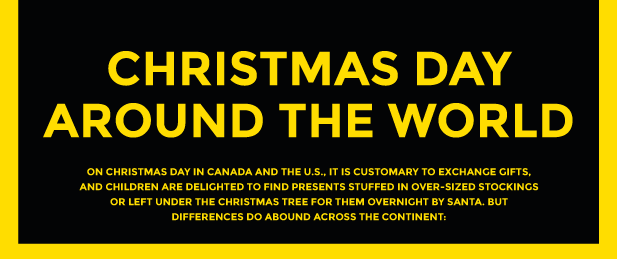 Holiday Gift-Giving Customs Around the World
When the calendar flips to December, the whole world starts focusing on gift-giving. No matter if the main celebration of the month is a religious one, such as Christmas or Hanukkah, or if it simply revolves around friends, food and family, gift-giving and receiving is top of mind. Learn about the surprisingly different traditional gift-giving customs people enjoy around the globe.
North America 1
On Christmas Day in Canada and the U.S., it is customary to exchange gifts, and children are delighted to find presents stuffed in over-sized stockings or left under the Christmas tree for them overnight by Santa. But differences do abound across the continent:
The Wait is Longer in Mexico
For children in Mexico, Christmas is a church-going day. Gift-getting day is celebrated on January 6, Three King's Day, when the Magi leave gifts under the Christmas tree.
Canada Gifts the U.S.
Traditional Christmas present exchanges in North America aren't limited to individuals. Since 1971, the people of Nova Scotia have given the people of Boston, MA a white spruce Christmas tree commemorating the city's help during the Halifax explosion in 1917.
Toys for Tots
The U.S. Marine Toys for Tots program annually distributes an average of 18 million toys to 7 million less fortunate children in the country.
Europe 2
The gift-exchanging customs of Europe are as diverse as the people who celebrate Christmas and New Year's. In France, Germany and other countries in Europe, children open at least some of their presents on the feast of Saint Nicholas, which is December 6, while family gift exchanges happen on Christmas Eve. Spain and Italy have similar Christmas gift traditions, but they don't happen until the Feast of the Epiphany on January 6 (the twelfth day of Christmas), the day the three wise men deliver their gifts to baby Jesus. Other European gift-exchange customs include:
Crackers in the U.K.
British Christmas dining tables will feature a tubular decoration by each plate. When pulled apart, these Christmas crackers issue a load snap before spilling out a colorful crown, a small toy and a joke.
Hogmanay in Scotland
In Scotland, the New Year's Eve gift-exchange tradition of Hogmanay is done to bring good luck to the home. The first person over the threshold of a home is to bring gifts of whisky, a black bun (fruit cake) and shortbread.
Gifts for the Animals in Poland
In Poland, even the animals get Christmas gifts. Staff at the Gdansk-Oliwa zoo give food treats festively wrapped like Christmas presents to the animals on Christmas Day.
24 Days of Gifts in Norway
In Norway, children receive an Advent calendar that displays a door for each of the 24 days before Christmas. Each door is opened on its day to display a special gift.
Asia 3
Although most countries in Asia don't widely celebrate Christmas or exchange traditional Christmas gifts, there are still many opportunities for gift-giving, and many traditions associated with them. From India's Diwali, or the festival of lights, to China's New Year celebrations, people in Asia make it a point to celebrate in style with these gift-giving customs:
Gifting Rules in India
Though customs vary from region to region, each day of Diwali carries a special meaning that guides gift-giving – for example, one day often celebrates the bond between husband and wife, and another, the bond between siblings.
Apples Exchanged in China
In December, children exchange apples wrapped in colorful paper, symbolizing good fortune and peace. And everyone exchanges two mandarins on New Year's Eve as a symbol of good luck.
Oseibo Gifts in Japan
At year-end in Japan, it is customary to present food or beverage gifts to those you are grateful to. The custom also requires the gifts be specially wrapped and adorned with a pretty gift tag.
Gift-Receiving is an Art in Thailand
When receiving a gift in Thailand, it is customary to thank the giver for their generosity and then put the gift aside. It is considered rude to open a gift in front of the giver.
It's All a Secret in the Philippines
At Christmas, Philippine adults do a version of Secret Santa called Monito Monita. For a week or so, participants receive small gifts (from a list of categories) from an anonymous colleague or relative who does not reveal their identify until a pre-arranged date, when a party typically takes place.
It's All About Numbers in Asia
Across Asia, numbers are just as important as the actual gift, no matter if that gift be money or a basket of fruit. In China, the number eight is considered auspicious, while in Thailand that auspicious number is nine. In India, uneven numbers are favored over even numbers.
Central and South America 4
In Latin and South America, Christmas is a time for religious celebration as well as hospitality and generosity. Gift-giving differences include:
It's all About Timing in Latin America
In Ecuador, children receive gifts on Christmas morning, but adults must wait until New Year's Day. In Chile, children open gifts at midnight on Christmas Eve, while in Nicaragua, Venezuela and Paraguay, children receive their gifts on January 6.
Secret Santa is Big in Brazil
Amigo secreto (secret friend) is popular in Brazil at Christmas. It is traditional to give small gifts all through December using a pretend name (apelidos). On Christmas Day, the amigo secreto identities are revealed.
Santa Isn't the Only Gift Deliverer
Depending on your nationality, the bearer of Christmas gifts is different. In Costa Rica it's the Wise Men, in Columbia it's Baby Jesus. And in Peru it's Santa.
Africa 5
For most countries in Africa, more emphasis is placed on the religious nature of Christmas than on gift-giving. But many people do still give each other gifts on a smaller scale, and give to the less fortunate.
Giving to Others in Zambia
Zambians have a tradition of bringing gifts to church on Christmas Eve for those in need or who are sick in the hospital.
Clothing Gifts are #1 in Nigeria
In Nigeria, dressing your best on Christmas Day is a big deal. Because of that tradition, cultural Christmas gift exchanges often revolve around gifts of clothing, especially among families.
It's All About the Wrap in Egypt
In Egypt, gifts are typically wrapped twice – first in ordinary paper and then again in brightly colored paper, although white paper is acceptable.
Saying Thanks in Zimbabwe
In Zimbabwe, saying "thank you" after opening a gift is very demonstrative. People commonly show gratitude by clapping, whistling, jumping or even dancing. A verbal "thank you" may not actually be said.
Oceania 6
Like South America and Africa, Christmas comes in the summer in Oceania. Depending on where you live, it might be hard to find a Christmas tree, but it's not uncommon to see a surfing Santa, take a trip to the beach or have a traditional holiday feast outside.
Gifts Under the Tree Down Under
For Australia children, Christmas morning means a dash to the Christmas tree to see what Santa has left.
Over the Top in Polynesia
Polynesians celebrate Christmas and New Year's with gift-giving. The typical go-to gift is vast quantities of food, like a whole roast pig or baskets of cooked food.
Gift-Exchanging is State Sponsored in New Zealand
In New Zealand the entire country gets behind a Secret Santa program when total strangers sign up online to give and receive Christmas gifts.
Still Stumped for a Gift Idea? Send Money the Safe and Easy Way
No matter who's on your gift list this holiday season – or where they are in the world – you can send a gift of money quickly and securely. Simply download the Western Union multi-language app and you're good to transfer funds on the go. You can use a credit or debit card, transfer money directly from your bank account, or via Apple Pay.
With the app you can also choose how your receiver gets the funds they need quickly. You can transfer funds directly to a bank account, send money for cash pickup at more than 500,000 Western Union agent locations or even send money directly to your receiver's phone if they have a mobile wallet from a Western Union partner and are in a country where this service is available.
So, go ahead, spread some good cheer to the people you care about most this holiday season. No matter if you need to send money to your relatives in Noel, Missouri to cover your part in the big family gift, or transfer funds to your friends who are a little short of Christmas cash in Natal, Brazil, Western Union can send the funds virtually anywhere you need.
Sources
1 Holidappy.com
Boston.com
Toysfortots.org
2 WhyChristmas.com
TheCultureTrip
BusinessInsider
GiftyPedia
AtlasObscura
3 TheCultureTrip
TaikenJapan
Pacific Daily News
TripSavvy
6 Cloud9Living
Travel and Leisure