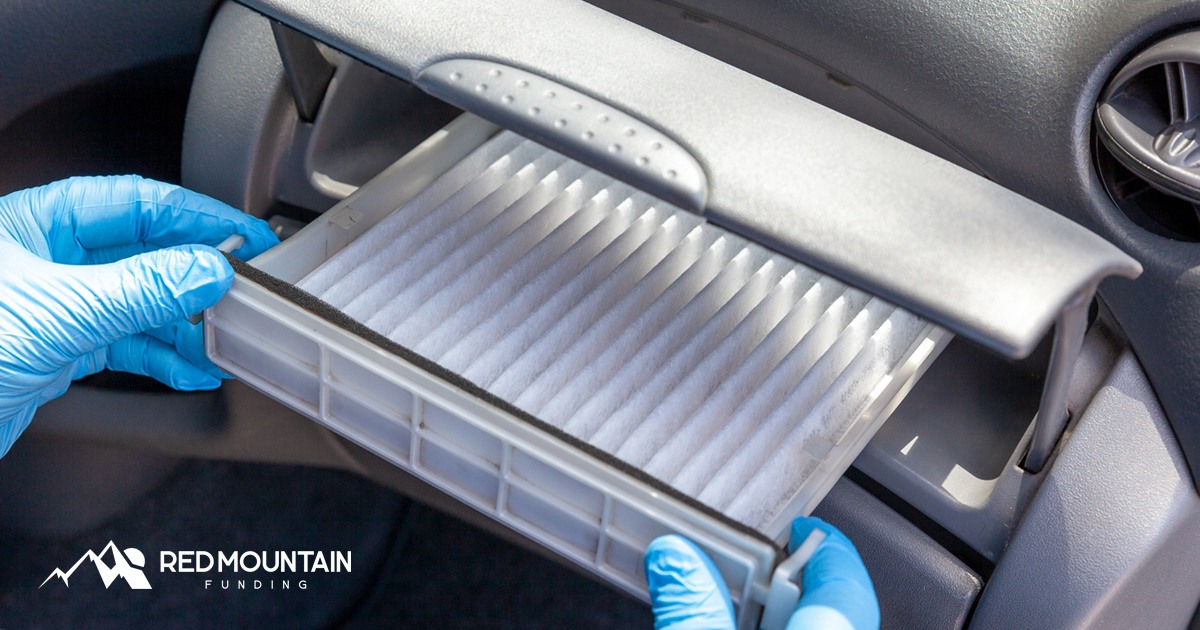 DIY Cabin Air Filter Replacement Made Easy
Photo from redmountainfunding
Originally Posted On: https://redmountainfunding.org/blog/diy-cabin-air-filter-replacement/
If you're like most Americans, your car is one of your most valuable investments. Like any other asset, it's essential to give it the proper care and attention necessary to ensure the money you've spent will continue to provide you with a return on your investment. In this case, performing a few simple tasks at home will help it remain a reliable mode of transportation for years to come; one of the first tasks many car owners choose to tackle is changing the cabin air filter.
HOW EASY IS IT TO CHANGE YOUR AIR FILTER?
While most car owners have learned about the necessity of changing a car's engine air filter, the other air filter in your car often goes forgotten. Think of how your home HVAC system helps remove dirt, dust, pollen, and pollutants from external air before it enters your home. Your cabin air filter works much the same way.
How often to change cabin air filter depends on your manufacturer; generally, cabin air filters should be changed once a year or once every 7,500 miles. While it may seem like a relatively frequently occurring task, cabin air filter replacement is one of the simplest tasks you can undertake regarding your car maintenance – easier even than changing the oil. In most cases, all it takes is a quick removal of your glove compartment or under-dash area to access the filter beyond.
COST SAVING OF DIY CABIN AIR FILTER REPLACEMENT
While your favorite mechanic is certainly capable of changing your cabin air filter, their time, labor, and the part necessary will come at a significant cost. Depending on your area and car model, mechanics sometimes charge as much as $100 for parts and labor. When you consider the fact that basic cabin air filter cost is as little as $15, you'll find that – as with many simple car maintenance tasks – the cost of purchasing an AutoZone cabin air filter and the small amount of time you'll spend installing it is well worth it.
The other form of cost savings you'll experience by replacing your cabin air filter regularly is the long-term health of your car. While failure to address cabin air filter replacement as you should can introduce musty odors and dust into your car's interior, the excess humidity caused by an old filter can cause your car's HVAC system to break down. To avoid expensive repairs and keep your car's value, it's essential to change your car's cabin air filter as recommended.
SEVEN STEPS TO CHANGING YOUR AIR FILTER
Learning how to change the cabin air filter can be accomplished in several minutes on a pleasant weekend day. First, however, check your car's manual to identify the proper air filter model for your vehicle. Alternatively, visiting a trusted auto parts store online will allow you to enter your car's specifications to determine which part is right for you.
Once you have the correct cabin air filter in hand, follow these simple steps to change it:
Gather Your Tools

Fortunately, you can complete cabin air filter changes with tools you likely already have around your home. You'll need the following tools:

Flat and Phillips head screwdrivers, which you may need to remove the filter housing
Spare rag, to wipe the filter housing compartment
Small vacuum, to remove any excess dust from the ventilation system

Find Your Air Filter's Location

Depending on the make and model of your car, your air filter could reside in a number of locations – all within the front dash or under the hood of your car. Consult your car's manual to find the proper location. In each of our most popular car model types – the Subaru Forester, Subaru Outback, and Honda Accord – the cabin air filter is located behind the glove compartment. In many others, the access panel is located beneath the dashboard near the passenger's feet.

Remove the Dashboard Panel For Access

Unless your car's air filter is located under the hood, you'll need to remove the dashboard panel or cover in front of it. For most makes and models, you can achieve this by simply using a Phillips screwdriver to remove the necessary screws, as well as a flathead screwdriver to pop out the panel. Set the panel aside and assess the filter location once again – if you must remove the glove box, proceed to step 4.

Remove the Glove Compartment (Subaru Outback, Forester, and Honda Accord)

If your filter housing is located behind the glove compartment, you'll need to remove it, too. Empty the contents of the glove compartment, and proceed with the following steps:

For Subaru Outback and Forester models, disconnect the glove compartment stopper string, found on the right side.
Subaru Outback and Forester models will require releasing the screws that hold the stops – use a Phillips screwdriver to withdraw both screws about ¼" and remove the stops.
For Subaru Forester, you'll also need to remove all five screws from the perimeter of the glove compartment housing.
For Honda Accord, push the grooved section of the glove compartment retaining arm forward and out of place
For all models, press both sides of the glove compartment inward to release the stops from the tracks, and let the glove compartment lower to the floor and out of the way.
Finally, for Subaru Outback, you may need to remove the owner's manual shelf on the right side of the console. Do so by loosening all three screws with a Phillips screwdriver.

Remove the Filter Housing Unit

many models, including the Subaru Forester and Honda Accord, the filter housing unit is held in place with two plastic clips. Simply detach these to free the filter housing unit. In others, such as the Subaru Outback, you'll need to remove screws that hold the filter housing bracket in place with a Phillips screwdriver before applying pressure to the filter housing tray.

Clean the Area

At this point, you may want to clean the area surrounding your cabin air filter. Using the rag, wipe out the filter housing area, removing any excess dust. In addition, you can vacuum the area and inside the air filter housing to ensure all traces of dust have been removed.

Remove and Replace the Filter

Remove the filter housing tray and the cabin air filter. The air filter will likely appear grayish in color, as it has trapped a significant amount of dust and debris over the intervening time. Discard it and place your new filter in the tray, ensuring for a final time that you've selected the correct fit before sliding the filter and tray back into place.

Re-Install the Glove Compartment and Dash Panel

Once your new filter is in place, reverse these steps to secure any necessary filter housing clips and replace all screws. Arrange the glove compartment stoppers back into their tracks and reattach any screws. Restore any other stoppers, control arms, and stopper string before closing the glove compartment and restoring the dash panel.
CLEANING AIR FILTERS
Many drivers choose to utilize a reusable, cleanable cabin air filter instead of the standard, disposable variety. Unlike disposable filters, you won't discard these reusable filters each time; instead, you'll clean your filter and reinstall as usual. These reusable filters can save money in the long run and are designed to last the life of your car.
Cleaning your cabin air filter is easily accomplished with a K&N air filter cleaning kit. Simply spray with an air filter cleaner and loosen grime, mold, and other particles with a bit of water. When water runs clear, let dry and finish with a spray of cabin air filter refresher. Perform this task as often as you would filter replacement, according to manufacturer instructions.
When it's time to clean your air filter, you'll need both the cleaner and the oil. Simply spray the cleaner on and rinse with water. Once the filter is dry, spray the oil and reinstall. Comes with complete instructions
Kit Contains:
– 12oz. Cleaner
– 6.5 oz. Filter Oil
WHAT ARE SOME OF THE BEST CABIN AIR FILTERS?
Finding a cabin air filter provider isn't difficult; in fact, you can find many of the most popular brands of cabin air filters at retailers like PepBoys and Auto Barn. However, as with other automotive products, quality is key. Our list of the best cabin air filters includes:
K&N VF2000 Washable Cabin Air Filter
K&N air filters supply premium, full-spectrum filtration of your car's cabin air – a must whether you live in a heavily polluted urban area or a dusty rural locale. This particular washable K&N cabin air filter does a great job of filtration and it saves you the hassle of reordering the proper filters. Reviewers are consistently impressed by the high quality and reusability of this model.
Pros:
Sturdy, factory-style fit for premium filtration and continued use
Optimal odor control, and filtration of mold, pollen, fungal spores, bacteria, and other allergens, including dust
Simple to clean and reuse, eliminating extra filter expenses as well as reducing your impact on the environment
Cons:
Higher initial cost as compared to traditional, disposable filters
Small extra step involved necessary to clean this reusable filter
This K&N filter provides all the freshness of a brand new disposable filter with the ability to continually reuse it to address environmental concerns. Its initial higher cost is eventually offset since it's the only filter you'll need to purchase for the remainder of your car's life.
Fram Fresh Breeze Cabin Air Filter
Ask any mechanic for an air filter short list and it will likely include this Fram air filter. In general, most reviewers found Fram cabin air filters as sturdy or more sturdy than even the original manufacturer (OEM) filters, and they often come at a reduced cost compared to the OEM. While the Fresh Breeze model contains every bit of this sturdiness, it also contains other air-freshening elements.
Pros:
Baking soda and carbon infused to help filter odor-causing elements out
Air remains noticeably fresh compared to other filters
Guaranteed to remove up to 98% of pollen, dust, and other contaminants from your vehicle's air
Cons:
Slightly higher price point than base model cabin air filters
Gray color can limit your ability to inspect for dust filtration
The filtration provided by this filter is well worth the bit of extra money you may pay, especially compared to the cost of professional installation. The extra freshness is noticeable over some other brands and makes optimal use of your cabin's HVAC system.
EPAuto Premium Cabin Air Filter
This cabin air filter from EPAuto has cracked most of the top cabin air filter lists you'll find for a reason – it's considered a great value and provides good filtration to boot. While it's cheaper than the others on our list, it provides a similar function as the Fram filter listed above. Reviewers consistently mention its excellent price point and appreciate the fresher air it provides.
Pros:
Fits many vehicles a few other brands on the market do not, including Honda Accord and Acura Integra
Contains baking soda and activated charcoal to keep your vehicle air fresh and breathable
Great price point compared to many other premium brands
Cons:
Some reviewers commented on a lingering exhaust smell or mentioned that the effects of the baking soda were not as noticeable as with other filters
Each filter is gray, which may mean you can't assess the amount of cabin dust and allergens filtered
This filter is an excellent value at this price point for the filtration it provides. It can be a good alternative if you want to save a little cash or don't want to clean your air filter on a yearly basis. However, with the initially low price, you could be sacrificing fresher air and continued cost savings provided by a reusable filter.
DIY CAR CARE DOESN'T HAVE TO BE AN EXPENSE
Here at Red Mountain Funding, our commitment to your car buying journey doesn't end with your purchase of one of our quality used vehicles. Instead, we recommend performing as many simple car maintenance tasks at home as possible for continued savings. Our partners at PepBoys and Auto Barn can help you select Fram air filters and K&N reusable cabin air filters that fit your car and keep it in working order for years to come.
Give us a call at (480) 497-8488 for more information about maintenance or financing.