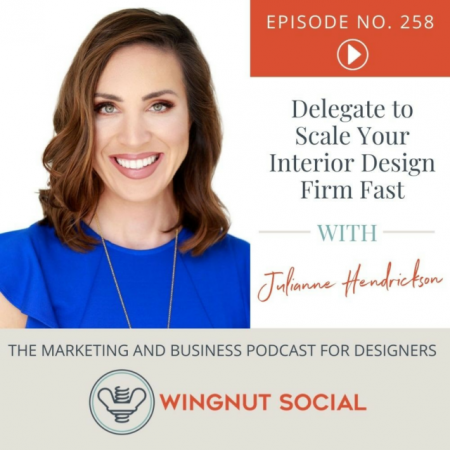 Delegate to Scale Your Interior Design Firm Fast
Photo from Wingnut Social
Originally Posted On: https://wingnutsocial.com/podcast/delegate-to-scale-your-interior-design-firm-fast-episode-258/
Hendrickson Interiors was born in 2016 when a friend asked Julianne to help design a new build. Julianne had no idea what she was doing but loved picking out pretty things. The builder loved her designs and hired Julianne to work together on more homes. Before she knew it, she had more clients than she knew what to do with.
Julianne had no business plan, no idea how to open an account with a furniture firm, and she was still teaching. After burning the candle at both ends for two years, Julianne decided to dive full-time into interior design. Since then, she's grown from being a solopreneur to a team of six—a full-service custom interior design firm serving clients throughout Tampa Bay. She shares how she grew her team and learned to delegate in this episode of Wingnut Social!
What You'll Hear On This Episode of Wingnut Social
Connect with Julianne Hendrickson
Resources & People Mentioned
Delegation is the key to scaling your business
Julianne admits that she's a control freak by nature. She likes to do things her way. But she learned that someone else could do things just as well as her, even if their choices are slightly different. When Julianne released control, they were able to get more work done. As the process became smoother, she decided to keep hiring and making more people happy.
Julianne realized that you can delegate many different ways—it doesn't have to be all or nothing. You can delegate someone to complete a task to be reviewed together. You can delegate through the design phase and review things together. Or you can delegate the design phase and review pricing together. Realizing this was eye-opening for Julianne. A good delegator knows how much someone is capable of. If you let someone do their job—without micro-managing them—it empowers them.
Building a time and hiring a business coach
Julianne's first large client gave her $50,000 to work with and she went straight to a bookkeeper and said, "Oh my God—what do I do with this?" She didn't have any business accounts or QuickBooks. Her bookkeeper took the reins and has been with her ever since. Julianne also hired an operations manager (who handles the warehouse), a project coordinator, and someone who handles accessory purchasing full-time. Her most recent hire was a part-time team member to handle purchasing and tracking orders. Once Julianne had these people in place, she pulled herself out of the weeds. Then she hired a business coach.
As a business owner, it's easy to get enmeshed in the day-to-day of the business. Julianne's business coach, Katie, has helped her gain a top-level view of her business. Katie helped Julianne walk through their design process from beginning to end. She pointed out missing pieces, helped her reformat things, and wrote every single thing Julianne gives a client. She has templates for everything—delayed items, trade days, apology letters, and more. It keeps the entire team on the same page, which is what elite clients want. It's also important to scale and grow a team. A business coach can help unify your team and improve your efficiency.
How to find a sweet spot with your waitlist
Hendrickson Interiors is operating on a waitlist of six months or longer. When Julianne gets information from an inquiry, she'll know if the potential client is a good fit immediately. Julianne is honest with people and lets them know if they'll be on her waitlist. The clients that are worth it will wait. If they can't wait, they'll shop around until they can find someone that will do it the fastest—but it may not be the best quality. Julianne isn't worried about turning down work because she knows the right people are already waiting for her.
How has Julianne's interior design business grown since working with Wingnut Social? How does operating on a strict budget help her continue her upward trajectory? She shares more about her uber-successful design firm in this episode!