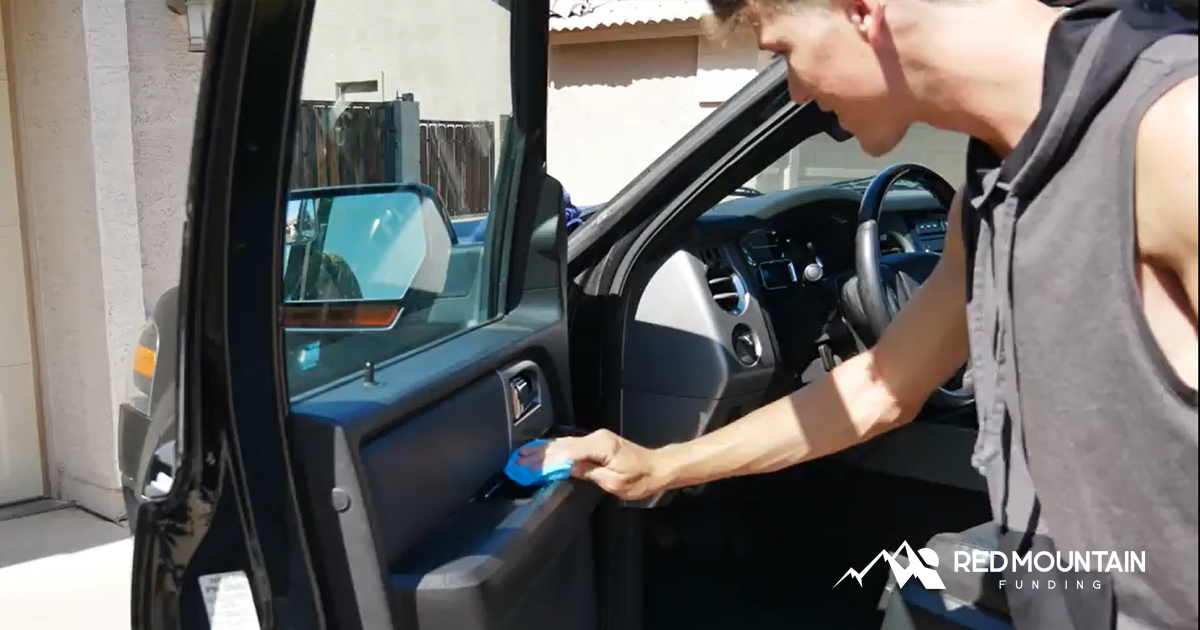 Car Hacks: DIY Car Detailing and Washing Like a Pro
Photo from Getty Images
Originally Posted On: https://redmountainfunding.org/blog/diy-detail-your-car-like-a-pro/
DIY CAR DETAILING AND WASHING LIKE A PRO
Washing your car may seem like an ordinary part of your weekly or monthly routine, but there are several ways you can make the most out of washing your vehicle. The result? It looks clean and brand new for as long as possible.
There are many commercial options for washing your vehicle, and you can easily buy the supplies you need to wash it at home. However, if you decide to handle your car washes in the future, keep the following tips in mind to get the most out of every wash.
Commercial Car Washes
The most common type of commercial car wash is a standard tunnel-style wash that uses water jets and brushes to clean your vehicle. Drivers pull their vehicles into the tunnel track, put the car in neutral, and the car wash guides the vehicle through the different cleaning devices.
Automatic Washes Are Fast and Cheap – and That's Not Good
An automatic car wash is a fast and relatively effective way to clean your vehicle, but it may not leave it entirely clean. Additionally, hard bristles or damaged brushes can actually mar away at your vehicle's paint, resulting in scratches and, over time, rust. Ultimately, you get what you pay for when you drive through a traditional automatic car wash, and repeated automatic washings may cause expensive damage to your vehicle's paint job. Some commercial car washes have installed "touchless" washing systems that do not use brushes or bristles to physically touch the car. Instead, a touchless car wash uses a series of high-powered water jets and cleaning agent sprays to clean your vehicle. While a touchless system is a viable alternative to traditional tunnel-style car washes with brush-based cleaning systems – which may damage your paint or sensitive parts like mirrors and antennae – it may not leave your car completely clean and spot free. Worse, it may leave damaging particles behind that can cause paint corrosion or discoloration.
Professional Detailers
A professional detailing service will undoubtedly offer the best cleaning service, but it will also cost the most. A detailer will clean your vehicle meticulously by hand and will often offer various additional services, such as interior cleaning, cosmetic repairs, scratch and dent repairs, and window and headlight cleaning. If you want an extensive cleaning or your vehicle hasn't had a proper, thorough washing in a long time, paying for a professional detailing service may be worth the expense.
Professional Car Detailers in the Mesa, Arizona Area
The other factor to consider is which professional detailer to use. There are many locations in the Mesa, AZ area to take your car to for a makeover, but if you want the premier auto detailing services in the area, try Elite Auto Detailing. You won't be disappointed in the services they provide, which include everything from washing and waxing to paint correction, engine detailing, pet hair removal, and interior detailing utilizing specialized auto detailing tools such as auto detailing steam cleaners and other top of the line auto detailing equipment.
Another great place in the Scottsdale area for a one-time car wash or great membership deals, is Prestige Auto Detailing. They have a great selection of one-time packages, as well as monthly membership deals that can't be beat. For a more thorough cleaning, check out their exterior and interior detailing options to get that upholstery looking great with tools like their auto detailing steamer. If you live on the north side of Phoenix, give Xtreme Auto Detailing a try for similar quality services.
Many commercial car washes offer tiered pricing for customers to combine exterior cleaning, interior cleaning, waxing, and other services into a single wash session. While some commercial car wash companies offer membership discounts and frequent buyer programs, these options can be expensive, especially compared to the cost of washing your vehicle yourself. Washing your own car gives you complete control and helps you save money.
Self-Service Auto Wash Stations
Some commercial washing establishments offer self-service car wash stations. These buildings usually feature enclosed parking spaces with extendable tools that apply soap and water. A driver will park in a washing space, then put money into the system to pay for a certain amount of time (usually a few dollars for several minutes of washing time).
Next, the driver applies soap, scrubs the car with the supplied brush or sponge, and then rinses the vehicle with the water sprayer. Some self-service stations offer a wax coating spray as well, but these sprays rarely compare to a professional waxing job and may actually cause more water-spotting.
When you use a self-service car wash, they often provide vending machines to purchase the additional auto detailing supplies you may wish to use to get the best wash and shine. These products, however, are often overpriced and come in small single-use packages. To get the best auto detail when patronizing these businesses, it is best to go there prepared with the tools and products you need. You'll need a complete set of glass cleaners, towels, cloths, bug and tar removers, waxes, and tire cleaners, among other wash and detailing supplies and tools.
Pro Tip: Invest into Your Own Quality Auto Detailing Products

For the true auto enthusiast, consider purchasing a complete auto detailing kit that includes everything you need. The best kits include a cleaning product for every part of the vehicle. You want products that ensure a spotless finish, help protect your vehicle from scratches and repels water.
If you are looking for high quality auto detailing products, there are several brands available for home use.
We recommend this Ceramic Coating Spray from Torque Detail as well as the other Torque auto detailing products found on their site.
WASHING YOUR CAR AT HOME
Of course, if you plan to wash your car yourself, you can save even more money by skipping the self-service station and washing your vehicle at home. A hose attached to your home's outdoor spigot with an adjustable head attachment will allow you to spray grime, mud, and dirt off your vehicle with a high-powered stream of water. You can then adjust the sprayer for a gentler mist to rinse the car at the end. However, be aware that tap water from your hose has a high mineral content, meaning that it can be easy to leave "hard water" stains on your vehicle if not dried properly. If you plan to wash your car at home, make sure you research and purchase the car soap and other supplies needed.
You can find reasonable priced products for all your DIY car wash and auto interior detailing supply needs. Items they offer include cleaners and protectants, upholstery care items, car glass cleaners, tire and wheel care products, and tools such as auto detailing brushes, DIY car wash soap, buckets, sponges, and auto detailing vacuums. You should only ever wash the exterior of your car with a sponge or soft cloth to avoid scraping or damaging your paint and windows. Always begin by spraying the entire vehicle with water to avoid "dry rubbing" the paint. It's also important for Mesa, AZ residents to follow the Mesa car washing guidelines the city has established. Due to the low annual rainfall in Mesa, the city's water and sewer systems are more vulnerable to contamination from cleaning agents and runoff from dirty vehicles.
You'll need to use phosphate-free detergents sparingly and make sure the wastewater doesn't enter the city sewer system. The best method for washing at home is by hand using only water and a soft sponge.
Car Cleaning Hacks for You to Try
The first step in washing your car is to determine how extensive you need to be in your cleaning. Engine or undercarriage cleaning may require an appointment with a professional detailer, so that you don't inadvertently violate the city's car washing ordinances. You may also be able to wash your engine or undercarriage at a self-service station that allows this type of cleaning.
There are several car cleaning hacks that can make your car look even better, and some of them might surprise you.
Here is our List of the Top 14 Car Cleaning Hacks:
Car Cleaning Tip #1: Gather All of Your Supplies Before You Begin
The beginning step in a successful home car wash job is gathering the supplies you will be using. To do a thorough exterior wash job, you will need your hose and a good nozzle that you can adjust for a concentrated high-power spray to clean off dirt and grime, as well as a lighter mist spray for rinsing the car. Don't forget your wash buckets, sponges, drying cloths, car wash soap, bug and tar remover, and wheel and tire cleaner and brushes. Carefully read all the labels on the products you are using to make sure you are using them properly and they don't carry any risk of damaging your paint.
Car Cleaning Tip #2: Use Two Buckets
To start off, keep this hack in mind – use two buckets when washing your car. Fill one with your warm, soapy water for washing and the other with clean water. As you wash and dip your sponge, be sure to dip it in the clean water first and wring it out well to remove the dirt and debris from the sponge. This way, every time you dip into the soapy water, you are starting with a fresh sponge. Consider also using a third bucket exclusively for the tires and wheels, since they often have the heaviest dirt and grime.
Car Cleaning Tip #3: Wash in a Shaded Area
Be sure to do your DIY car wash in a shaded area. When you wash your car in direct sunlight, it causes it to dry quickly as you wash it. This leaves unattractive soap and water spots and can also dry out wax and detailing products. These marks don't just look bad, they can also have damaging effects on your car's clear coat and paint job. If you have to wash your vehicle in direct sunlight, washing one side at a time can prevent you from running into this issue.
Car Cleaning Tip #4: Don't Use Dish Soap
Many people make the mistake of simply using dish soap when they wash their car at home, thinking that it should be fine because it is a mild detergent. Be sure that you don't make this mistake! Dish soap contains components that can remove your car's wax coating, leaving your paint vulnerable to corrosion and oxidization.. It is also hard on the rubber weather stripping around doors, and other rubber elements like the housing around headlights and seals between panels. Be sure to invest in car wash soaps that are safe to use at home and on your car's exterior.
Car Cleaning Tip #5: Don't Overlook the Wheels
The part of the car that is usually the dirtiest often receives the least amount of attention, especially when taking your car through an automatic car wash. That part is the wheels. When you wash your car at home, you should always start with the wheels and tires first. Make sure they are cool, so that your cleaner doesn't evaporate as soon as you spray it on. If they feel hot, hose them down with cold water until they are cool. It is important to have a cleaning product specifically designed for wheels because your typical degreaser will not remove brake dust, tar and other things picked up from the road. Next, spray the wheels, tires and wheel wells with your cleaner and clean them with a soft brush or sponge. Be sure to use a different sponge than the one you will use to wash the car, as the residual dirt from these areas can scratch your paint job. After cleaning thoroughly, rinse and begin on the rest of the car.
Car Cleaning Tip #6: Pre-wet Your Vehicle from the Top Down
Give the car a good rinse with the hose at the start, then begin washing from the roof down. It is important to keep the car wet during the washing process so that tough spots come off more easily. Be careful with the amount of pressure you apply to the sponge, as you don't want to grind dirt into the clear coat or paint.
Pay special attention to crevices and areas where panels come together, since dust and dirt tend to build up in these spots. If you can't get them clean with your sponge, a soft detail brush can be used on these areas. After you have washed the whole car, give it a quick, sudsy once-over, and then rinse from the top down with a heavy enough stream to get all the soap off.
Car Cleaning Tip #7: Make Your Own Windshield Cleaner
If you're looking for a simple window and windshield cleaner, mix one part household ammonia with four parts water in a spray bottle. Keep the spray bottle in your vehicle and spray and wipe clean whenever your windows or windshield become dirty.
Car Cleaning Tip #8: Clean Your Wipers Often
It's also a good idea to check your wiper blades regularly. If your wipers are dirty, they'll streak and even scratch your windshield instead of cleaning it. You can clean the blades with a mixture of a 1/4 cup ammonia and 1 quart of cold water. Soak a soft cloth or paper towel in this solution, wipe it along both blades, then use a dry cloth to wipe off the solution before lowering the blades back into place.
Car Cleaning Tip #9: Use a Plastic Dressing
After drying your car to remove water spots and cleaning the windows with car glass cleaner, the next step is to dress all black exterior trim and tires. Plastic dressing is good for protecting your trim from UV rays as well as restoring the shiny black appearance. It is important to do this step before you wax your car so that you can remove any excess dressing from the paint during your final step. Now you are ready to wax. If your wax coat is in good shape, you can spray the car and wheels with a spray wax as a maintenance step.
Car Cleaning Tip #10: Use a Clay Bar
To ensure a nice, smooth surface for better results with polish and wax, start by using a clay bar to remove deep surface contaminants and oxidation from the surface of the car. These products are available for consumer use and usually include a lubricant, detailing spray, the bar, and a towel. Use this product after rinsing the car, in preparation for the next step. The clay bar will only work if it is highly lubricated, so it is recommended that you use a "quick detailer" spray to keep the vehicle wet as you rub the clay over it. Using a dry clay bar can cause more damage to your paint.
Car Cleaning Tip #11: Use a Plastic Bag to Check for Bumps
You can check the surface of your car by using a plastic grocery bag after using the clay bar to be sure you have removed all of these tough spots. Just put your hand in the bag and run it over the surface to feel for bumps. You might even hear a scratching sound, as if you were running your hand over sandpaper. Go back and use the clay bar again, if necessary, to remove these imperfections.
Car Cleaning Tip #12: Remove Wax with a Microfiber Towel (Not a Buffer!)
If you are waxing your car, you know that it makes your car look shiny and new. More importantly, though, it protects your paint from the sun's UV rays, which can cause it to fade over time. Wax can be applied either by hand or with a buffer machine. It's helpful to understand why to use different waxes and compounds, because each one serves a specific purpose. Remove it with a soft microfiber towel. Many times, people mistakenly use their buffer to remove the wax, which is the incorrect method. When you use a buffer to remove the wax, it can damage the clear coat and paint and leave ugly swirl marks.
Car Cleaning Tip #13: Use Hair Conditioner to Keep the Shine and Repel Rain
Did you know that a hair conditioner with lanolin creates a just-waxed shine and even repels rain? Apply hair conditioner to your vehicle after washing, then rinse clean for a spectacular shine.
Car Cleaning Tip #14: Use Pantyhose to Make Your Headlights Shine
You can also use window cleaner and an old pair of pantyhose to make your headlights shine again. Over time, headlights become cloudy and may actually pose a safety risk when driving at night.
Arizona Residents: Protect Your Vehicle from the Hot Sun!
While Mesa residents don't have to worry about rainfall too often, the Arizona sun can pose serious problems for any vehicle here. Intense heat and direct sunlight can damage your vehicle's exterior as well as the interior. Grime, dust and, salt that stays on your car for too long will bake in the sun and cause additional damage.
The best way to maintain your vehicle's paint is with a wax or ceramic coating. Wax typically tends to last 1-3 months, however, keep in mind that it will melt faster due to Arizona heat.
Your vehicle's dashboard receives the brunt of the sunlight that enters your vehicle through the windshield, so consider investing in sunshades. Sunlight can also damage the cloth or leather of your vehicle's seats and cause them to discolor or fade over time.