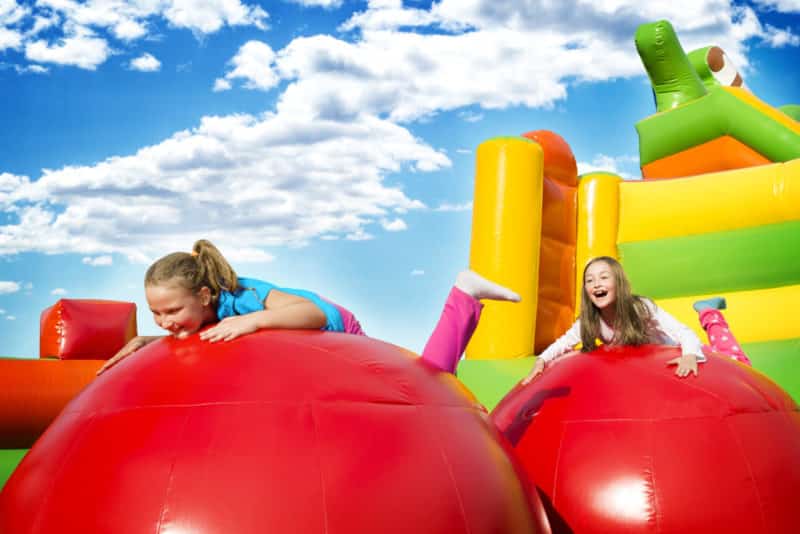 Australian Standard 3533.1 2009: How Australian Inflatables Cover All Australian Standards when Manufacturing
Originally posted on https://www.australian-inflatables.com/blog/compliance-with-australian-standard-3533-1-2009
Are you interested in joining the lucrative and rewarding Australian inflatables market?
Already valued at more than $4 billion worldwide, industry experts expect this niche to grow at a compound annual growth rate (CAGR) of nearly 7% by 2021. Yet, success hinges on compliance.
If you're planning to own and operate a commercial inflatables business in this country, you'll need to follow Australian Standard 3533.1 2009.
Prepared by SAI Global, this guideline provides regulations on how to ensure all Australian amusement rides and devices are safe and secure. From initial design and construction to in-service inspection, the standard covers every stage.
Though the material can be dense, it's critical reading for anyone looking to turn their interest in inflatable jumping castles into a legitimate, income-generating business. Today, we're exploring a few facets of this standard and how our company can help you meet them.
Ready to learn more? Let's get started.
What Is Australian Standard 3533.1 2009?
First, let's explore the background behind this standard.
Australian members of the Joint StandardsAustralia/Standards New Zealand Committee, ME-05 came together to develop the standard. It superseded the former Australian Standard (AS) 3533.1—1997 and AS 3533.1 Supp1—200.
SAI Global published the official standard on July 9, 2009. An industry-recognized leader in the risk and compliance space, SAI releases standards and legislation for myriad types of business leaders to follow. Its focus areas span from medical devices to food safety.
Australian Standard 3533.1 2009 includes guidelines around the design, manufacture, and construction of both amusement devices and passenger ropeways. The first category includes inflatable devices that are continuously blown with a platform height of three metres or higher.
Let's break that jargon down a little.
"Continuously blown" means that your inflatable relies on a continuous supply of air pressure to keep its shape. You'll measure your inflatable's platform height starting at the top of the surface supporting the platform to the top surface of the platform itself, measured with the device inflated but unloaded.
As a whole, this guide applies to anyone who regulates, designs or manufactures such devices. The latest version of AS 3533.1 2009 includes separating inflatables-specific requirements (as well as those specific to roller coasters) into distinct sections for easier reference.
Section 2.1 includes guidelines that cover inflatable devices and their use. Let's take a look at a few of the top considerations to keep in mind.
General Guidelines for Registering and Hiring
The standard mandates that anyone providing an amusement device, including an inflatable, designated for entertainment use by the general public must follow registration steps.
First, you must register the device's design, along with the device itself, with your local regulator. This first step is critical, as you cannot allow anyone to use your inflatable until you register it.
Then, you'll need to have the device inspected by a chartered professional engineer or someone qualified to be on the National Professional Engineers Register.
This expert will inspect your device on the following main categories, among others:
Operation
Storage
Maintenance, Inspection, and Testing
Log Books and Manuals
Moreover, anyone who hires an inflatable for commercial use must ensure that it's registered. They must also make sure the registration is current, and that all required maintenance is up-to-date.
Installation, Inspection, and Control
The standard details that an inflatable amusement device can become a hazard if it isn't set up and operated in accordance with relevant instructions. In particular, inferior setup or operation can cause:
The device to become airborne during strong gusts of wind
The device to collapse and track patrons
Injury to patrons using the device in areas where they can move about without supervision, such as on a continuously blown jumping castle
As such, it's important to follow safe setup procedures when installing your inflatable.
In accordance with AS 3533.1 2009, owners and operators should secure and anchor the inflatable with anchor points according to manufacturer's instructions. They should also ensure that the ground is suitable for the points.
In the event of inclement weather, evacuate the inflatable when wind gusts exceed the guidelines detailed by the manufacturer or when they are stronger than 40 km per hour.
Other installation and setup-specific guidelines include:
Absorbing Mats
You should use suitable impact-absorbing mats if you set up your inflatable in an area where patrons could fall off the inflatable's unfenced platform.
Competent Supervision
You should have competent supervisors on staff to keep watch on the inflatable at all times. All supervisors should be capable of operating the device in a safe manner.
Monitoring
Supervisors should monitor the inflatable to ensure that the device in use is not exceeding the maximum recommended number of patrons. They should also ensure that patrons (especially children) cannot interact or interfere with electrical or other powered components.
To meet weight distribution requirements, supervisors should monitor the device to ensure that the persons using it are of a similar size and weight. This helps keep smaller patrons safe, as does prohibiting somersaults, flips or tackling.
Along with supervision and monitoring, operators should perform regular inspections on the device to check for any rips or holes to be repaired.
Specifics for Water-Borne Inflatables
Nothing takes an inflatable to the next level like adding water to the mix. A blow-up water slide, climbing iceberg, or floating trampoline can make a great addition to any event.
Yet, inflatables on water have their own set of guidelines as set forth by AS 3533.1 2009. If your water-borne inflatable is continuously blown with a platform height of three metres or more, you'll need to register it and follow special guidelines.
Let's review a few in high-level detail.
Definition of Device Type
A water-borne inflatable amusement device is one used on a controlled body of water. For example, you may install one in a pool or as a part of a ride, where moving water propels the device.
In these cases, patrons won't get into the water at any point. Besides incidental splashing, they shouldn't get wet.
Supervision and Control Measures
Inflatable devices that are waterborne can become more unstable and harder to control or anchor than their land borne counterparts. They can also lead to serious injuries and drowning. As such, they require close supervision at all times.
Installers and operators should put specific control measures in place to ensure that patrons cannot become trapped in between the device and nearby equipment. This can include the edge of the pool as well as any ropes or ladders.
Water-borne inflatable device-specific controls include:
Hiring special supervision to watch over the pool
Encouraging guardian supervision in addition to pool supervision
Creating and maintaining an emergency plan that details how to respond to suspected drownings or behavioural issues
Carrying out emergency drills to test and practice emergency procedures
How Australian Inflatables Ensures Compliance
From this general overview alone, it's easy to see that AS 3533.1 2009, Section 2.1 isn't brief, nor is it vague. Rather, it's a detailed account of how commercial owners of inflatable businesses around the country should operate and maintain their enterprise.
Especially if you're a new business owner, you might be wondering how to make sure you're following all the rules. This is where we come in.
When you buy an inflatable, such as a jumping castle, from Australian Inflatables, you're already on the right path toward complying with AS 3533.1 2009.
Every product in our vast inventory follows strict guidelines for production quality. Our items are commercial grade, featuring reinforced technology such as extra stitching in areas that require high tensile strength. They also come equipped with all required safety accessories designed for commercial amusement devices.
This attention to detail makes routine inspections, maintenance, and upkeep a cinch.
You can purchase a standard version available through our website or work with our team of designers to create a custom, one-of-a-kind design for your business. Either way, you can guarantee that the product you receive is professional and up to industry code.
Yes, you'll be responsible for carrying out and complying with the remainder of the operating and maintenance requirements. However, you're a major step ahead when you purchase your supplies from a reputable manufacturer. Check out all our jumping castles for sale here
Meet and Exceed AS 3533.1 2009 at Work
Staying on top of industry guidelines can be a challenge, especially when you're at the helm of a business that can pose a safety hazard to patrons.
The good news? Complying with Australian Standard 3533.1 2009 doesn't have to be a burden. These mandates are in place to help you create a safe and successful environment that encourages customers to come back for more.
When you're ready to turn your love for inflatables into a commercial venture, we'd love to help. Take a look at some of our inflatable games to get started and learn more about what we do.
Any questions? Contact us at any time. We'll help you navigate these important and exciting next steps so your business can start soaring.