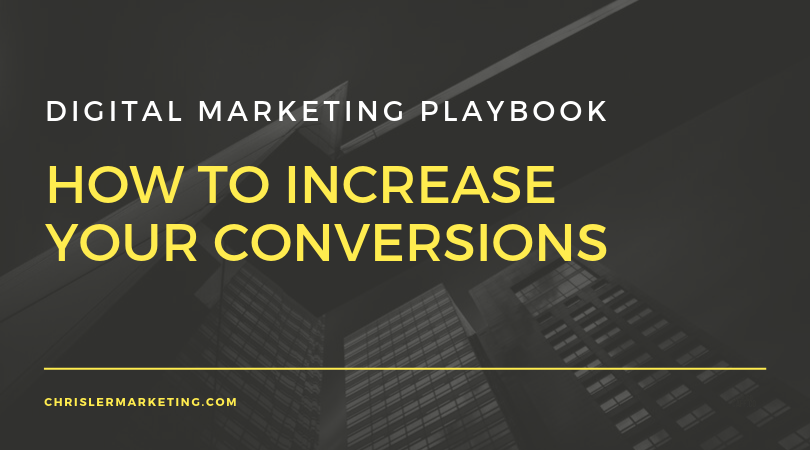 Digital Marketing Playbook: How to Increase Your Conversions
Originally posted on http://www.chrislermarketing.com/digital-marketing-increase-your-conversions/
If you have a business, then you need to understand how to market online. Digital marketing is becoming the most crucial skill to have as an entrepreneur because now your competition can put their message out there for free. If you don't follow suit, you risk losing market share and customers. Here is how to get more conversions for your brand right now:
1. Identify Your Target Market
The first and most important part of your online marketing arsenal is understanding your customer better. Without a clear vision of who your target market is, you will overpay for advertising. That means that your competition can spend more than you. To get better conversions, use resources like Google Trends or Facebook's targeting tools to narrow down exactly who you want to serve. Not only does this allow you to craft a better message but you also spend less to reach your prospects.
2. Get Massive Attention
You can have the best product or service in the world and it won't matter if you don't get the right amount of attention. With smartphones and social media, not to mention the rest of the internet as a whole, it is virtually impossible to break through and reach your distracted prospect. You must use compelling headlines and images that really speak directly to them (which is why knowing your market is so crucial). Use every tool available to get attention: email, social media, and even local events if they are feasible for you. After all, if you want to convert more customers in your funnel, you need to get more of them in there in the first place.
3. Use Social Proof
Social proof is one of the strongest ways to convert more customers. Without it, their level of trust is lower. And people buy from those they know, like, and trust. So never underestimate the power of a great testimonial.
4. Follow Up
If you really want something, you don't give up after the first try. Once a visitor comes to your site they should be tracked with a pixel. This lets you show ads to them all around the web until they are ready to buy. And when they are ready to pull the trigger, you'll be right in front of them making for a convenient choice.
5. Partner Up
Don't feel like you have to do it all alone. Team up with others in your industry to offer special deals that stand out in the marketplace. They don't even have to be in your market, however. Any company that has a similar target audience could be a potential partner if you approach them in the right way. Always focus on the outcome and you can find a way to make a deal.
When it comes to getting better results online, the only thing you need to focus on is conversions. Views and impressions are vanity metrics. Don't risk becoming irrelevant by failing to use online marketing to its fullest capacity. Use the techniques above and enjoy more sales and customers than you ever thought possible.
Author – Kurt Chrisler is the owner of Chrisler Marketing, Inc and has over 13 years of digital marketing experience.